"There are three forms of visual art: Painting is art to look at, sculpture is art you can walk around, and architecture is art you can walk through."

– Dan Rice, artist
Continuing on down the Museum Mile, or, in reality, a bit of back and forth, since I'm going back to the start and then skipping around. A quick look at a trio of the stops on the official tour.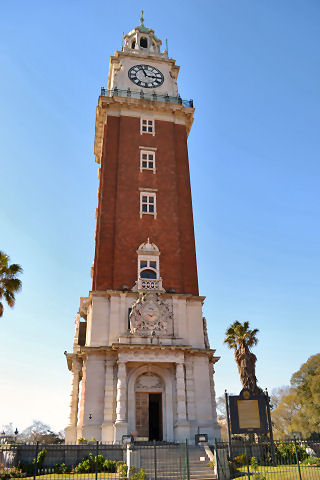 The
Torre Monumental
(formerly the Torre Inglesa, before this little Falklands/Malvinas dust-up and strained relations with the U.K.) is a near 100 year old tower located in the plaza in front of Retiro train station. It was a gift from the people of Great Britain to Argentina on the occasion of its centennial, approved to be built the year before in 1909, though not completed and inaugurated until 1916. The "museum" on its ground floor consists of a single small room with a gift counter, two desks for the security guard and the docent, and a dozen black and white photos of the construction of the tower (and a couple nearby buildings) with captions. The docent is happy to give a history lesson if you're interested.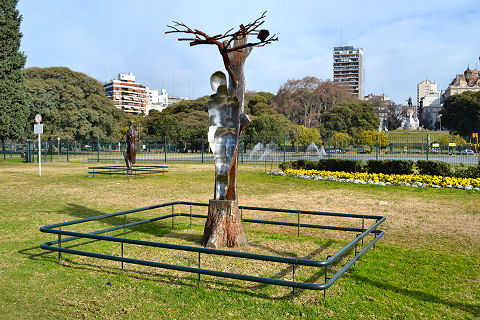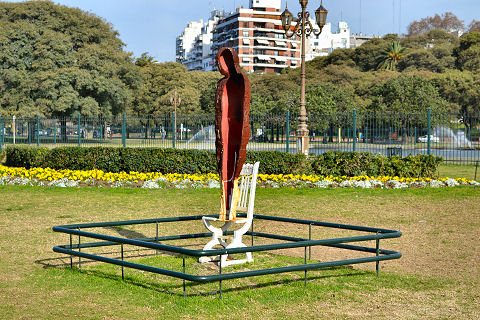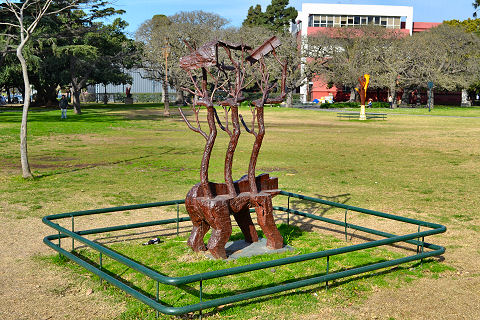 Those of you who are regular readers of this blog know I'm not particularly fond of much of contemporary art. The
Paseo de las Esculturas
is, for the moment, no exception. It isn't a permanent museum… it's a park area (Plaza Rubén Dario) surrounding a long pool and fountain across from the Recoleta Cemetery and Plaza Francia, and officially has a rotating exhibition of sculptures – though I've seen periods of months go by with nothing on display. Right now it's a year-long 18 sculpture collection from Corrientes artist Raúl Farco.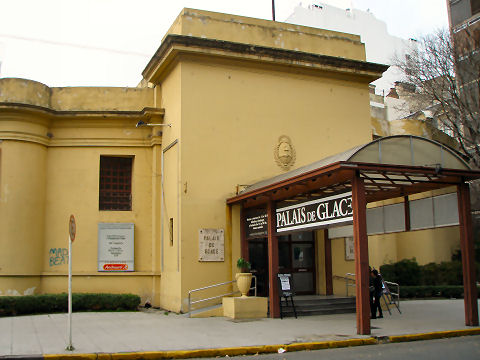 Nearby at Posadas 1725, on the other side of Plaza Francia, is the
Palais de Glace
, formerly the state radio station. It's not a particularly attractive building though appears as if at one time it likely was, and inside it's actually quite beautiful and far better maintained than the exterior. It's a two level exhibition space, each level divided into a central, round room, with a torus hallway around. Sometimes there are only two exhibits, one on each floor taking up both main hall and surrounding ring, sometimes the surrounding ring will have a different exhibit entirely. Photography is a common choice of medium and there have been some fascinating photo exhibits over the time I've been here. Currently…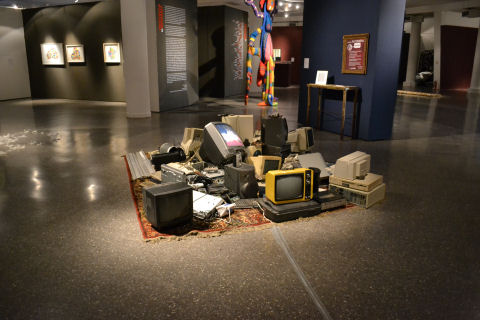 The main floor is the third annual young artists "competition" results. Thirty-eight different up and coming artists were selected from around the country after a large number of submissions to have a their work displayed. This is part of what I don't get about contemporary art… this particular piece is simply a jumble of old computer screens and televisions, one of which is turned on. Off to the left you can see on the floor a scattering of feathers, which was another work from a different artist.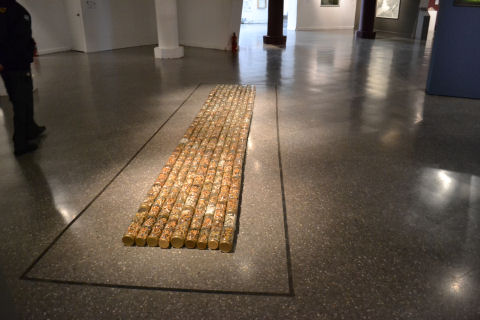 And this, a bunch of lined up Mason jars filled with cigarette butts. The outer ring is currently under preparation for a new exhibit and wasn't open, though I could see that it looked like a collection of paintings.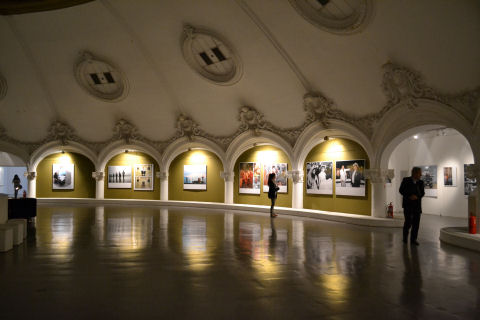 The upper floor right now is dedicated to the best of the last year's photojournalism – it's one of my favorite exhibits that comes each year – some amazing photos from news events. I also just like the feel of the upper floor.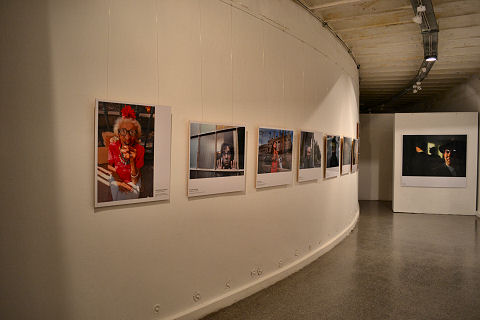 The outer ring is part of the same exhibit but focuses on photos of individuals who were newsworthy, celebrities, or interviewed for one story or another. The exhibits vary in length of time, but, roughly seem to run anywhere from 4-6 weeks, so every month or two the place is worth a visit.
All three of these "museums" are free to enter.