"The Past: Our cradle, not our prison; there is danger as well as appeal in its glamour. The past is for inspiration, not imitation, for continuation, not repetition."

– Israel Zangwill, author and political activist
This weekend continued my project to go back to the early years of the Second Sunday Supper Club, my New York predecessor to Casa SaltShaker, and pick out dishes that inspire me to make something new today. We left off in spring of 1996, and I found myself looking at the menus from July, August, October and November – whether there was no September dinner or I'm simply missing the menu, I'm not sure.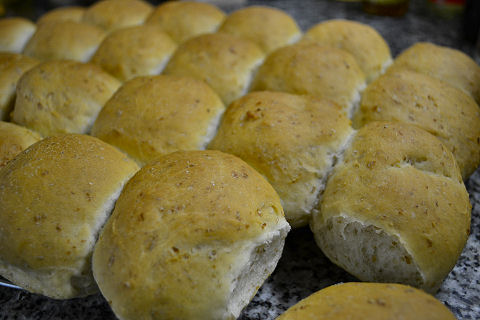 At last week's dinner I'd infused olive oil with peperoncino and garlic, salt and pepper, to serve alongside the bread. I added to what was leftover as I loved the flavor, and when I was deciding on the bread for this week's menu, I thought I'd use it in place of the plain oil or butter I might normally put into the dough. It gave these whole wheat rolls a subtle garlic and chili flavor that I really like.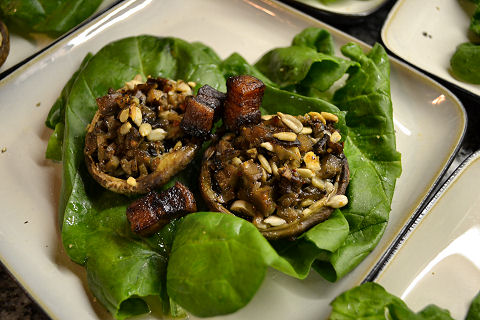 Our July 14 menu, celebrating Bastille Day, began with a Spinach Salad with Lardons, Portobello Mushrooms, Shallots and Pinenuts with a Spiced Vinaigrette, served up with a bottle of Krug Grand Cuvée champagne. My guess, thinking back, is that the salad was not much more than just those ingredients tossed together, with the shallots and mushrooms simply sliced, perhaps the pinenuts toasted a bit. As to what was in that vinaigrette, it is lost to time. Coming up with a new dish was easy as I have a favorite portobello recipe that stuffs the caps with the chopped stems, sunflower seeds (or pinenuts, but those are hard to find here and outrageously expensive when you do), garlic, chili flakes, lemon, olive oil, salt and pepper, and then they're roasted until lightly browned. I would have liked to serve them over baby spinach leaves but couldn't find any in the market, though I suppose I could have gone with arugula, still, I like the flavor of spinach here, which is tossed with olive oil, salt, pepper, and a bit of ground, dried shiitakes. Oven-baked lardons from salted, smoked bacon complete the dish.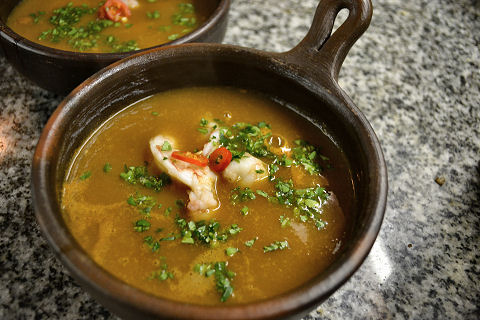 My August 11 menu was a tribute to a then recent trip to Australia to visit my then quasi-boyfriend (an interesting six year or so open relationship where he traveled around the world as a management consultant and spent months at a time in different countries, returning a few times a year to live with me for a couple of weeks, and I would take my vacations wherever he happened to be for a couple of weeks at a time). I'd brought back a bunch of dried "bush cuisine" ingredients that I was playing around with – the menu is setup with little mini-recipes and reads: ❶ Simmer Australian Bush Tomatoes, Lemon Verbena, Lemon Thyme and Lemongrass in Stock. Clarify. Add gelatin. Chill. Poach Ecuadorian Jumbo Shrimp in herb stock. Ladle consommé into bowls and garnish with shrimp and thin slices of Serrano and Cayenne Peppers. Serve with Non-Vintage Domain Chandon Brut Reserve.
I decided on a hot soup and not a clarified consommé. The broth, I simmered together plum tomatoes, green onions, kafir lime leaves, lemongrass, ginger and garlic in a mix of vegetable stock, orange and lemon juices. Pureed and strained it, seasoned with salt and pepper. Poached shrimp in shrimp stock and then added them to the broth along with chopped chives, cilantro and parsley, and some slices of fresh lino chilies. Probably not as pretty as the original dish was, but I'd venture that it was more flavorful.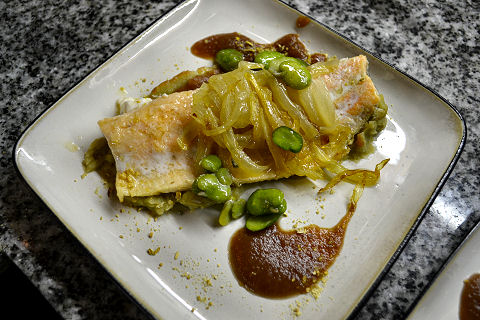 On October 13 we celebrated Columbus Day with a "Pinot Dinner" – seven courses, each with a different type of Pinot – gris, blanc, noir, meunier – in various guises. The second course was a Pan-seared Spiced Trout, Bluett Mushrooms, with caramelized Red Onions & smoked Apple Butter offered up with a 1994 Schoffít Pínot Blanc Auxerroís Cuvé Carolíne.
This was the most labor intensive dish of the evening, starting with making smoked apple butter. For those who aren't familiar with apple butter, it's basically apples that have been cooked down with spices for hours and hours until they're complete mush, then passed through a food mill, chilled, then cooked down more until a thick, spreadable consistency, and pureed until silky smooth. Add to that that I first smoked the apples over green tea for an hour and it took about 24 hours from start to finish. The trout itself, simply seared with salt and pepper, served over a puree of sweet potato and squash spiked with a little horseradish, and topped with caramelized white onions (no red ones to be found) and fresh fava beans, and finally a dusting of pumpkin seed salt.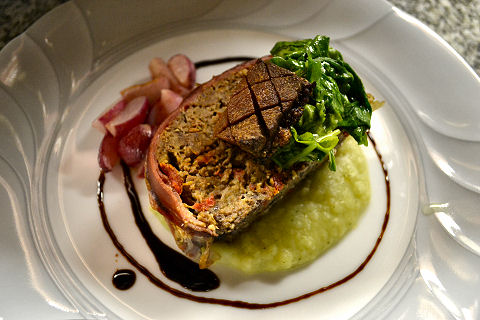 This was my favorite course by far. The original, back to the Bastille Day menu, was Walnut Terrine with Lamb, Pork and Veal with a 1976 Jasmin Côte Rôtie served up for the main course. I went more meatloaf than terrine, though the differences in this care were likely small – had I gone terrine I wouldn't have added breadcrumbs for lightness, and I would have pressed it overnight and then reheated the slices to serve. Here, I ground lamb loin and pork breast (mostly just for fat, veal breast would also work well) together with walnuts, shallots, and reconstituted sun-dried tomatoes. Mixed that with some egg, breadcrumbs, rosemary, balsamic vinegar, salt and pepper, then formed it into a long cylinder wrapped with jamón crudo, the local version of prosciutto. Baked in the oven, sliced, and served over mashed potatoes that were creamed with mint infused milk (blender, handful of mint, milk). Butter poached radishes, and wilted radish greens. A crispy bit of pork skin (from making the lardons in the salad above) for decoration and crunch, and a drizzle of reduced balsamic vinegar around the plate.
The best, though, I must admit, was next day with slices of cold meatloaf made into sandwiches, a comfort food treat!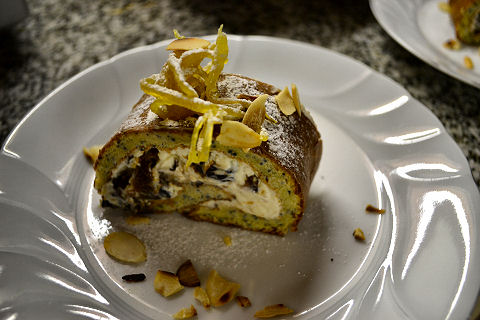 The November 10 menu was a far ranging one that followed the route of the Orient Express, starting in Paris and ending in Constantinople. It is written in a hard to read script font as if lifted from entries of a traveler's diary, and the dessert entry reads: …for a brief stop in Bucharest before we board our ship across the Black Sea. Gave us time to sample the local poppyseed torte with Slivovitz cream…
That original poppyseed torte can be found here, a homey dessert I've made quite a few times in my life, the only addition being that I guess I'd added some Slivovitz (plum liqueur) to the frosting at the time of the original dinner. Here, I made a pionono, or jelly-roll style sponge cake, flavored with poppyseed and vanilla, and rolled it around a mix of cream cheese lightened with sour cream, sugar, chopped dried plums, and a good splash of Kirschwasser (cherry pit liqueur) – no Slivovitz to be found (I've found it here before, but the place that I've bought it was out, and I'm not overly fond of the local plum liqueur that I've tried. Some candied lemon peel and toasted almonds complete the dish along with a dusting of powdered sugar.
Continuing this saga in another two weeks, this week we head back to the enclave of San Marino for a reworking of the menu we did back in February.