"The story of barbecue is the story of America: Settlers arrive on great unspoiled continent, discover wondrous riches, set them on fire and eat them.

– Vince Staten, author
It's the age-old dichotomy between "Americans" and Argentines – it really isn't the old saw that back at the beginning of the 19th century the US headed privatized and Argentina headed nationalized – it's barbecue versus asado. For those of us who've lived in both worlds, there are noticeable differences, some subtle, some blatant. Seasoning, sauces, the way things are prepped, the type of fuel, the type and layout of the fire, the placement, the movement, all these things come into play. As a norteamericano I wouldn't be offered the tongs at a backyard asado, they'd simply know I couldn't do it right. And vice versa, it is unlikely that anyone I grew up with in the midwest would give over theirs to an Argentine. Is it possible to have a meeting of the minds when it comes to "'cue"?
One Argentine apparently thinks so, and he's opened up a spot in Palermo called, appropriately enough, Bar BQ, El Salvador 5800, 4779-9124, the space that many moons ago was Mosoq, a "nueva andina" spot that Henry and I once ventured to and didn't make it halfway through dinner before just calling it quits and asking for the check (I vaguely recall some sort of meat smothered in elderberry jam…or was it blueberry). So – headed there with a friend on a recent Sunday afternoon. Off the bat, the place is brightened up, airy feeling, with indoor and outdoor tables, it's inviting. The waitresses are immediately attentive, cheery and helpful. There's no "we don't have iced tea" (my fave with barbecue), it's "we don't have it on the menu, but we have these teas, which one would you like me to brew up for you and ice down?"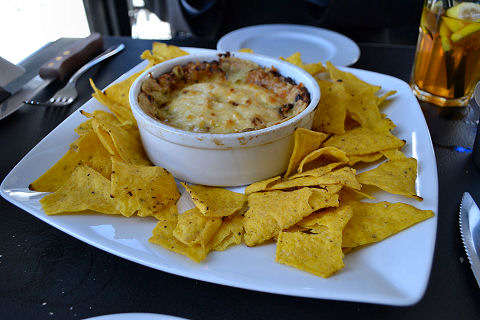 The menu's a bit all over the place, with different styles of dishes from different regions of the US, and quite a few dishes that wouldn't be found in a bbq restaurant – from pastas to salmon "teriyaky". But, it all looks good and we're both immediately drawn to the Spinach and Artichoke Dip – it's such a classic dish of Americana. And, it is good, packed with plenty of bright spinach, chopped bits of artichoke hearts, and cheese. It may be a bit heavy on the bechamel, and the supermarket corn chips are kind of a shame, but we dig in and polish it off without griping.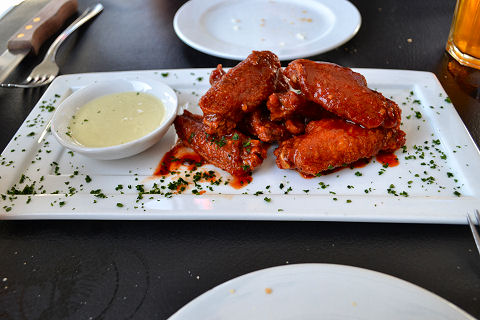 The Buffalo Wings, which you just know I'm going to try if anyone puts them on a menu, don't fare as well. Oh, they're reasonably tasty, though the "muy picante" Buffalo sauce falls somewhere between cocktail and tabasco in the scale of heat, that's to say, not very. It's a very tomato-y sauce. But the real disappointment here is the size – we both looked at the half-dozen wings on the plate and one of us burst out with "what are those, pigeon wings?" while the other piped up with the same and "quail?" I don't think I've ever seen chicken wings quite as small – each was no more than a bite, perhaps two. The blue cheese dressing, unfortunately, was really that – probably some sort of local bottled salad dressing with a vague flavor of the cheese. The heavy sprinkling of parsley around the plate, gratuitous… they're wings, not haute cuisine.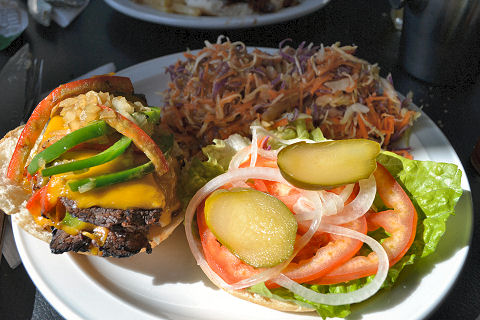 I have mixed feelings about my "Filly Cheese Steak" (horsemeat?). (We decided, in the end, not to order a platter of barbecued baby-backs or smoked shortribs, neither of us was in the mood.) It's a perfectly good steak sandwich, albeit the thin sliced loin beef was a little burnt on the edges and a trifle salty. Still, it was flavorful, topped with a slice of sandwich cheddar, a mix of sauteed and raw onions, tomato slices, lettuce, pickles, red and green pepper strips, and mayo. In other words, nothing at all like a "Philly Cheesesteak", which classically has nothing but rib-eye steak slices, caramelized onions, and cheese (provolone, american or cheese whiz). Asking for a substitution of coleslaw for the french fries yielded up a "yes, but all substitutions are $10", which was, thankfully, waived after I expressed shocked disbelief. On the other hand, the coleslaw was really vinegary, no creaminess whatsoever, and in the end I only nibbled at it – should have stuck with the fries.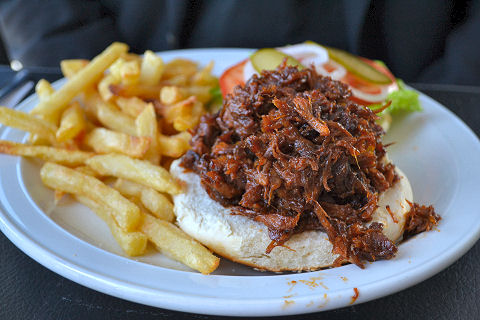 The Pulled Pork Sandwich was the winner of the day. Perhaps we should have stuck with straightforward barbecue dishes. This was smoky, tender, and delicious, with a tangy barbecue sauce that wasn't overly sweet. Of course, the accompanying lettuce, tomato, onions and pickles wouldn't find their place onto a pulled pork sandwich in the States, at least not anywhere serving up real barbecue… maybe onions, but the rest? No. And, the fries were pretty good, though again something that would be unlikely to find itself on the side of this sort of sandwich. Potato salad, macaroni salad, coleslaw, stewed greens, beans… damn, I'm getting hungry.
So overall we liked the place and the food. It's not quite a taste of home, though it verges on the fringe. Likely we'll go back and check out those ribs at some point soon as the food was, if not "correct", at least good. Oh, and put iced tea on the menu, really, if you're trying to reel in norteamericanos, it's a must – and don't pre-sweeten it, really. Recommended.