"Bart Simpson: Dad, you ate all the free samples. Now you're eating men's slacks.
Homer Simpson: Eh, it's still better than Indian food."
I have to differ with the big H, I love good Indian food, and I'm fairly certain I wouldn't prefer eating men's slacks – whichever one of you just thought of a snarky comment, don't go there. Now, there aren't a huge number of Indian restaurants in town, but a few more have opened up and I'll be getting to them over the next couple of months. One that came to my attention was recommended by several regular readers as "inexpensive, good quality Indian takeout food". And it turned out that it had popped open just a few blocks from home, so the other day I popped over to Akbar 72, Azcuénaga 1150, here in Recoleta. No idea what the 72 stands for, and didn't ask. In relation to India, Akbar was the 3rd Mughal Emperor, famed for having ascended to the thrown as a teen and, I gather, having been one of the more popular emperors in India's history. [Closed]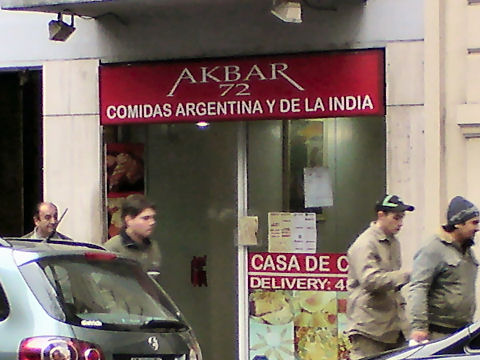 It's strictly a takeout place, open from late morning until mid-evening every day. They clearly decided they wouldn't get enough business as a strictly Indian takeaway, and more than half the menu consists of typical Argentine casual eats – several dozen versions of milanesas, empanadas, pastas, potato preparations, and savory tarts. The Indian side menu is actually fairly short with just four appetizers, 1 lamb dish, 4 chicken dishes, 3 vegetarian dishes, basmati rice, and 1 dessert. The place is setup steam-table style, but not a help yourself kind of thing, you just order or point and they dish it all up into plastic containers, package it up and away you go.
[Closed in early 2014.]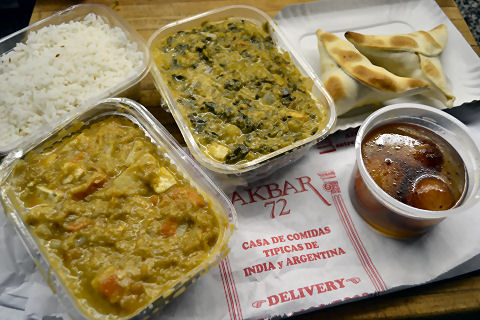 We decided to try our way through the vegetarian options – so a couple of samosas – not bad, nicely filled with the usual peas and potatoes, perhaps a bit light on the spices, but at the very least, spiced. The
palak paneer
is a spinach and cheese curry dish that unfortunately tasted of little more than watery spinach – virtually no spice, and the paneer, the cheese, didn't really taste like paneer and was kind of rubbery. The
sabzi navratan
, a mix of different vegetables in a tomato cream was light on spice but at least more flavorful than the spinach dish, and other than that it also included some pieces of rubbery paneer, was a pretty decent dish. The basmati rice was cooked perfectly and nicely aromatic. We also sampled the
gulab jamun
, India's answer to dulce de leche in a firm, ball-shaped form and flavored with rosewater and cardamom – the milk-balls themselves were fine, perhaps a little too firm, the syrup didn't taste of anything other than sugar syrup, certainly no hint of either rosewater or cardamom.
Overall, a bit of a disappointment, but not horribly so. I guess I'd be reasonably happy with a samosa and the second main course dish, and the only other Indian restaurant in the 'hood is Tandoor, which is significantly more expensive for takeout or delivery – though, it's significantly better quality too. Pricing at Akbar 72 is fairly cheap actually – the samosas 4 pesos each, the two main courses 15, the rice and the dessert, 5 each. Lunch for two, 48 pesos, not much of $10, not bad, and at least intriguing enough that we'll probably give the lamb and chicken dishes a try sometime soon.