"According to a legend that he agrees with, a young Mario Moreno, overwhelmed by stage fright, once, in the Ofelia carpa, forgets his original monologue. He begins to say what comes to mind in a complete emancipation of phrases and words, and what comes to mind is an incoherent brilliance. His assistants recite his attack on syntax, and Mario becomes aware of it: destiny has placed in his hands the distinctive characteristic, the style that is manipulation of chaos. Weeks later, the name that will mark the invention is invented. Someone, taken in by the nonsense, screams: "Cuanto inflas!" [C'ntinflas] (You're annoying!)…. The contraction catches on and becomes proof of the baptism that the character needs.

– Carlos Monsiváis, media critic
Friday would have been the 100th birthday of Fortino Mario Alfonso Moreno Reyes, better known as Cantinflas, though unfortunately he only made it to 82 years of age, passing away back in 1993. A pioneer of Mexican cinema, a brilliant comedic actor (Charlie Chaplin once called him the best comedian alive, and he has been called "the Mexican Groucho Marx"), political activist, among those who are not aficionados of Mexican cinema in general, he is probably best remembered for his part as Passepartout in the original 1956 Around the World in 80 Days, co-starring as sidekick to a young David Niven's Phileas Fogg. What better person to add to our roster of centenarians? The question was whether to take our menu around the world, or go Mexican. I think we did a bit of both in the end – Mexican inspired with an infusion of ideas from elsewhere. Henry's off to Peru for the month, so our friend Allan is filling in at tableside.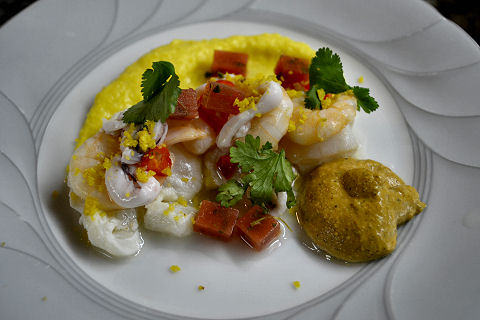 A reinterpreted Mexican ceviche mixto (which in contrast to Peruvian style usually includes tomato and sometimes avocado) – on the bottom a smooth, silky corn puree, lightly seasoned with white pepper. Atop, lenguado (sole), shrimp and calamarette cured in lime and lemon juices, salt, pepper, and hot red chilies. Scatterings of cubes of tomato gelee flavored with cilantro, garlic, salt and white pepper (somehow or other forgot to put them on the plate on the second night so they ended up scattered into the next dish where they worked equally well). Some cilantro leaves, corn chip crumbs for a little texture, and, the sauce that brought the whole plate together, a blend of mesquite-smoked cashews, chipotle en adobo and smoothed out with peanut oil (thank you for the inspiration Alex Stupak). Personally, this is the way I want to eat ceviche from now on.
Second course was an avocado and white chocolate tart – unfortunately none of the photos came out well, but you can see a past version of it here. Some minor changes – used crushed green peppercorns instead of white pepper in the avocado mix, plus toasted cumin, coriander, and garlic; no fresh tarragon available at this time of year, so just parsley and chives; and, I tried it out with a rough puff pastry dough instead of a shortcrust – I think I like the texture of the shortcrust better, so a return to that in the future.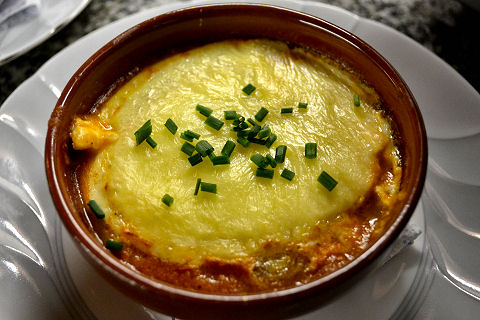 Another dish seen before, huevas en rabo de mestiza, details here – a spicy broth of roasted jalapeños and tomatoes, white onions, with a poached egg and mozzarella cheese.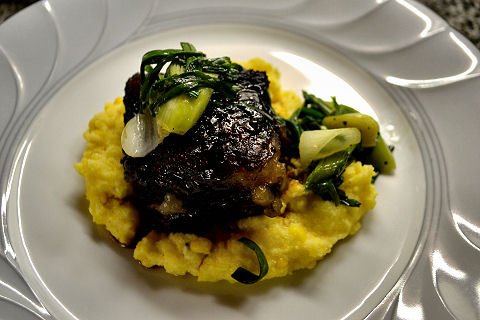 We all know there's nothing quite like fork tender, falling apart braised meat, and I had this idea I've been playing around with, and this seemed the perfect dinner to try it out. Beef shortribs slowly braised for five hours in a mix of stout, beef stock, brown sugar, stoneground mustard, horseradish and black peppercorns. Then left sitting in the hot liquid until just about ten minutes before I needed them. At that point I slipped the bone out of each – quite easy after all that braising – laid them out on a baking sheet and brushed them with a glaze of warmed molasses with habanero chili powder dissolved into it – enough for a good kick, but not too overwhelming. Under the broiler for five minutes to caramelize the glaze and reheat the ribs. Served over creamy polenta finished with mascarpone cheese and fresh corn, and topped with a saute of leeks and garlic chives. Very happy. Very happy.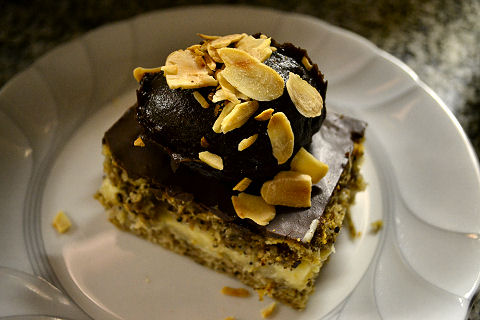 Several people weren't overly thrilled with the banana cake at our dinner a couple of weeks ago, it was more of a dense banana bread that they didn't feel worked well as a dessert, though they loved the banana sorbet with the chocolate habanero sauce. I can take feedback, and I've been playing with it – actually, I scrapped it completely and started over with a lighter style banana cake spiked with a bit of espresso powder, and then the layers brushed with a coffee liqueur syrup. In the middle, a pastry cream flavored with peanut butter. On top a scoop of cocoa avocado mousse with a little almond extract and cinnamon added (Mexican chocolate flavors), and some toasted almond flakes. Decadent and delicious!
Did I mention "very happy"?