"Shopping for food is not as simple as it used to be. An increasing number of people are questioning the origins of their food and the free-range and organic markets are growing."

– Birgit Ottermann, Health24, March 2011
"Organic" is one of the words thrown about, particularly by expats and visitors, when it comes to vegetables and fruits. But it's word thrown about without much understanding of what it means.
The original term was coined in 1939 by Lord Northbourne, an English agriculturalist and sportsman, in his book Look to the Land (published 1940), out of his conception of "the farm as organism," to describe a holistic, ecologically-balanced approach to farming—in contrast to what he called chemical farming, which relied on "imported fertility" and "cannot be self-sufficient nor an organic whole."
The USDA consumer brochure states: "What is organic food? Organic food is produced by farmers who emphasize the use of renewable resources and the conservation of soil and water to enhance environmental quality for future generations. Organic meat, poultry, eggs, and dairy products come from animals that are given no antibiotics or growth hormones. Organic food is produced without using most conventional pesticides; fertilizers made with synthetic ingredients or sewage sludge; bioengineering; or ionizing radiation. Before a product can be labeled 'organic,' a Government-approved certifier inspects the farm where the food is grown to make sure the farmer is following all the rules necessary to meet USDA organic standards. Companies that handle or process organic food before it gets to your local supermarket or restaurant must be certified, too.
In Australia, the Standard is stated as: "Organic produce is grown and processed without the use of synthetic chemicals, fertilisers, or GMOs with a focus on environmentally sustainable practices. Organic systems are an innovative method of farming and production focused on soil and land health, and balanced eco-systems. Techniques used in organic agriculture deliver a diverse range of benefits and their potential is increasingly being recognised in the development of sustainable food and fibre technology for the future. Organic food is not just chemical-free. Organic farmers take a holistic approach to food production and handling, and the whole system is linked – Soil. Plants. Animals. Food. People. Environment. Health."
I could keep going, but you can see the similarities. The one thing that comes up again and again here, however, is what, in the EU is stated as "NOBODY MAY LEGALLY CLAIM THAT THE FOOD THEY SELL IS ORGANIC UNLESS IT HAS BEEN INSPECTED AND CERTIFIED AT EVERY STAGE OF ITS PRODUCTION."
Here's the thing. It's a very European/North American construct to have that expectation – not the requirement for labeling, but the idea that, well, anyone's interested – the same thing simply doesn't hold true through much of the rest of the world. While Argentina has farmers' organizations, government agencies, and other groups that are all about the world of organics, and there's even a certification process for both farms and ranches, the labeling requirement only applies if you specifically want to label something organic (which is also true in other places). Although estimates are that about 15% of what's sold domestically (fruits and vegetables as well as meats) is certified organic, there's a further percentage that's simply not certified because the process here is onerous and costly, and, simply, there's just no significant demand from locals to have their food labeled as such. That can make it difficult to determine whether what you're eating is or isn't… much to the consternation of some folk who think that all such things should be the way it is "back home".
But, there's at least one place – actually there are quite a few – where you can go and find things that are at least ostensibly all organic… certified or not. As to whether they really are, particularly the packaged goods, is a question that I can't fully answer. El Galpón, Federico Lacroze 4171 in Caballito (right by the Chacarita cemetery) is a two-day a week market (currently Wednesdays and Saturdays from 9am to 6pm) that claims that everything sold there is organic… by which, the only statement on their site or at the market is "without agrotoxins" – which leaves out a whole lot of what many folk consider core parts of organics, like sustainability… and, just exactly what of all the various things such as fertilizers, pesticides, genetic modifications, etc., qualify as agrotoxins is left, one supposes, to the imagination. I leave that to you and turn to the photos of a recent outing with friend and fellow writer S… oh wait, I can't use her name.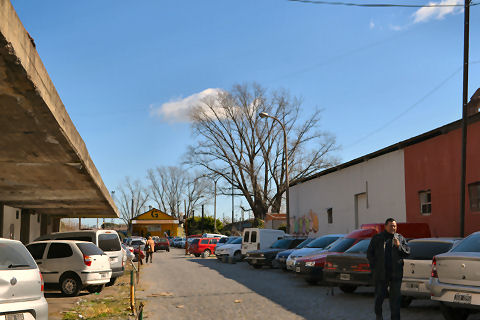 First off, it's not easy to find – it's at the far end of a narrow parking lot between a wholesale warehouse and the train police administration building.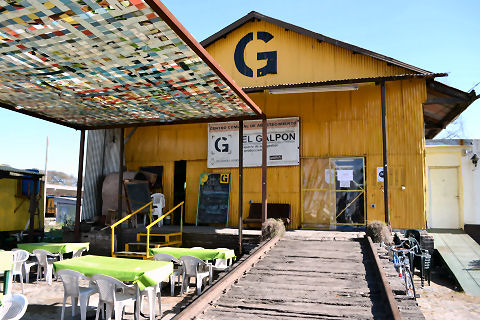 But, if you walk your way down the parking lot – no sidewalks, so watch out for cars zipping in and out – you'll get to this lovely yellow metal shed.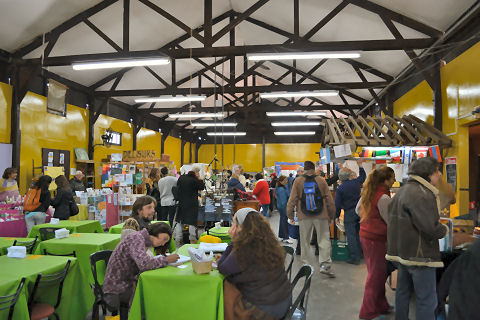 And enter into the market. Not all that big it turns out, and the front third of it is taken up by a cafe. Photo taking is prohibited without permission of the market's owner, a process that took about 15 minutes.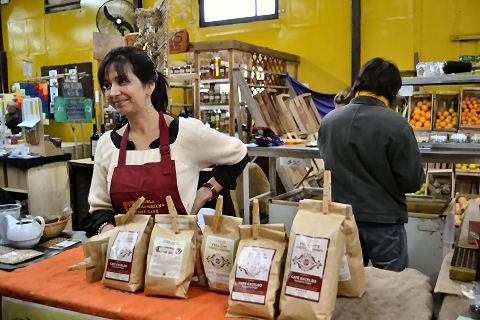 The stands are varied, here, Ms. Full City Coffee Company herself – Colombian coffee (one out of the three blends she offers is organic and labeled as such – but all are on sale here, so there goes the market's credo, right?) imported from her family's plantation, where her father is also the head of the Colombian coffee school. Not bad coffee, a little lighter on the roasts than I prefer, but good flavor.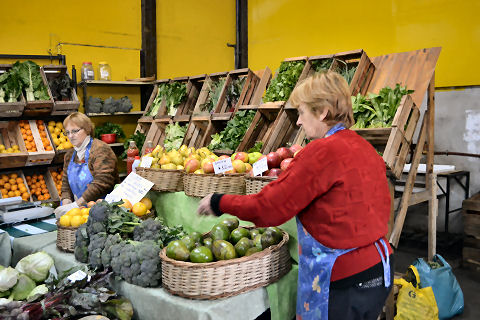 Several fruit and vegetable stands are around, this is the biggest. Nothing out of the ordinary in terms of types of produce available.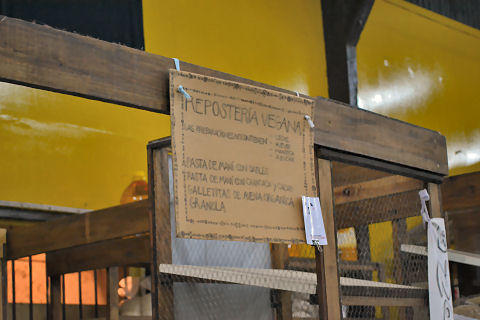 There's both a bakery stand and a vegan pastry stand, neither of which were open on this visit.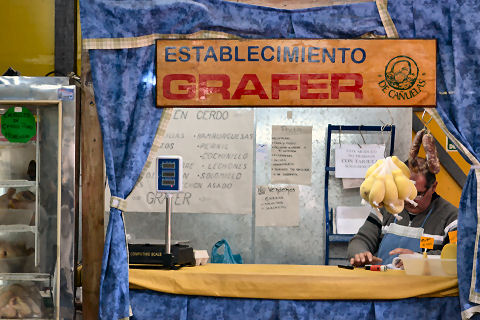 It's not all vegetarian, to be clear – there are meat and cheese purveyors as well.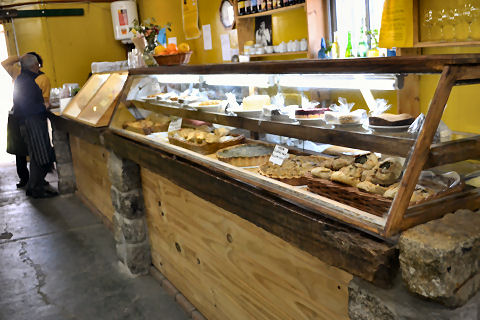 The cafe offers up an array of pastries, as well as a full lunch menu.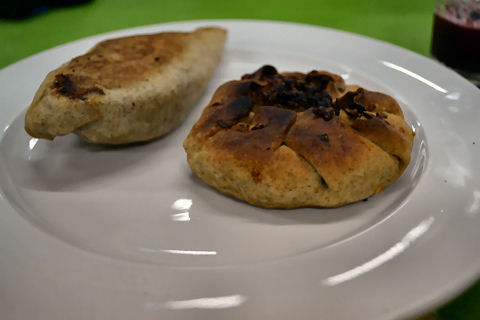 A couple of empanadas – one with rice and spices, the other with a fairly classic ground meat mixture. Nothing special, and the whole wheat crusts were a bit dry and crumbly.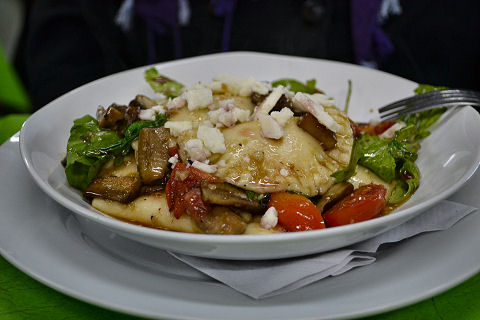 Pumpkin filled "agnolotti" (which they weren't, these are ravioli) tossed with greens, sun-dried tomatoes, mushrooms and goat's cheese. Quite good.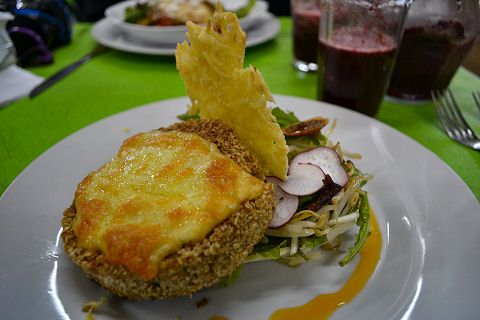 A quinoa patty topped with melted cheese and a dab of tomato sauce, a parmesan crisp, and an organic lettuces salad – my companion commented that you could tell they were organic because they were all wilted and turning yellow… hmmm….
Nothing all that special about the cafe, the food was fine, just not of great interest. The market is small, but you'll find some things that are hard to find elsewhere, from freshly made raw milk cheeses and yogurt to ostrich-meat chorizos to vegan products of one sort or another. I picked up some smoked mustard (which nowhere on the jar states that it is organic, nor did any of the other condiments at the same stand) which inspired me to go home and make soft pretzels (which had been haunting my thoughts since friend Katie of Sunflowers and Seashells tweeted about her first batch.