"To be avant garde, you have to think like a child, or you have to leave it to evolution.

– Juan Mari Arzak, chef at Arzak, "Father" of modern Basque cuisine
I'm sure you were all busy this weekend celebrating the Andre Maria Zuriaren jaiak Festival as were we at Casa SaltShaker. The annual five day festival for the patron saint of the city of Vitoria-Gasteiz in the Spanish Basque country is a big to-do, you know? And what better way to celebrate here than an homage to some of the modern princes of culinary talent from the region, as well as some of the traditional flavors?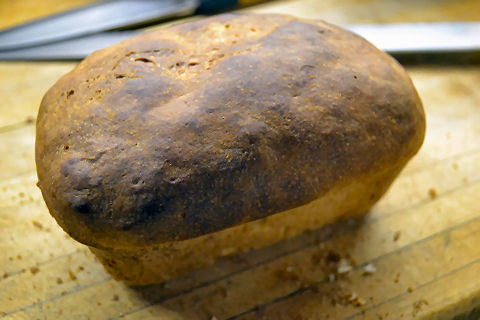 One of the things I don't generally mention about our dinners is our ever changing line-up of breads. Usually some sort of dinner rolls, though not always, every week I prepare a different kind of bread, usually something that relates to the dinner's theme. Don't know why I haven't made a point of it – perhaps because since generally they all just look like round little rolls, even if inside they're different, that I don't bother with photos most of the time. So, this week, a classic Basque Sheepherders' Bread, made in small loaves and sliced for folk to enjoy – it's a buttery, soft bread with a really crackly crust – absolutely delicious, and quite easy to make! Henry thought it was one of the better breads we've had in awhile, so perhaps we'll be having more of that at home….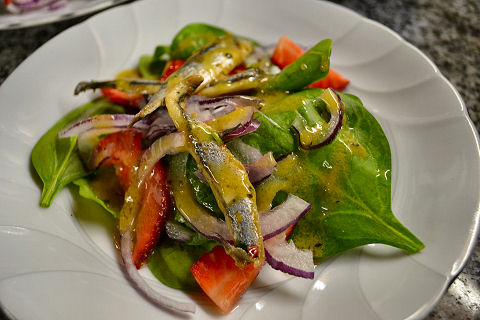 Now, I've never been to the Basque country, and only eaten at a few Basque-style restaurants in my life, so it's not a cuisine I'm overly familiar with. But some of the bizarrely creative things that are coming out of that part of the world are fascinating. Juan Mari Arzak, arguably one of the best of the chefs there, offers up some of the most interesting inspirations. One of his appetizers in his tasting menu that has garnered both positive and negative is his strawberry and anchovy combo – what, at least appears to be nothing more than a halved strawberry, each half topped with a folded over strip of cured, briny anchovy. I'm sure there's more to it, but it got me thinking. One of my favorite salads is a strange one that involves strawberries as well – I don't recall where I got it from originally other than that it was some sort of cooking magazine, years ago – spinach, red onion and strawberries in a balsamic vinaigrette. So, a play on that, with house-cured boquerones (I cheated slightly in that I called my local fish store and asked them to set me aside a bunch of anchovy fillets that they were about to make into boquerones – saving me the filleting work!) – in olive oil, vinegar, garlic and herbs. Tossed with the other ingredients, and then a slightly creamy vinaigrette of lemon juice, vinegar, egg yolk, olive oil and lots of black pepper.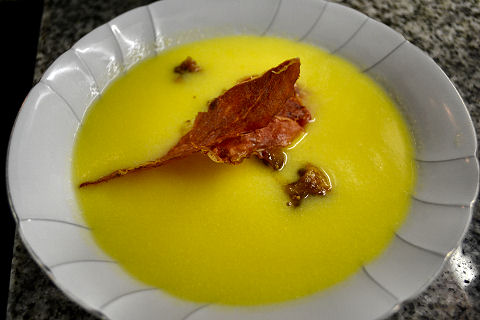 Another Arzak creation is a creamy corn soup with shavings of fresh figs and a cube of morcilla sausage. Now, first off, the Basque morcillas are a much firmer variety than we have here, which basically turn into a falling apart pudding of sorts. He may also gel them somehow – all I know is that I experimented with figuring out a way to "cube" them or even keep them intact in slices or something and it's just impossible with what we have here. I almost went with a battered and deep-fried version as a sort of morcilla nugget, but decided against it. Fresh figs aren't in season either. So, a reworking of the dish – the corn soup made with corncob stock, then caramelizing white onions and the corn kernels in a little corn oil, cooking them in the stock, pureeing the result and finishing with coconut milk, salt and white pepper. For the figs I took dried green figs, cut them in cubes, and then rehydrated them in simmering sweet moscato wine until they were plumped and glazed. I picked up some very thinly sliced jamón serrano and dehydrated it until crisp and then broke it into shards.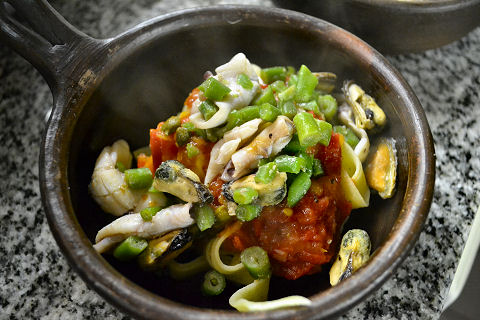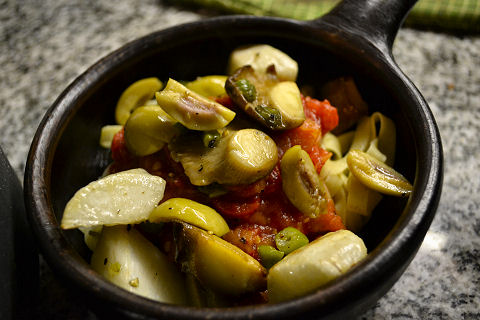 At a conveniently recent presentation on modern Basque cuisine that I read about, a group of four Basque chefs offered up a series of dishes, including one that was a simple pasta tossed with mussels and green beans. I was looking at that, and also a dish of classic seafood stuffed piquillo peppers, and it all came together. Black pepper semolina fettucine tossed with a light, fresh tomato sauce with a hint of star anise, lots of julienned fire-roasted piquillos, sauteed calamaretti, mussels, and fine cut green beans. We also had a vegetarian option that came up at last minute (i.e., someone "forgot" to tell me they were vegetarian until about an hour before the dinner when I got an "oh, by the way, hope it won't be a problem, but…" e-mail), so based on a couple of things I had in the house – some mushroom caps, green olives, and diced daikon filling in for the seafood.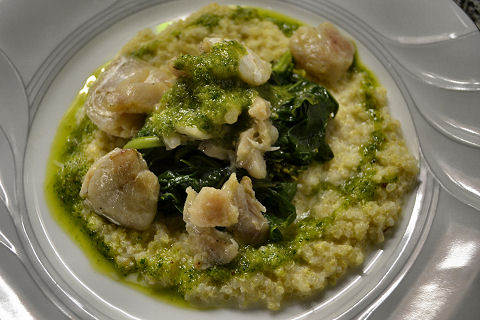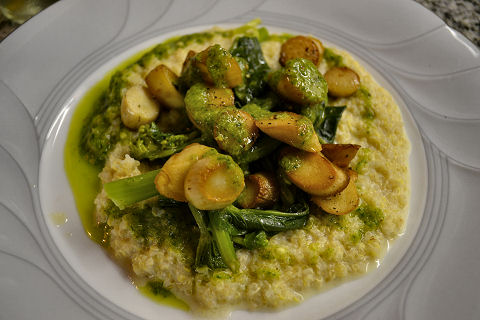 Kokotxas are hake or cod cheeks, and a classic use of this often overlooked part of the fish. Very traditionally served up simply sauteed and then tossed with parsley, garlic and olive oil. Here, the base, creamy quinua polenta, a drizzle of vibrant parsley and roasted garlic oil, then a tangle of blanched, shocked and then sauteed broccoli rabe with a little garlic, salt and pepper, and finally, pollack cheeks (all that were available in the market) sauteed in olive oil and butter with salt and pepper, and then more of the green oil spooned over the top. For our vegetarian option, I used disks cut from the stems of king oyster mushrooms done up the same way – they come out looking a little like scallops, an idea that was inspired by a recipe I spotted online a week or so ago that I'd filed away to give a try to sometime soon.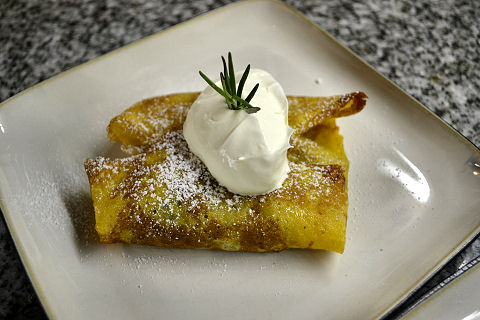 At the Guggenheim Museum's restaurant in Bilbao, chef Josean Martínez Alija offers up a dessert of caramelized pancakes with roast apple and rosemary, a dish that evokes our local panqueques de manzana. I made pumpkin crepes, just because… I don't remember why I decided on pumpkin other than the flavors worked in my mind – essentially a straightforward crepe batter with pumpkin puree blended in. I caramelized apples in brown sugar, butter, salt, cracked black pepper and rosemary. Filled the crepes, heated them up to serve, and topped with a dusting of powdered sugar, lightly sweetened whipped cream, and a garnish of rosemary.
Overall, I was happy with the way the menu turned out, and a few things that I think I'll be working on more down the line.