"Life is like a salad bar, there's so many choices but, you can't help to think to yourself, how often are they changing those beets?"

– Joey Gladstone, Full House
Maybe a better question is, Who in the World is Juana M? Is there an actual Juana M? These aren't the sort of questions that keep me up at night, but they do sometimes pop up over morning coffee. As you might surmise, Juana M, Carlos Pellegrini 1535, in Centro, is the restaurant on the hot seat today. It's actually one of those spots that I'd have sworn I wrote a review of long ago, but, apparently I haven't. I guess I was the only one, since what is often termed "Buenos Aires' best kept secret" has been written about in every extant guidebook, magazine and newspaper that talks about the restaurant scene here. Perhaps it's one of those "the best place to hide something is in plain sight" situations.
In contrast, it's not the easiest restaurant to find. It's in the basement of a house that's currently used as an office building, located across Avenida 9 de Julio from La Recova, the strange little enclave of outrageously pricey restaurants and shops packed into the underpass of the autopista. There's a small script sign that has the name on it, and a larger lettered one that just says "Restaurant". No indication of where, and you find yourself looking at the two doors to the building, both with office names on them. Then you realize that there's a dicey looking metal staircase going into a concrete pit with a big metal door at the bottom, and hey, is that a menu posted on the wall down there in the gloom?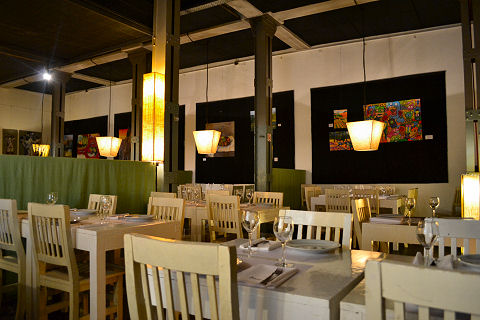 Enter, and you find yourself in a long, cavernous room with double height ceilings, a space that seems like it must go through to the next block – perhaps it does. A fun mix of seating, from high tables with bar stools, to a similarly setup communal table, to a bar, to regular tables. Colorful artwork on the walls. Along one side, kitchen and parrilla. And in the center of the back dining area, the raison d'etre for the expat community (I'll get to this in a moment), a monster salad bar. Seat yourself, get a menu, pick from the parrilla or pasta items, the salad bar is included. Or, just order the last – unlimited trips either way.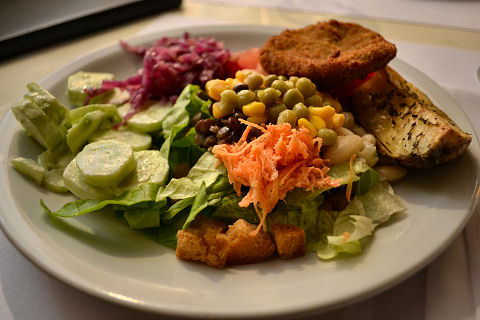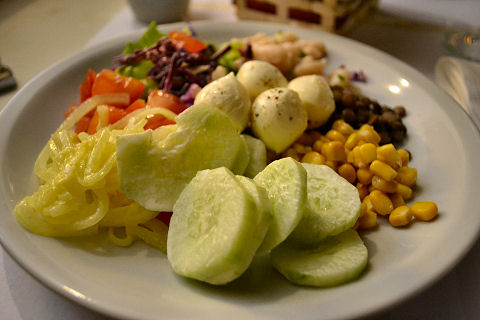 So, to that salad bar… Expats, particularly, I think, us norteamericanos, love salad bars. Gleaming rows of bowls and tubs, filled with a wide variety of vegetables, pre-prepared concoctions, condiments, croutons, cheeses, whatever you might think. The typical object that here in Buenos Aires is referred to as a salad bar tends towards 6-10 items, usually lettuce, tomato, carrots, onions, potatoes and beets, maybe hard boiled eggs, and, perhaps, a pre-mixed combo of any of the above. Juana M is the real deal, with upwards of forty items including various legumes, different greens, and a dozen different specialty salads already there. Plus the cheeses, some meats, and even a few hot items. And for 35 pesos on its own and unlimited trips, it's the bargain lunch of the city – vegetarians in particular take note! And, it's included, likewise with unlimited trips, with any main course. Did I mention "unlimited trips"? We like that.
Argentines, it seems, aren't quite as fond of the whole concept, or don't eat as much vegetation, or perhaps don't quite believe the unlimited nature of the whole thing, which makes it particularly interesting that the salad bar exists and continues, since the majority of diners tend to be locals. Time and again, while I and friends and the few tourist or expat folk in the place, take a dinner plate up to the bar at least once or twice, loading it with green goodness, porteño after porteño heads up there a single time, with a bread and butter plate, and places a leaf or two of simple lettuce, perhaps a slice of tomato or two and a julienne or so of onion, oil and vinegar, lots of salt. Then, of course, they tuck into a steak the size of a platter.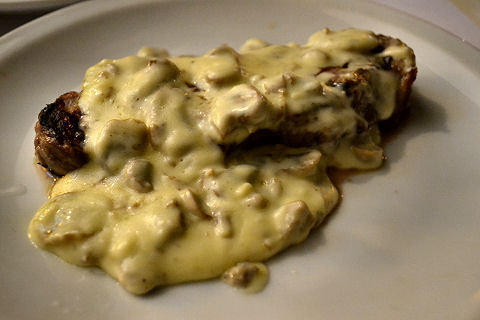 And the steaks are well worth it. Juicy, properly cooked, even seasoned with, amazingly, both salt and pepper. Optional sauces, though they do tend to be heavy, like this mushroom cream sauce (this is a half portion of a bife de chorizo (55 pesos), which is plenty big enough for lunch. The steaks have a tendency to arrive too fast, particularly if you're enjoying your loaded salad plate, and particularly at lunch when many diners are on a lunch break, so if you're not in a hurry, make sure your waiter knows that. Another quirk of the place, without exception, every time I've been, regardless of which waiter or waitress I've had, asking for a recommendation has been a useless effort – not because they're not friendly and helpful and efficient, because they really are, but each and every one has informed us that they are a vegetarian and have never tried anything but the salad bar. Apparently it's a thing. Go figure, in a parrilla of all places.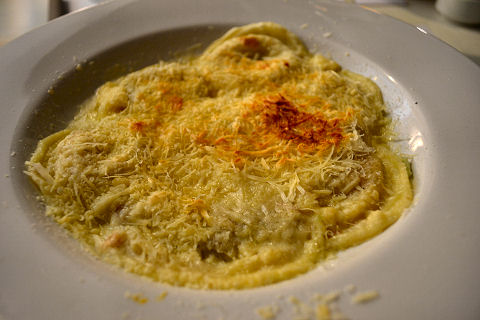 I'm particularly fond of their salmon ravioli. For 57 pesos, it may not look like much, and the first time I ordered them I was a little disappointed in this plate arriving, though, with the salad bar, it's still a deal, but then as I dug in, I realized there's an entire second layer of ravioli underneath – so 14 of them rather than the apparent 7. And they're good. The standard array of tomato, cream, or mixed sauces is available for the pastas, perhaps another. With these I like them with just butter and grated parmesan.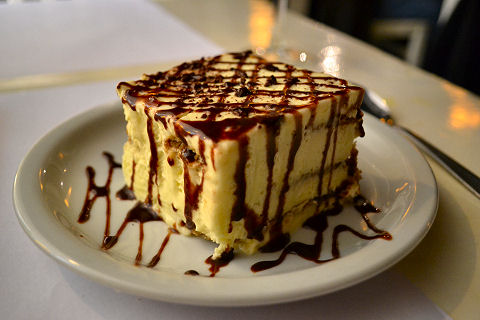 The only dessert I've tried was splitting a tiramisu once. Not bad, but not great, a good sized portion, a bit too ice-creamy for my tastes and not enough coffee flavor.
Overall, a great value for really good food. As I've now made readily apparent, it's worth it just for the salad bar, and often, that's all I go for. Recommended.