"The spendthrift robs his heirs the miser robs himself."

– Jean de la Bruyère, French essayist and moralist
It's been five years since Fujisan, Mendoza 1650 in Barrio Chino, 4784-1313, opened up, and I dropped in for a first look and review. I wasn't overly impressed, but at the same time, it wasn't bad. Still, I haven't returned, though once or twice I've stopped in front of the place while in the neighborhood and thought about going in. Finally, after wandering my way that direction via Libertador on my walk last week (yes, it's a long walk, but I like those!), I decided to go in for a bit of sustenance.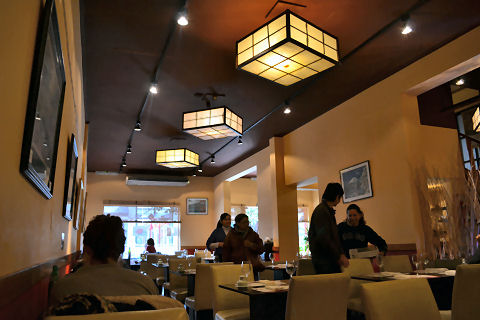 Nothing much has changed at this place to be honest. The physical space is nicely designed and and pretty, though getting a little faded – I doubt anything's been repainted or fixed up since that opening review. Service is still pretty perfunctory and not overly well organized. Despite the room being barely a quarter full it took close to ten minutes to get a menu delivered to the table and that required asking three different people, including the manager who seated me, for one (the first waitress snapped back the local equivalent of "not my section" before walking away). I was actually getting ready to get up and walk out when the waitress for my table finally appeared with one. Then she was back within no more than a minute to take my order, I'd barely gotten a chance to start looking at it.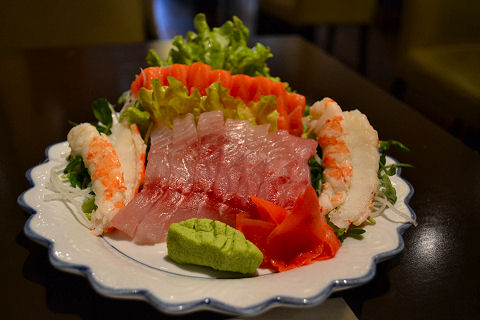 I decided to start off with the sashimi moriawase especial, the selection of different fish and shellfish sashimi, clearly having forgotten my write-up from way back when. I'm sorry, but a lineup of of seven pieces of white fish (which no one, including the sushi bar chef, seemed to know what it was, or was just uninterested in finding out), nine pieces of salmon, and two shrimp, is not a surtido, or "assortment" (on the menu it asserts "variety of white fish, salmon and shellfish"). Still, the fish was nice and fresh, though the shrimp were over-cooked and mealy. An okay start, at best.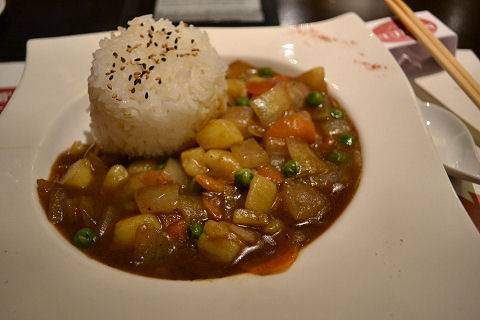 Much better was the main course, the kare rice vegetariano, a lovely mashup linguistically of Japanese, English and Spanish. A vegetarian curry, and absolutely spot-on flavors plus a good selection of vegetables mixed with a potato base. Although kare, or curry, is not the most common of Japanese dishes (and, to their credit, Fujisan has quite a number of more unusual dishes), when it's done right, it's delicious, a very subtle, yellow curry, with just a hint of heat.
So, overall, still not impressed with the service, and the food is decent but not exciting, though it's nice to be able to find some of the more unusual Japanese dishes rather than the typical local fare. Pricing, not bad, though more than most Chinatown places, especially for lunch, the sashimi combo coming in at 57 pesos and the curry at 40, plus a 7 peso cubierto charge and 9 for tea (available iced, which is nice, in both green and red teas). Had the sashimi combo been more interesting, truthfully, this wouldn't be badly priced at all.
———
I mentioned way back in the five year old post that I had yet to check out the Barrio Chino branch of Dashi at Arribeños 2302. Given that there are several branches closer to me, in Recoleta itself, plus both Palermo chico and viejo, it's just not where I generally head to when in the zone. And, it's been over a year since I've been to one of those. But, there I was, another day, another long walk (this time along Alcorta, soon to be posted), hungry, and in the mood for sushi. So I popped in. The room, jammed with people, partially because it's busy and partially because it's got to be one of the most poorly designed restaurant spaces I've been in – very long and narrow, with tables packed in way too close to each other, and a waiter traffic pattern that has them constantly circling, with the in and out doors of the kitchen at opposite ends of the room. A bit of a grimy, industrial feel to the whole thing as well. On a purely visual basis, I'll stick with the spots closer to home.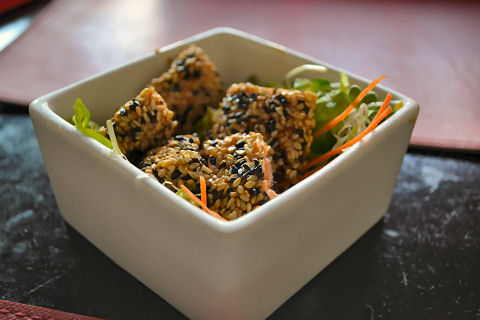 Now, as I said, it was jammed. But, it was also the end of the lunch hour, so nearly everyone was already close to or finished eating, and within 20 minutes of my arrival the place was less than a quarter full. Still, the lack of attention, given that for a 40 seat restaurant there were three waiters, was pretty striking. No one ever brought a menu, I finally just went up and got one from an empty table. And when I did get a waiter's attention the look on his face was one of shear exasperation. Sorry, didn't mean to ask you to do your job. Oh wait, yes I did. From that point, it was a good ten minutes to get a bottle of water, and then… nothing. After half an hour I asked about my food and he spouted something about delays at the sushi bar (from what? there's no one here besides me and 2-3 other people waiting for food). At 45 minutes I told him if something wasn't on the table in five minutes I was walking out. Apparently being literal, he showed up a couple of minutes later with a small salad topped with sesame crusted salmon bites – on the house – not what I ordered – but at least it was food. And, it was pretty good.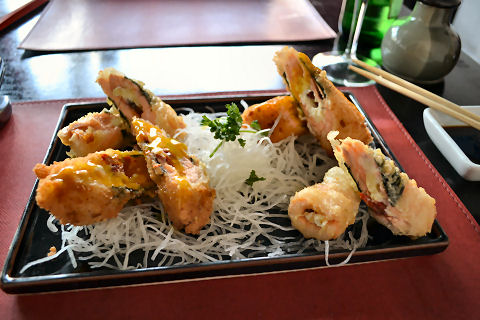 Apparently still holding to the sushi bar delay line, my hot dish showed up first. One of the things Dashi has added in over the last couple of years is a constantly changing and expanding "Menú Nikkei" of fairly creative specials – perhaps they were starting to feel a bit left behind with all the new Japanese and Japanese-Peruvian fusion spots opening up. Here, the Samurai Crocante – a tempura salmon dish with the salmon rolled around sun-dried tomatoes, a little bit of cream cheese, and drizzled with a mango dressing. Excellent, really, excellent, and one of the more interesting creative combos I've seen around.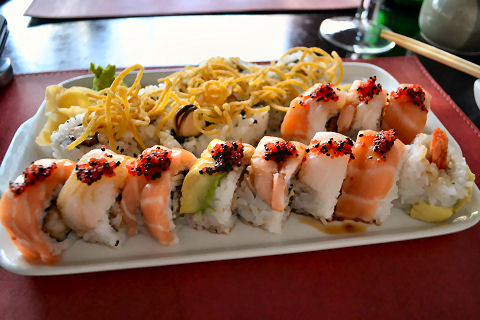 But, it didn't stop there. My two sushi rolls showed up (okay, it was a bit too much food, I probably shouldn't have ordered when famished) shortly after finishing off the tempura. The rainbow roll in front wasn't what I'd ordered, which was another of the Nikkei menu specials, but at that point I wasn't going to send it back, and I do like rainbow rolls. What I'd ordered, and will have to try a different time, is the Shogun roll, a mix of crispy fried shrimp and avocado with a walnut praline, and a spicy togaroshi and passionfruit sauce. Still, this one was great, and obviously, big! In the back, one of the two specials that I did order, the Machu Pica – their Peruvian fusion special – a mix of shellfish (and, it really was a good mix of mussels, scallops, calamari and prawns) dressed with a "spicy" rocoto pepper sauce (noticeable spice, but not really spicy), and topped with crunch shoestrings of sweet potato.
Overall, hate the room and the service pretty much sucked. Love the new creative menu, and everything was really some of the better creative stuff I've had. It does come at a price – apparently also imitating all those new fusion spots – the new fancy stuff all run anywhere from 60-80 pesos a plate. At least they don't charge a cubierto, which would just add insult to injury. Still, these three rolls plus a bottle of water rang up a whopping 185 peso tab. Then again, I did order one roll too many. I think, however, I'll stick with the spots near me that have nicer ambiances.