"You can't fake quality any more than you can fake a good meal."

– William S. Burroughs, novelist
History has an interesting way of repeating itself. A couple of years ago, some of my students in the Italian cooking series got to talking about missing Vietnamese food, and wondered if I could offer up a class. Now, I know the basics pretty well, but at the time, I thought it would be fun to get a more insider perspective and contacted Thuy, who was running the closed door restaurant A Little Saigon at the time. She gladly offered to put together a class, and one of the students' specific requests, was to learn to make phở. And that's where historic repetition comes into play, one of my regular students in the vegan Asian classes asked if I'd teach her to make it. Now we already had a Vietnamese class in the series, which she'd taken, and I've played around with more dishes over time, so why not?
I put together the same class that Thuy offered up, but vegan style and with altered recipes that I've played around with, and also with some input from a couple of online vegan friends, and my friend Simpson Wong of Cafe ASEAN in New York. And, I think it came together quite well. There were happy smiles around the table at lunch!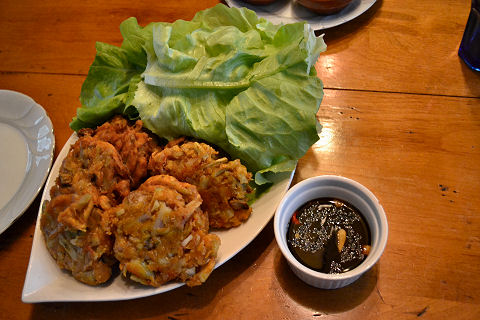 Banh tom – crispy sweet potato and mushroom fritters with nouc cham dipping sauce – completely addictive.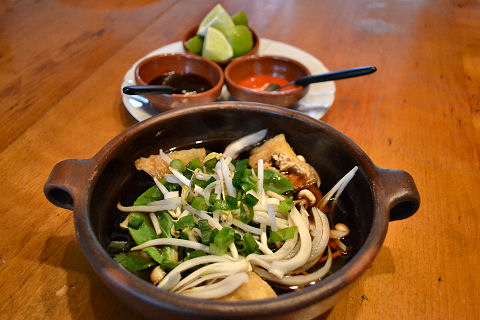 Phở, with fried tofu puffs, enoki mushrooms, and a mix of vegetables, ready to be condimented with lime, hoisin and sriracha…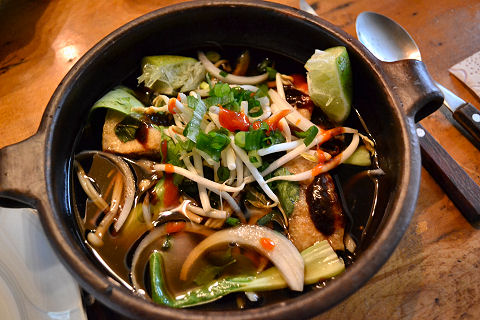 …and, ready to dip into. Which we did, with gusto!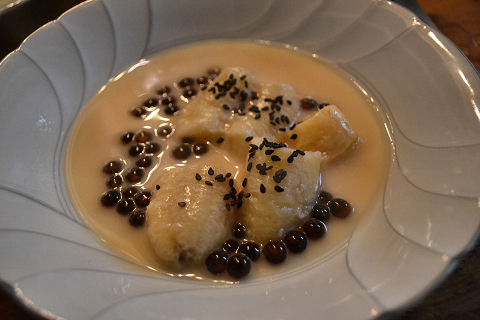 And, for a little sweet finish, Che chuoi – bananas cooked in coconut milk with tapioca pearls. I haven't been able to find the nice clear tapioca pearls here recently, these are the mixed tapioca and sweet potato starch ones, which are colored a glistening dark brown.
Our other class this week was the first session of our Four Chinese Meals series – Canton & Hong Kong. And that's what you missed this week in the kitchen classroom.