"The time has come, the Walrus said,
'To talk of many things:
Of shoes–and ships–and sealing-wax–
Of hamburgers and spicy wings…'"

– almost Lewis Carroll
The time has come, actually, to do a little update on the world of expat snacks, adding in a few new entries to both the burger and wing category. A few, I've just added as they've come along, like Randall's and Buller Brewing Co., over recent months; Cilantro got a re-review with no change to the wings, though a bit of a downgrade on service and atmosphere; and, the new and popular Las Cañitas hangout The Office didn't exactly thrill us in the atmosphere and service department, nor with its sweet, Asian bbq wings.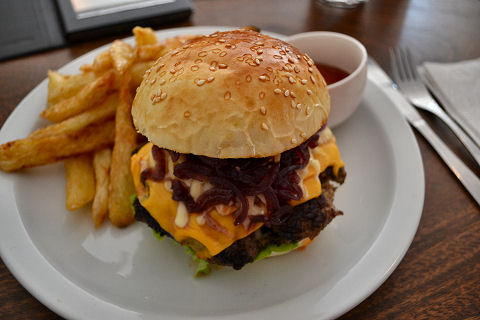 But, word continued, for the most part, that the burgers at
The Office
were its
raison d'etre
, and, risking the possibility of not being welcome on my return, I slipped in for lunch, figuring at least I could avoid the heavy drinking party atmosphere. Owner Alan Epstein couldn't have been nicer, and not only the apology and comped meal as an acknowledgement of our disastrous night out are appreciated, but we also had a great chat about the food and running a restaurant here in Buenos Aires. He was upfront about his own dissatisfaction with some of the food at the time we'd been there, and he and his partner have replaced much of the staff and relaunched the menu with some changes. I didn't retry the wings, which are now listed as coated in sriracha, honey, Asian bbq and ginger – the first of those ought to add some heat to the mix if it's used well since we're pretty sure it was missing on the first go-round, but I did go for their classic burger, topped with a great mix of lettuce, tomato, caramelized onions, cheeses and some coleslaw thrown in to boot. The burger came out medium on a medium rare order, but that's not far off, and was well seasoned and juicy. The bun, which he now makes in-house, was great. And, quite possibly the best french fries I've had in Buenos Aires – crackling crisp on the outside and still soft and creamy on the inside. Choice of condiments includes Dijon mustard, which is a big plus over the ubiquitous sweet yellow stuff here. Hard to judge the service, at lunch, which they've just launched, right now he's handling the room as they're only getting a few customers, but, given that other than fast food it's probably the only other lunchtime burger in the zone, it's worth a stop in. We just might pop back and retry those wings and some of the other menu items. For the moment, I'm going to at the least move the place from Not Recommended to Okay, and give him a little time to get things running smoothly the way he wants. It's only fair, right?
[This place has closed.]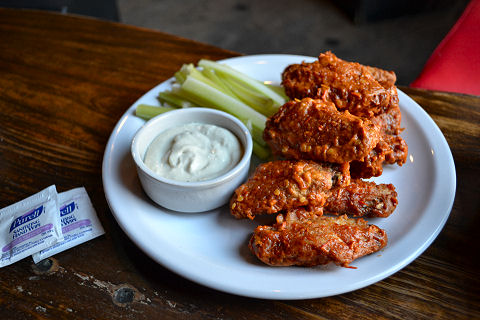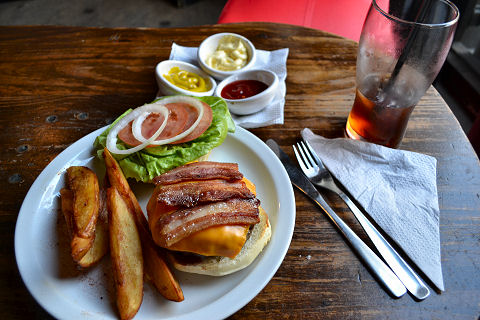 Sugar Bar, Costa Rica 4619, just off Plaza Armenia in Palermo, has got to get the award for the restaurant/bar that's been closed and re-opened and re-worked more times than anywhere else in town. A perennial favorite with the sports bar set, especially those who don't want to have to travel to Recoleta for Casa Bar or El Alamo (which is due for a re-visit since they've switched over to using new salsas and hot sauces from El Tejano), they've also, in their latest incarnation, been opening up for lunch. The one time I'd been to Sugar before was literally the day that owner Martin Frankel brought in a new chef, the culinary guy who was behind the Pura Vida juice bars here in town, and the food that we had was pretty awful, the last vestiges of the previous kitchen's offerings. So, I dropped in for lunch and gave it a go. On the wings side, they're available in buffalo, spicy buffalo and teriyaki. Now, a true buffalo wing is nothing more than a lightly flour dusted, deep-fried wing that's then tossed in hot sauce, traditionally, Frank's Red Devil Sauce (the only place that uses that method and sauce here is Casa Bar), so I'm not sure about a non-spicy version of buffalo, given that that's kind of its defining characteristic. But, I went for spicy, which I was warned was going to be pretty intense. It's not. It's got some heat, don't get me wrong – a touch of a sort of Cajun style to it, with some onion, garlic, and herbs in the mix – though not enough to break a sweat, and the wings, despite all being the "second joint" (cheaper than the drumettes to offer up), were nice and meaty. Overall, really good, but if that's the spicy, the non- have got to be pretty tame; oh, and the wings are lightly breaded, so they have a really crispy, crackly exterior under the lacquer of sauce. The burger is just plain rockin'. As always, I "under order" and asked for it rare to medium rare and it came out medium, but beautifully seasoned, plump and juicy, and topped with plenty of cheese, crispy bacon, lettuce, tomato, onion. Fries, thick wedges of steak fries, not my favorite and these were pretty oily – a bit of a detraction from the burger. Definitely at the top of the burger charts and I'm going to have to say, that the differences between the burgers at Sugar Bar, The Office, and Randall's come down to nuances, and their "ranking" comes down really more to things like the fries and condiments. My memory of The Embers still keeps it at the top, but I think it's time for a revisit up there to see if it's really as good as I remember it being. And, of course, it's outside of the city, so these three are the tops in town.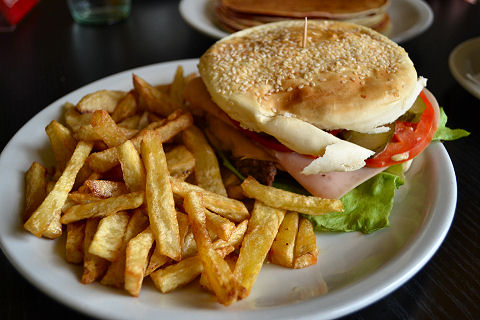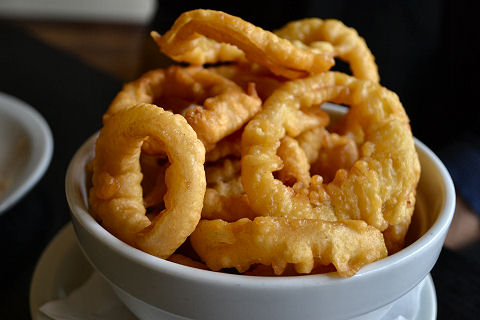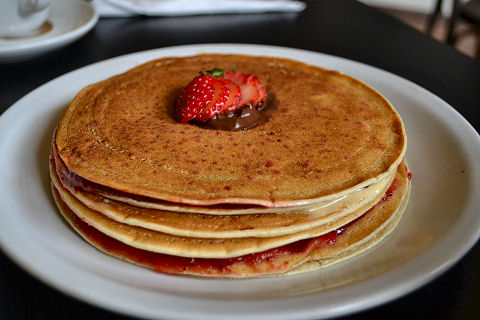 It's almost laughable to include this spot, a purported norteamericano hangout, burger and pancake house, Brand's, Gurruchaga 1776 (the space that used to be a Vietnamese clothing store and restaurant), in Palermo. It's clearly being run by someone who has some sort of image of what that would be like without the actual experience of it. It kind of looks like somewhere that ought to be a hair salon – or out of Grease, the stage production – or both at the same time. And way too many TVs – every booth has its own, and all tuned to MTV, which, is not playing over the loudspeaker system, that is, instead, tuned to a local radio station. The wings went quickly by the wayside when it turned out they're not a buffalo style wing in any way, shape or form, just a plate of fried chicken wings with sweet potato fries – we didn't bother. Instead, we decided to give them a shot for what they advertise – burgers and pancakes. The former, I'm not going to say it was bad, because it wasn't, it was just ordinary. A clearly pre-formed patty, probably had been frozen, with the meat over-ground to sausage-like consistency, unseasoned, topped with lettuce, tomato, onion, a slice of ham and some cheese, and "bread and butter pickles" which, while in the right crosscut shape, were not – they were overwhelmingly sour pickles that just dominated the entire burger – probably just a local jarred pickle. The fries, overcooked and dripping with oil. Those onion rings that we ordered on the side, don't they look beautiful? And the top 4-5 of them were. But everything underneath was soggy, doughy, and oily. No doubt that rather than draining them, tossing them with a little salt, and then serving them, they were just dumped straight from fryer into the bowl, so everything underneath steamed and sat in the remaining oil that hadn't drained off. There's a beautiful picture of a stack of silver dollar flapjacks on the menu (actually, there are lots of food photos on the menu that turn out to have nothing to do with the food being served, like a steak frites that isn't on the menu – I think they just lifted the photos from someone's website somewhere). What we got were these. Crepe-sized, wispy pancakes, though likely made with pancake batter, layered with jam and butter (not on the menu either, but since the only two options for the "torre de esponjosos" as these were called, versus the "panqueques" which is what most of the menu items were, i.e., actual crepes – were smothered in cheese and grilled chicken or vegetables, a very strange duo to be offering, we asked to try them just plain with some butter and syrup on the side – this is what we got instead. They were treacly sweet and we barely made our way through half the plate, basically, it was a dessert. Despite the fact that we left half the food, our waiter appeared not to notice, just cleared the plates and brought the check. Meh.
So, other than a trip up to The Embers, no more burgers for awhile methinks. And perhaps a Sunday afternoon checkout of the new wings at El Alamo. Other than that, I think expat snack updating will be on hold for a bit.