"I sowed the seeds of love,
It was all in the spring,
In April, May, and June, likwise,
When small birds they do sing."

– Fleetwood Habergham, The Seeds of Love, 1690
Picking up from where we left off on my series of recreating individual dishes from the menus of my, well, formative years in the dinner party biz… we're in early 1996. February was my first all-chocolate dinner, and since I've recreated, at one point or another, all of those dishes in various Casa SaltShaker all-chocolate dinners, I'm skipping over it. March, there's no menu in the book for – likely, given the timing, I was spending a week or two in Italy in a combination of VinItaly for work and then vacation, probably in Rome. So on to cherry-picking from April, May and June….
April's menu is titled Sailing The Isles of the Atlantic, Sunday, 14 April, 1996. The menu: First Port of Call, Iceland, Poached Cod with Cardamom Sauce, Aalborg Akvavit Cocktails; Second Port of Call, The Canaries, Empanadas with Onion Marmalade, The Sow's Ear Winery Cider; Third Port of Call, The Madeiras, Maderian Onion Soup, Domaine Chandon Réserve; Fourth Port of Call, The Azores, Laurel Roasted Beef, 1990 Mandos Reserva; and Fifth Port of Call, The West Indies, The Ultimate Banana, Caribbean Coffee.
May was billed as The Second Sunday Supper Circle Celebrates New Jobs & The Search Therefor, An Evening of French Inspired Cuisine, Sunday, 12 May 1996. Now, I know I wasn't getting a new job then, if memory serves, I think my friend Frank had just moved to supervise the word processing center at a new law firm and my friend Bob and just moved to a new tech position, though I don't recall where. Then again, I could be wrong. The menu: Paupiettes de Chou Savoie avec Foie Gras d'Oie à la Vapeur au Fumet de Sauternes, 1989 Château Rieussec Sauternes; Pleurote en Huître Grillés avec Ravigote de Noix, N.V. Chandon Rosé Cuvée; Queues d'Écrevisses et Fougères Tête du Violon au Sauce Bavaroise, 1993 Kistler Chardonnay "Durrell Vineyard"; Tournedos à l'Ensuite et Ramps Rôtie, 1990 Château La Nerthe Châteauneuf-du-Pape; Les Fromages – Bleu de Bresse, Dry Jack, Le Cornilly, 1978 Château Lascombes Margaux; and Soufflé au Chocolat et Cerises avec Sirop de Laurel, Café
And, finally, June announced Spring is Sprung at the Second Sunday Supper Sircle, Sunday the 9th of June 1996. The menu – Salad of Vine Ripened Yellow Tomatoes, Asparagus, Fiore di Sardegna, N.V. Clinton Vineyards Seyval Naturel; Sesame Fried Soft Shell Crabs, Grilled Spring Onions, 1994 Aranjo "Eisele Vineyard" Sauvignon Blanc; Chilled Sugar Snap Pea Soup, 1993 de Wetshof "d'Honneur" Chardonnay; Radiatore with Pheasant and Morel Sauce, 1993 Domaine Cheysson Chiroubles; Vermont Farm Cheddar & Tourree de l'Anbier, 1987 Marchesi Antinori Solaia; and Fresh Strawberries & Mint Cream, Rhubarb Sorbet.
Whew! Where to start. First off, it's not spring here, it's late winter. Getting there, but not quite. The menu went through a series of iterations, not surprisingly, and here's where we ended up, with a couple of nights of great fun and guests!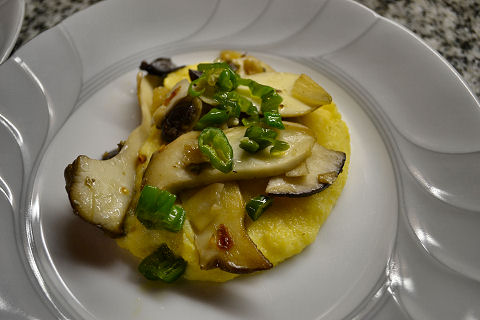 From the May menu, assuming that my French was anywhere near to reasonable, the second course, originally grilled oyster mushrooms in a walnut-infused Ravigote sauce (essentially a classic meat velouté sauce cut with either white vinegar or Dijon mustard), became a saute of King Oyster Mushrooms with a mix of slivered almonds, sliced garlic and black olives, chopped capers, crushed peperoncino, salt and pepper. Served over a creamy polenta – cooked in half milk and half water, then finished with butter, cream, and grated Pecorino cheese. And, garnished with slices of blistered shishito peppers.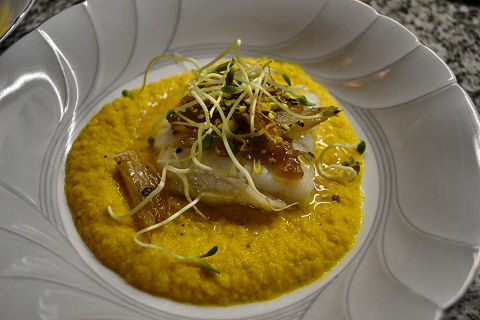 I have no doubt that the first course in April was a cold court-bouillon poached cod, served up, likely, glazed in a little aspic or something similar and drizzled with some sort of savory cardamom syrup, though I don't recall exactly what it was. First off, the cod this week looked like crap, at one fish market after another, so that was out – the pollack, however, was beautifully fresh – I poached it at last minute in warm olive oil, then served it over a strained puree of carrots that I'd roasted with salt, white pepper, cardamom, coriander and cumin, and then smoothed out the puree with milk. Scattered over the top, caramelized shallots, toasted pistachios, and fenugreek sprouts.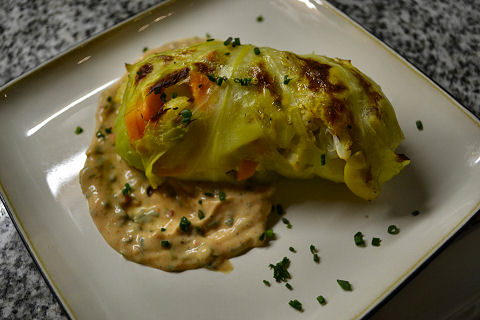 I have no doubt that the first course on the French menu was a slice of fresh foie gras wrapped in a blanched cabbage leaf and then sauteed, served up with a reduced Sauternes sauce. As to what else the dish involved, no recall. Where we ended up was a broiled cabbage wrapped roll of pork liver pate and roast pork loin tossed with a sesame oil saute of cauliflower, carrots, celery, green olives, garlic, and red chilies. The reduced sweet wine sauce wasn't going to work, though I did try out a reduced red wine and black olive sauce – the flavors just didn't mesh. I wanted something rich and spicy to play against the roll, and ended up with a mayonnaise based sauce with a good amount of chopped garlic and parsley, ancho and cayenne chili powders, and finished by whisking in a good amount of stout. Perfect.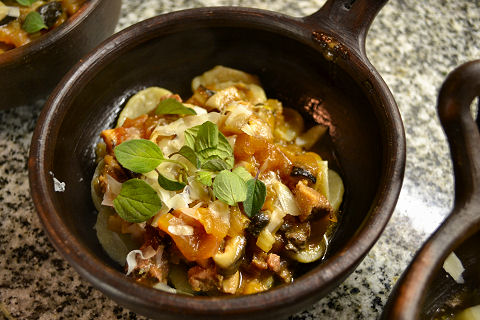 The pasta dish in the third menu started out with plans to stay pretty true to the original. However, making radiatore is, bluntly, a pain in the ass, and I decided on semolina orecchiette, following a recipe learned from friend Cesare Casella that includes wine and black pepper in the dough. For the sauce, my house Bolognese recipe, with chopped wild duck and quail filling in for the usual red meats, and a mix of portobellos and shiitakes subbing for the button mushrooms.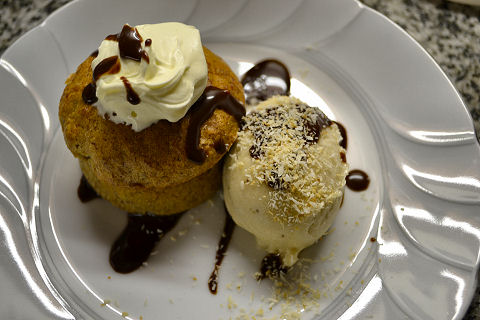 The dessert off the first menu, The Ultimate Banana, stayed pretty close to what I made then. A simple and delicious banana-pecan cake recipe, each topped with a little whipped cream (night one) or dulce de leche (night two), just to see which we liked better. Cream, I think, though it was pretty close. Aside, a banana sorbet – really nothing more than bananas, simple syrup and a good squeeze of lemon juice both for brightness and to cut the crystallization. The sauce, a basic dark chocolate sauce spiked with habanero pepper. A little toasted coconut scattered about. Killer.