"[on whitewashing Aunt Polly's fence in 'Tom Sawyer']
Chief Giant Brain: Tom Sawyer, you tricked me. This is less fun than previously indicated. Let this corny slice of Americana be your tomb for all eternity.
Tom Sawyer: Please, no!

– from Futurama – The Day the Earth Stood Stupid
It's been a mere two years since I reviewed Cilantro, Anchorena 1122, 4966-2941, in Recoleta, and I normally wouldn't give it another one except that much seems to have changed, and relatively recently. It starts with walking in. No longer is it a dimly lit lounge with hanging curtains and alcoved tables where you feel as if you're meant to be having a bit of a tryst. Then again, the strange Austin Powers-esque decor is still in place on the walls. But there's bright lighting, a large U-shaped bar dominates the center of the dining room, and cute Brazilian waiter boy has been replaced with a bevy of young, wispy thin women dressed in lounge-classic black. Televisions sets now blare from a trio of spots, including a large screen dominating the front of the room. [Closed]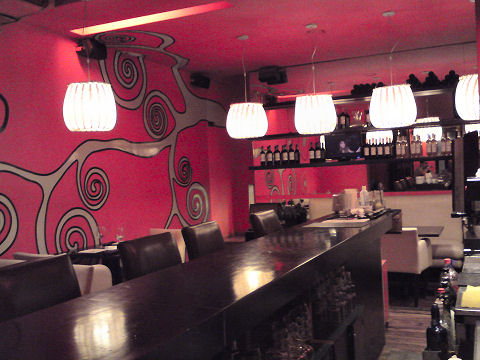 Setting aside all the flirtations of that first encounter (which I haven't encountered since, though this is the first time back since they redesigned the space), service has gone downhill. Admittedly, the bartender who took care of us has only been with the place a mere ten days. It may also be the first time she's ever had a job, or at least one that requires interaction with the public. But if there was ever a blond waitress who fit the stereotype of what one is, she was it. And her companions didn't seem to be doing much better. Actually, the first 15 minutes we were there it was hard to tear the trio of them away from a large bowl of ice cream that they were sharing – I guess it was melting and that was more important than taking care of customers.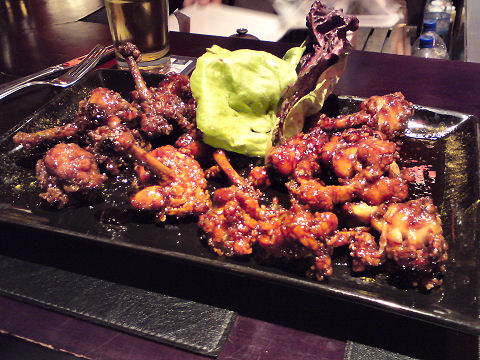 We ordered up the wings once again. A young man in from Boston was sitting next to us at the bar and enjoying a bowl, but noted that they had no real spice, just a lot of sweet, so we specified "super picante", a request that seemed to fluster our server, but she asserted she'd try, and returned to proudly tell us that she's figured out how to put that in the computer so we were all set. The wings come in a quantity of 8 or 16 – perhaps that's what waiter boy did last time is gave us the larger portion for the price of the smaller. They're still pretty sweet, and still just mildly spicy – if they did add anything to them to make them spicier than just the regular order, then I can only imagine that our new Boston friend was eating candied chicken. But, meaty, and not bad at all with a pint of Warsteiner.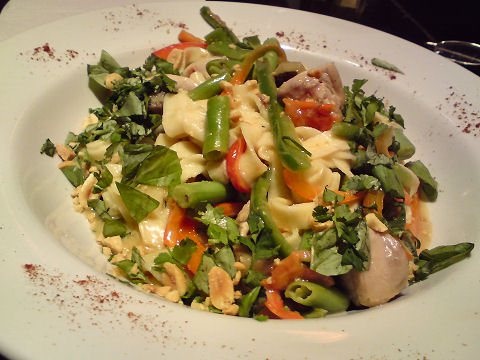 The menu now indicates heat levels next to the items (it's a significantly expanded menu to, in comparison to what I recall anyway – in addition to the various pan-Asian dishes there are now burgers and sandwiches and various fried dishes) – and the three chilies next to the chicken and vegetable stir-fry spoke to me. Waitress returned after poking at the computer a bit to ask if I wanted it with sticky rice or pasta. I went with rice, she confirmed that, and you see what I got. The pasta over-cooked to the limp tissue paper stage and watery tasting, the vegetables nice and crisp, the chicken itself fine, though the five measly cubes of it in the dish were a disappointment. As was the complete lack of spice. Not even salt. Maybe those three chilies are just decorative?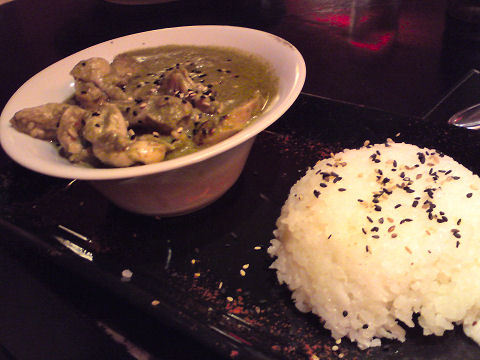 Likewise the green curry chicken, also denoted with triple
ajies
. No spice, no seasoning, just tasteless – we were actually trying to figure out who something with that much green in it could have so little flavor. And the color, a truly unappetizing grey-green that only the military could love. At least we got rice on that one, though that may have been the only option.
So, an upgrade on the atmosphere, but downgrade on both service and food. It's still pretty reasonably priced, and I suppose I could still pop in for wings and a beer, but in this neighborhood I'd rather hit Casabar for that and get some real spice. It's not even a particularly fun ambiance anymore. And that doesn't even touch on the guitar duo who showed up mid-dinner, clearly friends of the manager (who also never left hanging out at the bar, not to greet anyone nor do anything the entire time we were there), and who walked around asking everyone if they liked bossa nova – and then sat down and started playing and singing – not particularly well. We finished up and bailed, and that's pretty much where I am with the place.