"All theory is gray, my friend. But forever green is the tree of life."

– Johann Wolfgang van Goethe, writer and scientist
Just a mini-re-review – a place that while I don't go to regularly, I go to often enough to have tried a good number of items on the menu. It's Siempre Verde, Arribeños 2127 in Barrio Chino [As of April 2012: Av. Rivadavia 548 right off Plaza de Mayo], "the" spot for vegetarian Chinese food. I've reviewed it before, but it's been nearly 6 years, so thought it was time for, if nothing else, a reminder bump to the top o' the heap. [This place has closed.]
It's a relatively charmless place, though at least it's been spruced up a bit since that first visit with newer tables, a coat of paint, and far cleaner than it used to be. Service is reasonably attentive if not particularly welcoming – in fact it's pretty perfunctory, with hand gestures as to where to sit, menus dropped off without a word, orders taken with the same, and the food, and later the check, delivered with a roughly equal quantity. It's one of the reasons I rarely go, despite the food being good, I hate that feeling like every customer in the place is irrelevant, particularly, of course, myself.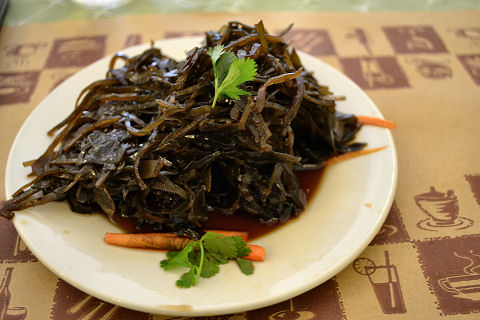 Started off this time with an ensalada de algas, a smoky, salty tangle of seaweed dressed with a little mirin and soy and completely refreshing.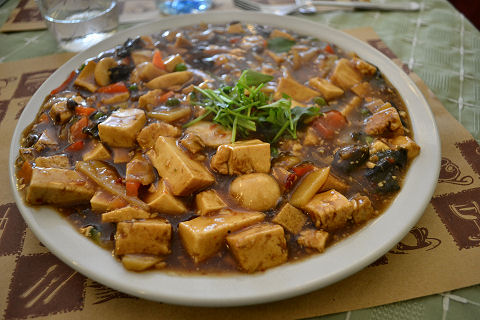 And, not having remembered that in my first review I had ordered the ma po tofu, and, it being pretty much my favorite dish at this place, I ordered it again. Rich, creamy tofu, lots of different mushrooms, salty black beans and plenty of chili-heat. As vegetarian versions of this dish go it's one of the better that I've had (it could use a little more szechuan peppercorn tingle to it, but other than that…).
This is really one of the better vegetarian restaurants in town when it comes to variety and quality. It may not be as creative as some, sticking pretty much with veggie versions of traditional Chinese cooking, but it does them well. Continues to be on my recommended list.