"Men who have blazed new paths for civilization have always been precedent breakers. It is never the man who believes in his own ideas; who can think and act without a crowd to back him; who is not afraid to stand alone; who is bold, original, resourceful; who has the courage to go where others have never been, to do what others have never done, who accomplishes things, who leave a mark on his times. Don't wait for extraordinary opportunities. Seize common ones, and make them great."

– Orison Swett Marden, doctor, writer and hotelier
Continuing in my little series of going back to the first dinners I ever put on back in NYC, another mashup of a couple of menus. The two menus, face to face in my little ledger of past dinners were from December 10, 1995 and January 14, 1995, and the first time I listed these as the Second Sunday Supper Circle, which is what it was known as from that point on (even if not held on a second Sunday).
December 10, 1995 – "The Second Sunday Supper Circle Presents a Dinner Flavored with Bold Ingredients in Honor of The 45th Anniversary of the United Nations' Declaration of Human Rights Day", was followed by the quote above on the left, and on the right, the menu: Serrano Ham with Fresh Marjoram, Rose Petals, Cracked Peppercorns, Extra Virgin Olive Oil and Balsamic Vinegar; Roasted Vegetable Broth with Pommery Mustard Spaetzle and Horseradish Prawns; Sweet Potato and Shiitake Ravioli in a Pool of White Truffle and Chive Cream; Roasted Marinated Sea Bass with Baked Lemon and Garlic Potatoes; Mixed Herb Salad with Epoisses Toasts; Cherry Genoise with Black Walnut Buttercream and Slivovitz Syrup. No wines listed.
January 14, 1996 – "Nuts Nuts Nuts Nuts Nuts Nuts Nuts Nuts" is imposed over the picture of a squirrel in a tree branch – I think we have our theme here: Fennel Salad with American and Israeli Persimmons, Pecans and a Pernod-Mustard Vinaigrette served with N.V. Gruet Brut; Grafton Cheddar Soup with Spinach, Mizuna & Walnuts, Cranberry Bannock with 1991 Umberto Cesari Albana di Romagna "Colle del Re"; Braised Five Spice Scented Leg of Lamb with Sauce Paloise, Toasted Cous-Cous, Parsnip Puree & Almonds with 1982 Penfolds Grange; Two Chocolate, Cinnamon-Lemon Cheesecake Sandwich, Crushed Hazelnuts, Apricot & Fig Coulis with 1991 Giovanni Dri Ramandolo.
I was actually tempted to just reproduce/revise the first menu – I remember it fairly well and it all sounded delicious, but in the end decided on a combo of the two, with a fair number of modifications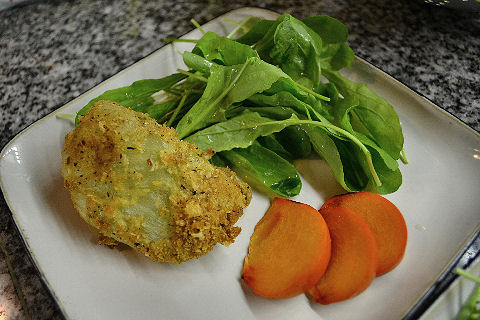 Up first, from the second menu, the salad. Likely it was not much more than simple sliced fennel and persimmons – the two different types are really quite different, both in look and flavor – the ones available here are fuyu persimmons, a different variety all together, and at least according to Wikipedia were imported to Brazil from Asia in the 1890s, I assume that's where we get them from. I wanted a bit more green in the salad and went with arugula tossed with a Pernod vinaigrette (rice vinegar, Pernod, dry mustard, vegetable oil, salt and pepper), some slices of fresh persimmon, and then quartered large fennel bulbs that I first blanched and then dried, then crusted in a mix of breadcrumbs, grated pecorino cheese, ground pecans, salt and five-spice powder and then fried them to a golden brown. That's a new go-to combination!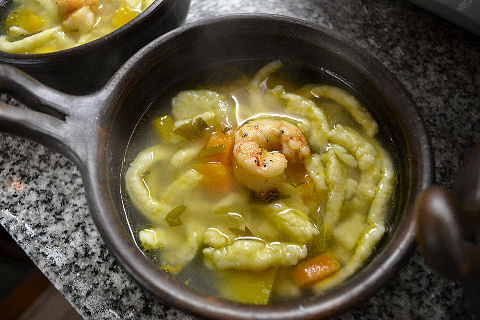 I remember where this dish came from very well. Many moons ago, well, just based on timing, I'd guess late 1995 so I must have been working at Felidia Ristorante, I'd flown out to Chicago for an interview with Charlie Trotter – at the time he was putting together his team for the soon to be opened Las Vegas branch of his restaurant and somehow I'd ended up on his interview list. It was a whirlwind 24 hours, his GM picked me up at the airport, I was given a tour of the Chicago restaurant along with a pretty detailed history, then met Charlie and had about an hour-long interview. After that, I spent the rest of the day shadowing Joe Spellman, his sommelier – oh wait, that's how I ended up on the list, I knew Joe from the Advanced Sommelier exams – both in service prep and through the dinner service, including some time in the kitchen to get a sense of how the team worked together. Towards the end of the night I was seated at a table and treated to the full (10 course? Second best meal of my life, after Tetsuya's) tasting menu for the evening, and one of the dishes was a roasted vegetable broth with Pommery mustard spaetzle and slices of lobster tail marinated, I think, in horseradish oil. So, I came up with a similar dish for my group the following month (I didn't get the job, and then the Las Vegas restaurant opened and fizzled out within about 6 months and the sommelier who did get the job ended up without one and all her possessions moved to Las Vegas and a year's lease on an apartment, so I guess that turned out alright on my end).
So, here – roasted off some diced vegetables: butternut squash, onion, carrot, celery, garlic, tomato, salt, pepper and thyme. When nicely golden I took them out of the oven, used half of them to make a broth, strained that, added the rest of them back in sans the thyme stems, seasoned it up with salt and pepper. Made spaetzle with Dijon mustard filling in for some of the liquid (no Pommery available here, ah well), cooked those off separately in boiling salted water and then added them to the soup. Marinated prawns in salt, pepper and horseradish and then sauteed them, placing one in each bowl atop the soup.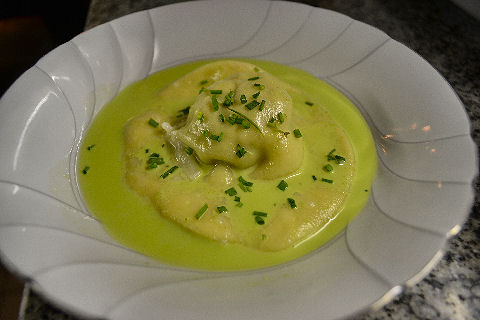 This one too, I recall the inspiration. My friend Darrin was working at the restaurant CT, for Claude Troisgrois, when it was open in New York and treated me to a dinner there one evening. It was a fantastic experience, and the one dish that stood out then and now was a beautiful puff of a ravioli, almost like a small balloon that was filled with a silky smooth sweet potato puree studded with shiitake mushrooms, and it was served in a white truffle and chive cream. I've never figured out how to make the style of ravioli that he served, but here, my own version with a semolina pasta, filled with the puree and then boiled up (maybe he steamed them or something to get that delicate puff… hmmm, have to give that a try). The sauce, a little of the roasted vegetable stock reserved from the previous dish pureed with a large quantity of chives and left to infuse for half an hour, then strained, finished with cream and some truffled honey, salt and white pepper.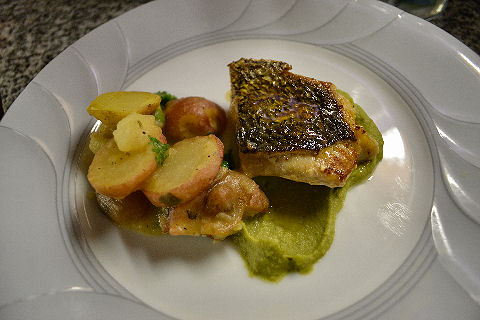 A simple dish of seared sea bass, cooked until the skin was just crisped, then served over a sensual puree of fava beans finished with butter, milk, salt and white pepper. The fish drizzled with the butter it was cooked in. On the side, lemon garlic potatoes from the Deaf Smith Cookbook, one of my all time favorites of roasted potatoes (here using the small Andean potatoes cut in half) cooked in oil, lemon juice, oregano, salt and pepper and then tossed with parsley to serve. Sometimes the simple things are the way to go. Had a vegetarian guest one night and replaced the bass with a wedge of cauliflower that had been quickly blanched and then I treated it the same way, cooking it olive oil and butter until one side was just browned, then into the oven to finish cooking through.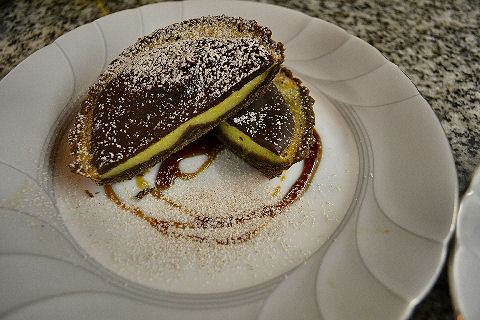 And, finishing up with my favorite chocolate and lemon tartlet, which I've detailed numerous times before (though usually made in one large tart and then cut in wedges) – cocoa crust, baked lemon curd filling, chocolate ganache topping. Cut in half for presentation – thought that was a pretty way to go about it, served over a reduced fig syrup and then dusted with a mix of confectioners' sugar and five-spice powder.
I do wish I could go back and see how those original dishes looked, and re-taste them – just a shame I never took photos nor did any kind of notes or write-ups of them.