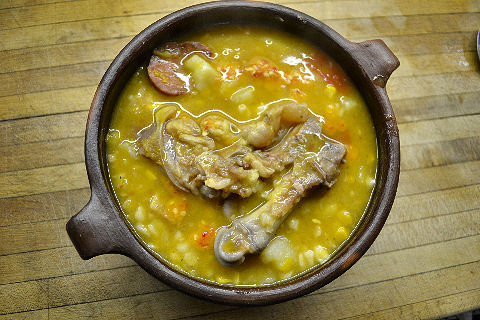 "Grab your pig's feet, bread, and gin, there's plenty in the kitchen. I wonder what the poor people are eating tonight?"

– Fats Waller, American jazz pianist and singer
Almost six years ago, shortly after moving down here… oh wait, happy anniversary to me! Today is six years since the day I moved down here, July 2, 2005! So, one of the first local foods I became fascinated with is the ubiquitous cold weather stew, locro, and after experimenting with numerous recipes, came up with one that I was personally quite happy with. I presented the recipe on the blog as a quick writeup, and I make it regularly enough, but here we are on a chilly morn, -3°C (26°F), inordinately low for Buenos Aires, and I've been holding the step-by-step in abeyance just waiting for the right opportunity. So, away we go.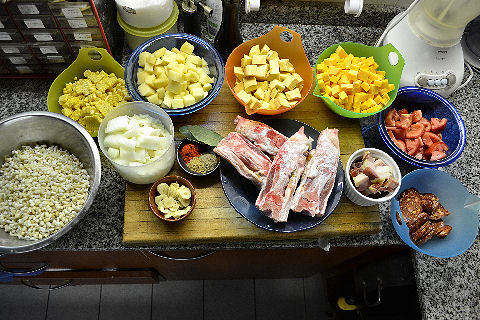 Now, first off, a minor, or major change, depending on how you look at it. While the version I presented back then, and most of the locros you'll find, feature some sort of beef cut as the star ingredient, something like rounds of osso buco, this version replaces that with pigs's feet – but any good, fatty and bony cut of meat will do. Back row from left to right: the kernels of two ears of sweet corn, 1 large potato peeled and diced, 1 large sweet potato peeled and diced, and an equal amount of butternut squash peeled and diced, 2 plum tomatoes, sliced into half rounds. Front row: cracked white corn soaked in water overnight, 2 onions peeled and diced, 3-4 cloves of garlic peeled and sliced, 1 teaspoon cumin, 1 teaspoon smoked paprika, 1 teaspoon black pepper, 2 bay leaves, 4-6 halved pig's feet (or other choice of meat), 2 thick slices of smoked slab bacon diced (save the skin and use it while cooking for flavor, just remove it before serving), 1 cured spicy chorizo, peeled and sliced.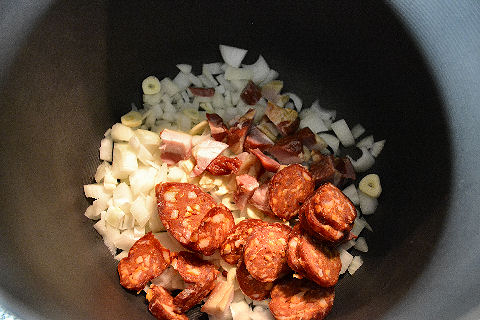 In a large stockpot put the bacon, chorizo, onions and garlic with just a little salt, over medium heat, and cook until onions are translucent and the meats have begun to render their fat, about 7-8 minutes.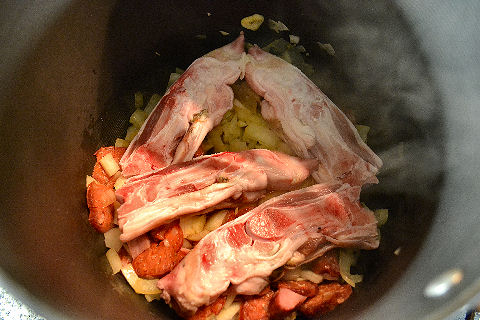 Add the pig's feet and continue to cook, mixing it up, for another 3-4 minutes to lightly brown their outsides.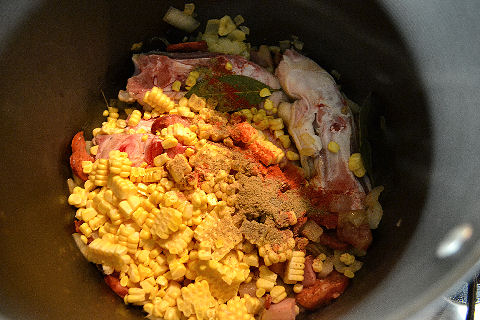 Add the fresh corn and the spices, plus a little more salt, and continue to cook, mixing it up regularly, for 10 minutes.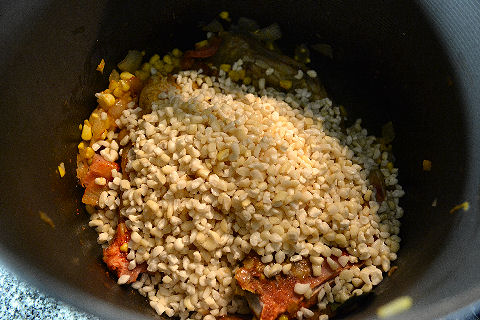 Add the soaked and drained cracked white corn.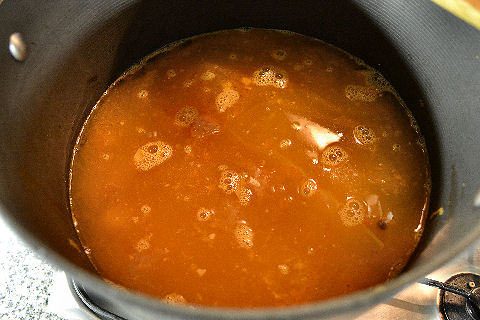 Top it up with water to 2″ above the level of the ingredients, before adding…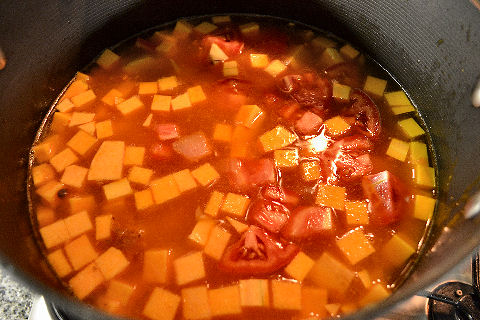 …the remaining vegetables: potato, sweet potato, squash, tomatoes – otherwise you'll have too much liquid in the pot. This should be a stew, not a soup.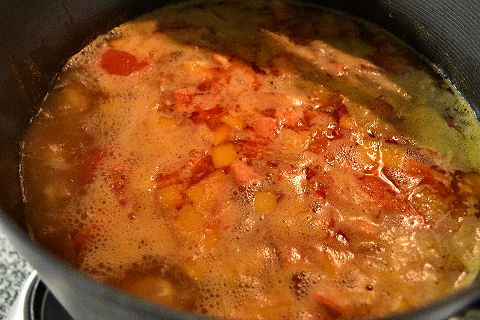 Bring to a boil and then turn the heat down to low. You'll get some scum that forms on the surface, skim that off as it collects, it makes the stew murky, plus sometimes adds some slightly bitter flavors to the stew.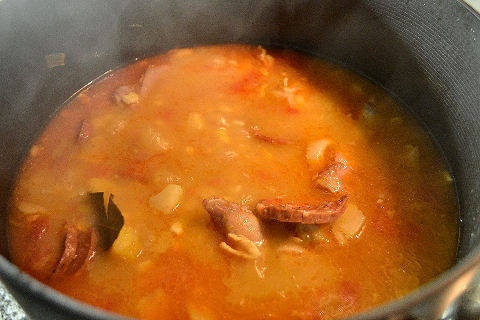 Cover and cook over low heat for 2 hours, giving it a stir every 20 minutes. At this point, depending on the main cut of meat you used, you may want to remove it, debone it, shred or cube the meat and return it to the pot – that's more of a personal decision on if you mind the bones being in there or not. Some people object, some don't.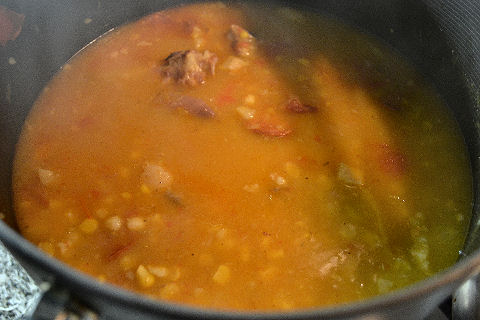 Using a flat wooden spatula, begin to crush the vegetables against the side of the pan, bit by bit, stirring it up, to thicken the remaining liquid. You don't want it all completely crushed, again it's a personal choice, I probably end up crushing about a quarter to a third of them, resulting in a rich, thick stew.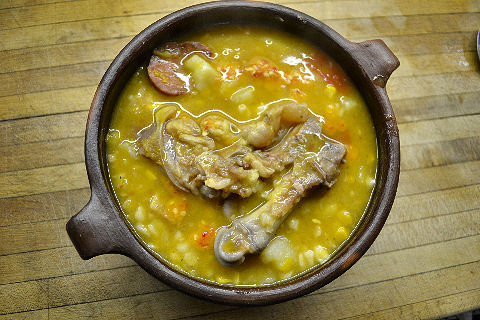 And, at this point, you are golden. Ready to go. Dish it up – make sure (particularly, as in this case with the pig's feet left intact) that each person gets a trotter, or osso buco, or what-have-you. I serve the locro with a chili oil – depending on my mood, one of a trio – the easiest is simply a bottle of chili oil that you can pick up in most chinatowns (the strained oil, not the jars filled with chilies, though, nothing wrong with those either), though more commonly I either chop up a couple of chilies in oil and let them sit while the locro cooks, or mix in a good amount of dried chili flakes into oil the night before when I put the corn in to soak, and leave that to infuse. Let people drizzle it on to their heart's content. If you want to pretty it up a little more, chop up some green onions and scatter them over the top.