"If we were to promise people nothing better than only revolution, they would scratch their heads and say: 'Is it not better to have good goulash?'"

– Nikita Khrushchev
I really wanted to use the lyrics from Allan Sherman's Hungarian Goulash as my opening quote, but I've already done so. But this one wasn't bad. So, we were out the other night wandering in Palermo trying to pick a place to eat as the "new" tapas bar that had been recommended turned out to be already a thing of the past, and I recalled that once upon a time, walking down Fitz Roy, going to some beer swilling expat complaint fest at Freak Bar ("I hate everything here, I can't get anything I used to have back home." "If it's so bad, why don't you go back?" "Because life is so much better here." "Umm yeah, would you excuse me, I think there's someone with a lick of sense I want to talk to on the other side of the room." Rinse and repeat.), and spotted this little place offering up Hungarian food. The night (in the present) being chilly, the idea of a rich, hearty stew, sounded appealing, assuming they had one. [Closed.]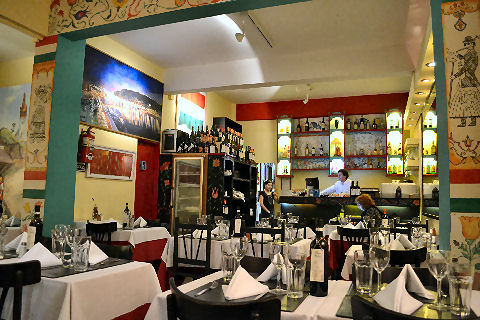 It's a cute, if kitschy little restaurant, and the menu outside did indeed list things like goulash and paprikash – in fact, the menu turns out to list most of the dishes in Hungarian, with Spanish translations below. The place, Turandot, Fitz Roy 1747, Palermo, 4771-5355. And, it seems that it's the only Hungarian restaurant in town (there are two spots up in San Isidro as well, one is the Hungarian Club and the other a restaurant that offers "some" Hungarian specialties). Who knew? The gentleman in the photo seated us and then went back to the counter, where he remained the entire evening except when seating people. The young lady occasionally checked in on us for things like, well, a menu, taking an order… I think we were interrupting by actually having her work – and the eight or so other folk who came in after us at different tables just compounded the slowness factor.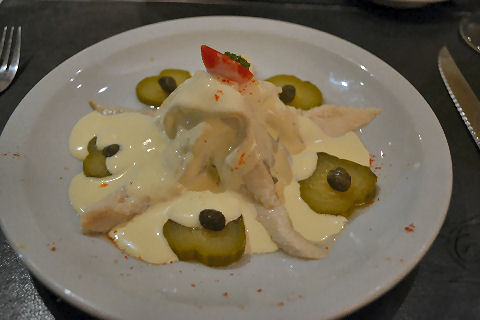 Not the best plate of creamed herring I've ever had, but certainly not the worst. And as for BA, I think the only place I've ever had it except in takeout form from a fish shop. A generous portion of fish, nice tangy sauce, sweet pickles that were a touch watery unfortunately, olives and lots of sliced onion. I was happy.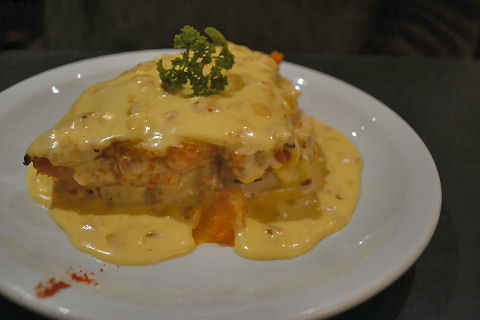 The crepe de praga that my dining companion ordered was a bit of a wonder to behold. It put me in mind of the provençal crespeou or a fiambre aleman, but denser. Several crepes layered with sliced potatoes, all compressed into one gut-bomb torte – but really tasty and smothered in a no less heavy cream sauce with grated onion. That, we just couldn't finish.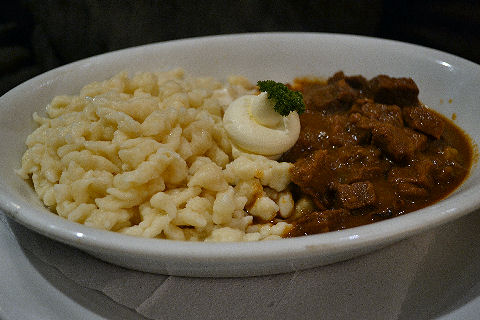 Especially with a platter of this size of veal goulash enroute – and this is the "half portion"! We found it a little bland – not that goulash is typically a very spiced dish, but this needed more paprika, more garlic…a little salt. The spaetzle were perfect.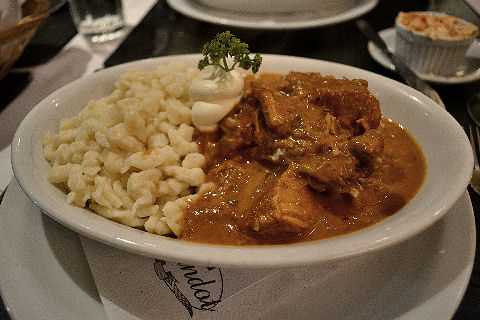 For our other dish, the chicken paprikash – also could have been spiked up a bit in the spice department. Unfortunately not available in a half portion (strangely, out of a list of different stews, only the goulashes are available in two sizes), though interestingly, this isn't all that much more than the half portion of the goulash. Still, we couldn't finish either dish, particularly the quantity of spaetzle, good as it was.
Dessert was not in the cards. Overall, the ambiance is casual and cheery. The service is a bit lacking, mostly just in speed, it was, at least, friendly. Food, if you're jonesing for an Eastern European fix, this is clearly a spot to put on your list. Pricing wasn't bad, with the apps coming in around 30 pesos and the main courses around 50-60. Limited wine and beer selection, although they do have a couple of Hungarian spirits and one dessert wine available, a nice touch. Recommended.