"Truth is the shattered mirror strewn in myriad bits; while each believes his little bit the whole to own."

– Robert Burton, 17th century English writer and clergyman
Random notes….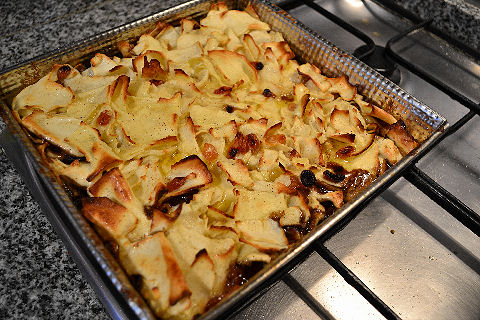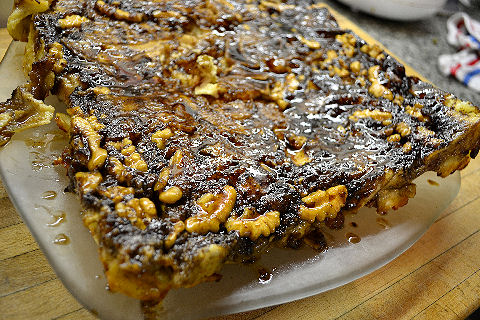 When you have leftover par-cooked lasagna noodles, what do YOU do with them? I took a baking pan and put butter, brown sugar, raisins and walnuts in it, then tore up the noodles and mixed them with some casa 'n crema, a local sort of whipped dairy thingie that's somewhere between whipped cream cheese and sour cream, a bit of sugar, cinnamon and some eggs. Packed that in over the first mixture and through it into the oven and baked it until golden brown atop. When flipped out onto a plate, there's all that lovely caramelized goodness. Childhood memories!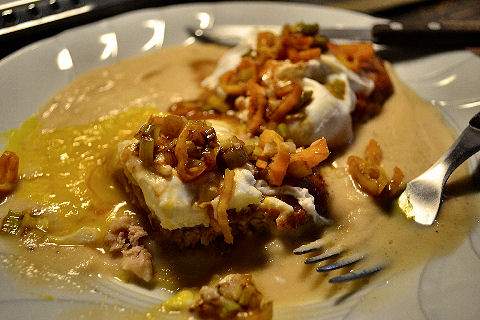 Not everything works out so well. Rabbit burgers for brunch – too lean and dried out, they need to be made with more added fat. The poached eggs with a jalapeño salsa atop were tasty, and while flavor-wise the brown butter daikon puree underneath was fine, it was too watery. A dish to be played with and tuned up… quite a bit.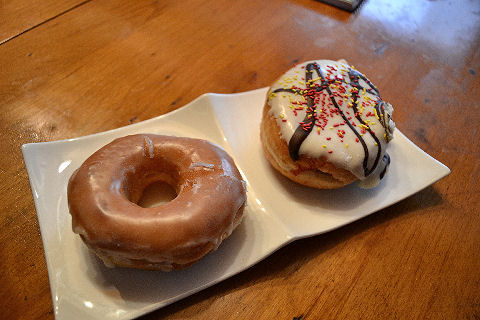 The relatively recent arrival (or at least I only noticed it recently) of Magic Donut here in the 'hood didn't bode well. It looks like a Dunkin' Donut, even the logo has a similar feel to it. Luckily, for the waistline, they don't get the concept of the donut. Oh, they're kind of cakey and all that, but they're a) pricey, b) bland, and c) despite having a whole array of them laid out on angled shelves, it turns out that they only actually have three varieties – plain rings, raspberry jam filled, and dulce de leche filled – the rest is just different colored icings and sprinkles of one sort or another.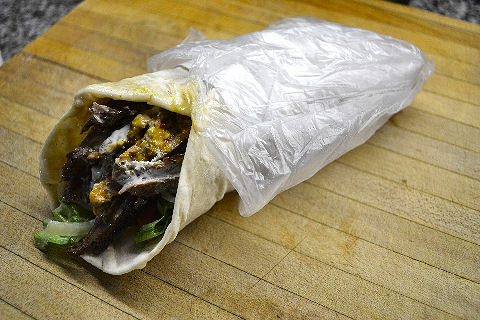 I'm sure I could start saving up shawarma reviews for another chapter into the Chronicles of Shawarma, but I've already got six of them with several reviews each, so I think I'll just put them in piecemeal as they come up. A new takeout shawarma, kebab and keppe stand just opened up near to me, Ararat, Ecuador 1113 in Recoleta, open 10am-9pm Monday through Saturday. The shawarma, pretty darned good. Nicely seasoned meat and a decent amount of it, good pitas, properly dredged in a bit of the meat drippings and then plastered against the rotisserie on both sides to heat and crisp it a little, a little skimpy on the lettuce, tomato and onion for my tastes but I'm sure you could ask for more, and a selection of traditional sauces, from tahini, to yogurt, to garlic, to an actually pretty fiery harissa – which I couldn't get him to put more than a demitasse spoonful on, he was convinced I'd never be able to eat it. Wrong! Next time I insist.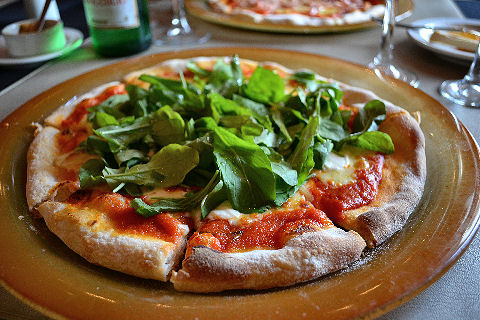 A visit to San Telmo and pizza at Amici Miei, Defensa 1072 on the upper floor, right off Plaza Dorrego, 4362-5562 – after the aborted lunch at Patagonia Sur. Friends who live in the 'hood have been hyping it since it opened, and I got a glimpse of the food at one of their birthday parties last year. More or less Neapolitan style pizzas – I could go for a bit more char on the crust, but really quite good. For those in that part of town, well worth a visit. For me, Siamo nel Forno is closer and better, and owned by a friend to boot! On the other hand, Amici Miei also offers other dishes including what look to be some pretty impressive pastas – I watched one guy sit down and order a bowl of one, like it so much that he ordered a bowl of another, and then a third! I was tempted after the pizza….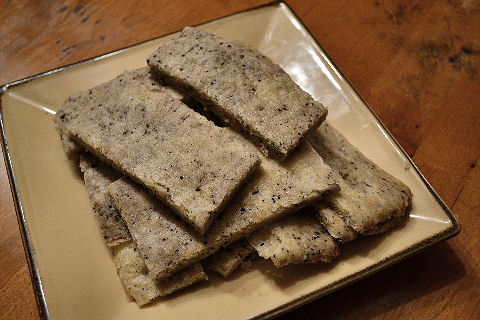 I don't watch a lot of television – a few shows capture my interest now and again. I do at times watch some of the competition cooking shows – mostly because they can be fun and I often get inspirations. Some of them are just stupid, but others I really enjoy – probably my favorite is the Australian take on the MasterChef franchise (hate the US version, it's too staged feeling and nasty, and the UK version could put me into a coma it's so boring). I usually find the savory dishes most interesting as the pastry stuff gets a bit too over the top, plus those Aussies have massive sweet-teeth and many of the desserts look to be more than I want to think about eating. But a recent challenge included one particular component that on its own intrigued me – a coffee shortbread. These are simply amazingly good. I could eat these every day with my coffee without hesitation.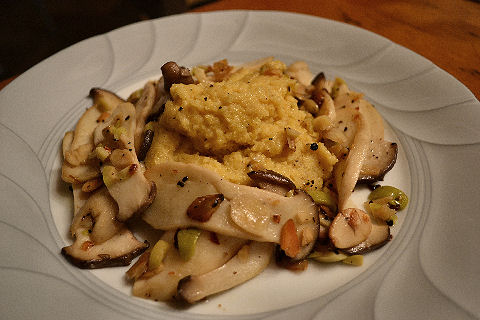 The market I frequent in Barrio Chino has begun to keep King Oyster Mushrooms in stock pretty much all the time. They're one of my favorites. Here, a light, simple dinner of sliced mushrooms sauteed with garlic, dried pepperoncino, olives, capers, and almonds served around a polenta made with milk and finished with some Romano cheese. Yum!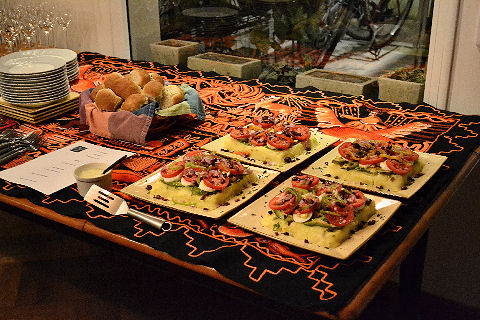 Some local customers who've been to Casa S several times contacted me to have their good-bye party as they return to Italy. There were too many of them to offer up our typical five course tasting menu seated around tables, so we borrowed a bunch of chairs from a neighbor and setup the five course "tasting" buffet style for the 21 guests. First wave was a vegetable causa (seen here), followed by skewers of spicy, vinegary anticuchos de corazón, then tamales made with roasted pork, and on to a lasagna made with an ají de gallina filling, and finally a chocolate-chili cake with a big Arrivederci! on it.
And that's the bits and bites for the moment. Back to our regularly scheduled programming….