"Slow and steady wins the race."

– Robert Lloyd, 18th century poet
When people ask for recommendations for a steakhouse here, my list tends to be pretty short, and not particularly in tune with most tourism guides. Those tend to focus on places where either a) service is focused on tourists with waiters who speak English, French, German or what-have-you and they go out of their way to be a bit, well, pampering – somewhere like La Cabaña Las Lilas; or b) places that give you all sorts of little extras, like, say, La Cabrera. But for me, what's important is the quality of the steak and the value, price to quantity. The rest of it comes afterwards. When I'm just out for a steak, I really don't need all the rest of the trappings.
So one of the places that always makes my short-list is El Trapiche, Paraguay 5099, corner of Humboldt, in Palermo, 4772-7343. While I've never had a wow moment there, I've unfailing had good food and plenty of it. I've been back solo and with friends more times than I care to count and I've never been disappointed. And from my local friends, I hear the same, over and over again. Yet, I've had customers here at Casa S and readers of the blog inform me many a time that they've had far less stellar experiences. My question has been, and still is, whether it's a matter of expectations, that the folk going have in mind some sort of eye-opening steakhouse experience, or, is it something they're doing, i.e., the way they're behaving – as I mentioned in my first review of the place, five years ago, this isn't a place where they go out of their way to provide anything special in the service department – no special requests, no substitutions is pretty much the motto.
As to the room, the only thing that's changed in the intervening fyears is that it's been given a paint job about two ago – it's now an off-white instead of that dingy yellow you can see in the photo from the first review. The decor is much the same beyond that. The waiters are still the same. Likely the very same – most of these guys have probably been working here for years if not decades. Prices, like everywhere, have gone up – what cost us 80 pesos for a trio of lunch-ers back then now runs at least that per person. On the other hand, unlike what's been asserted by more than one visitor to our city, I haven't found the portions to have diminished, at all.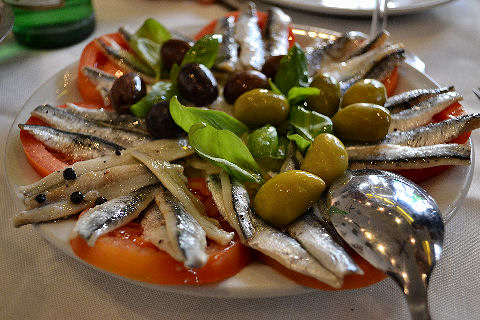 The boquerones, cured anchovies, are still as good as ever – the only better plate of them I've found in town is at Damblee. And, if anything, the portion is more generous than it was (more fish and tomatoes, fewer onions, and the addition of capers and basil). We mopped it all up without hesitation.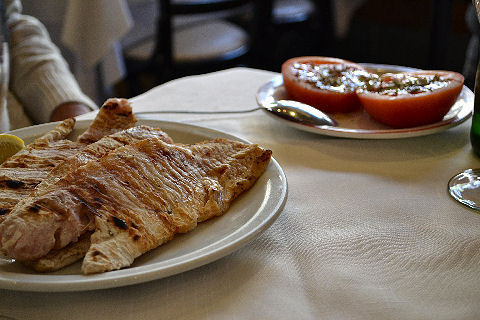 None of us were feeling like ordering a steak on this last visit, so decided to try a trio of different dishes. The brótola a la plancha showed up with three full fillets of the fish (a type of cod), grilled just right, served simply with olive oil and lemon. True to form, a request for a substitution for the usual accompanying fries was not met with a refusal, but simply a tacked on charge for a couple of grilled tomato halves.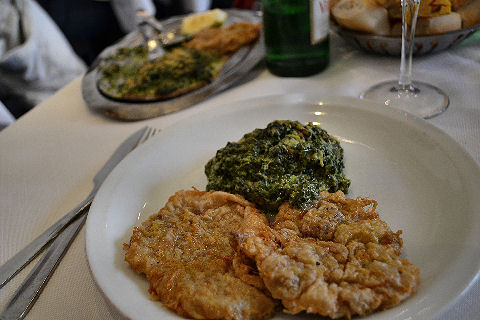 Had I known the escalopes del lomo special of the day were breaded and fried I likely would have ordered something else. Still, they were pretty good – three nice sirloin scallops and served up with a large portion of creamed swiss chard.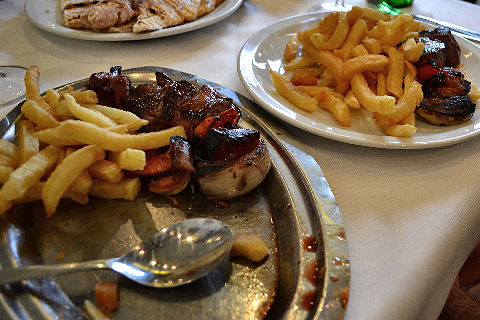 And while more than one person has told me they were disappointed with the quantity of the grilled kebabs, the brochettes, this came in with two large skewers worth of good quality steak interleaved with onion, tomato, and bacon. There was nothing skimpy about it. And a generous portion of fries as well – though not as crispy as we would have liked.
All told, with one appetizer and three main courses, plus three waters and three coffees, we came in at 245 pesos plus tip – so just a touch more than triple what it was five years ago (when we had three appetizers and two main courses plus waters and coffees). That's about the increase of most places in town, particularly in popular areas like Palermo and Recoleta. El Trapiche remains on my short-list – for the naysayers out there, I can only recommend to know what you're headed for – I hate to say, "don't set your expectations to high" because that sounds like a bad thing, but it's not – it's just a place that provides good quality, traditional food, with no frills.