"Every painting I do is related to the last one: it may be a continuation of a previous painting or it may be a reaction against it."

– William Scott, artist
In last week's dinner writeup I laid out a little project for cherry-picking from some of my earliest dinner menus and coming up with new ones for Casa S. I had fun doing it and so you'll definitely see a lot more of these over the upcoming months. For this weekend, we're back in 1995 again, with, actually, pretty sporadic dinners. I'm skipping over the April menu as it was a tribute to spring, which here it's not, and used a lot of ingredients that simply aren't available to me here. It was also the first of the Sunday multi-course tasting menus for which I have a menu – I had just left American Renaissance, which closed in April of 1994 and started working at Felidia Ristorante and had a different schedule with only Sundays off each week. At that point, it seems I simply didn't keep some of the menus, as it's the only one that appears in my book for an entire year period, from the October one we left off on last week, until the October we are about to touch on. And, unfortunately, there's likely no other copies of those menus out there.
The October 8, 1995 menu lists Osetra Caviar & Creme Fraiche; Salmon & Sea Bass Sashimi, Beef Tartare with Lime, Mint & Pommery Mustard Sauce; Tomato Herb Broth, Seared Sea Scallps & Sherry Bacon Sauce; Pan Roast Duck Breast, Celeriac Puree, Swiss Chard, Roasted Shallots & Tangerine Reduction Sauce; Mascarpone Basilica & Bartlett Pears; and Almond Tuiles, Earl Grey Ice Cream & Cocoa Dust. Yikes!
The November 12, 1995 menu finally starts to detail the wines and was also the first theme night – "Accent on Fruit" it is titled. Squid Sashimi on Cellophane Noodles with Pomegranate Vinaigrette, 1989 Métaireau Muscadet de Sèvre et Maine sur lie "Grand Mouton"; Roast Lobster Salad, Fresh Mango, Oscetra Caviar and Cauliflower Cream, 1987 Argyle Cuvée Limited Rosé; Chilled Melon and Potato Soup; Tamarind and Sesame Marinated Veal with Champagne Chanterelle Risotto, 1988 Boisson-Morey Meursault-Goutte d'Or; Peach and Lillet Granité, Shaved Saint-Nectaire Cheese; Individual White Chocolate Tarts Infused with Pear Skins, Etienne Brana Framboise.
I looked at those two menus and thought, "Okay, what am I going to make of this whole mess?" Well, let's see….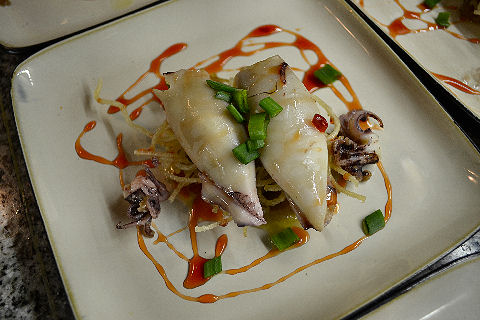 Doesn't exactly look like squid sashimi on cellophane noodles with pomegranate vinaigrette, does it? Oh, but wait… I reworked the "bakhlava" calamarette that I made for our Christmas menu. The squid-lets themselves are basically the same, filled with a nut, honey and vinegar mixture, and at the base, the caramelized onions, though I also kept and cooked the tentacles this time. However, in between, a little raft of crispy rice noodles, and drizzled around the plate a reduction of pomegranate syrup and bird chilies cut with fish sauce. It gives the dish some texture and also cuts through the richness – I liked it a lot this way.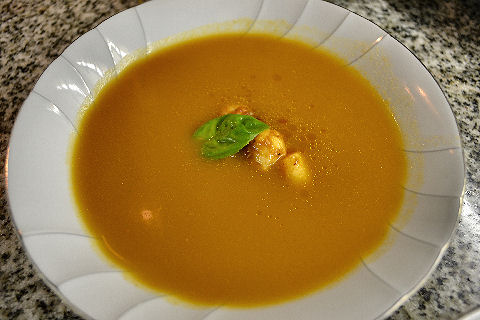 Okay, not pleased with the turnout of this course. The soup itself was fine – the tomato-gin soup that I've made many a time before, though, sans the cream as I wanted it a little lighter. I couldn't find any large sea scallops, not surprisingly, here, so got whole lot of bay scallops. Now, I know that scallops lose some water when you sear them, but these were ridiculous, they must have dropped to half their size in a matter of 15 seconds of cooking. I was going to spoon a little bacon-sherry paste atop them, but it became impossible, so I simply tossed them with it and then spooned them into the broth. They may as well not have been there.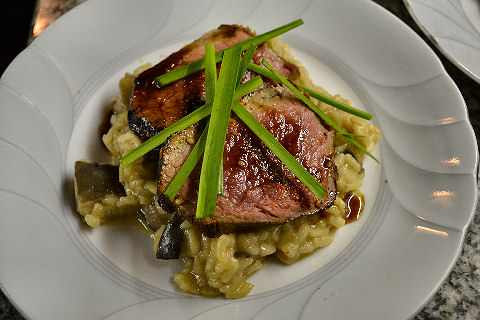 This dish, on the other hand, came out just the way I had hoped. Veal "tataki" – I took a peceto, top round, of veal and marinated for hours in a mix of tamarind paste and furikake, a Japanese mixture of shaved bonito flakes, sesame, dried seaweed, salt, sugar, and other goodies. Then I seared it over really high heat to caramelize the surface and stuck it in the oven turned to maximum for just five minutes. Pulled it out, let it rest a few minutes and sliced it thinly – it's just warmed in the center, but still raw, exactly what I was looking for. Served it over a mushroom risotto made with sauteed pine, oyster and portobello mushrooms and a stock from the mushroom stems. After laying the slices of veal atop the risotto I drizzled each with tamarind syrup and sprinkled them with shichimi, seven-spice mix. Henry still looks at me like I'm nuts when I serve meat that's more or less raw, declaring it "Tan crudo!", and I saw some looks of apprehension on the faces of a couple of the guests, but virtually everyone ate all of the dish.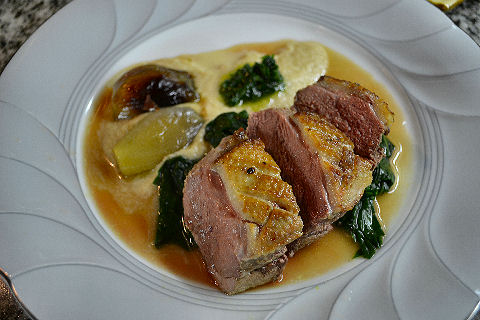 This, however, was my favorite course. Seared magret of duck, simply seasoned with salt and pepper, served over a daikon puree that is finished with brown butter and balsamic vinegar, some roasted shallots, sauteed swiss chard, and atop the puree, another puree of the daikon greens and parsley, and finally, over the whole thing, some spoonfuls of duck jus and tangerine caramel – make a caramel with a small amount of sugar, deglaze the pan with red wine vinegar, add tangerine and lemon juices and reduce to a syrup, then add reduced duck stock. The plating needs work and the puree is a little too loose, but, delicious!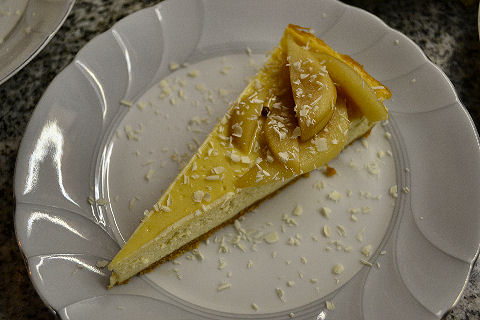 I remember those White Chocolate Tartlets Infused with Pear Skin. Right out of Maury Rubin's Book of Tarts: Form, Function, and Flavor at the City Bakery. Long before all the cupcake madness and strange plated dessert madness, there was City Bakery, and boy did they have good tarts. And as I recall, I did a pretty decent job of duplicating that one right out of the cookbook, which I probably still have buried somewhere on my shelves. But I wanted something less delicate this time, so a white chocolate and pear cheesecake topped with pears poached in brandy and white peppercorns.
Not a bad reworking of those two menus I think, though the soup needed big, juicy scallops in it, or really lots of the little ones, or just do something different. Yeah, that's better – leave the tomato soup with its cream and little mozzarella en carozza on the side. Now, on to next weekend's menu, where we return for a week or two to some other themes, and celebrate the Queen Mother's birthday. The Queen Mother of Cambodia, that is. Following that, the Inti Raymi festival. You're in for some treats, especially if you show up to dinner!