"Part drinking den, part community centre, part confessional, part dealing house and often these days, part restaurant; the pub is Irish life in a nutshell. And like Ireland itself, the character of the Irish Pub has changed a lot over the years."

– Cian Molloy, The Story of the Irish Pub
I'm not exactly an Irish pub devotee and it would be rare for me to pick one out as a place to go for a meal. Perhaps for a pint of something, but not for dinner. Still, the promise of Irish Stew, or a Chicken Pie, Steak & Kidney Pie, or even Roast Beef with Yorkshire Pudding all sounded like nice hearty lunch items for a chilly day. Unfortunately, despite being touted in guide books as house specialties, and even on the pubs' website as chef's suggestions, they seem not to exist at Downtown Matias, San Martín 979 in Centro, 4312-9844. Nor at the branch here in Recoleta at the Design Center. In fact, our waitress at the downtown branch (one of two within a couple of blocks of each other) assured me that it's a question she's gotten for years and as best she knows, they've never actually had these dishes – they're certainly not on the menu.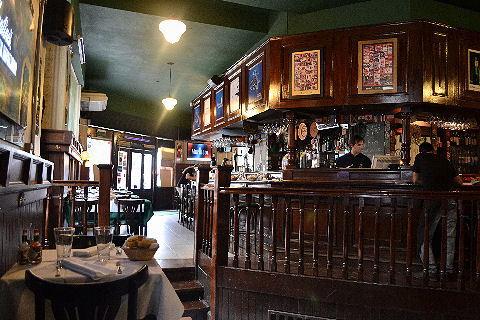 The style is the same as in most faux-Irish pubs that I've ever been to. Why dark wood and a vaguely Victorian design motif is considered "Irish Pub style" I have no idea, but one sees it over and over again. The walls are covered with posters and plates and such that tout one Irish beer or spirit or another, none of which, outside of Guiness and Jameson are actually available here. But I suppose they add to the ambiance. Not surprisingly there's an after work happy hour and a bit later in the evening local rock bands performing live and loud on the little corner stage (at lunch it's extra seating). The customers are mostly local businessmen on lunch break or women who appear to have been out shopping in the district.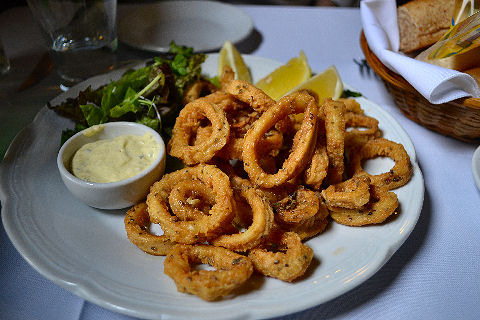 There's nothing on the menu that yells out Ireland or even Irish pub food. It's mostly pretty typical local fare – steak sandwiches, pastas, steaks, roasted meats and a few fish dishes, mostly salmon or trout. Without the supposed specialty items we decided on a plate of rabas – fried calamari rings – not bad actually. They tasted nice and fresh, the batter was thin and crispy and seasoned up with salt, pepper and herbs, and the tartar sauce was smack on. Maybe a hint too much salt on the rings.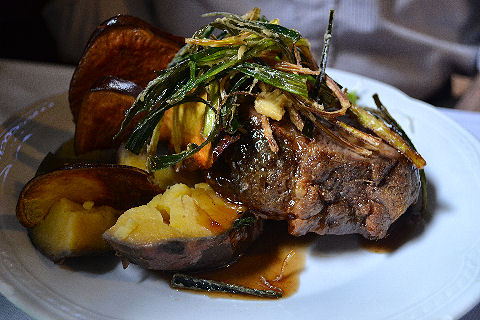 A braised piece of bondiola (pork shoulder) was accompanied by falling apart sweet potatoes, greens and a thick, caramel sauce that was way too sweet, and the meat, while nice and tender was once again a bit salty.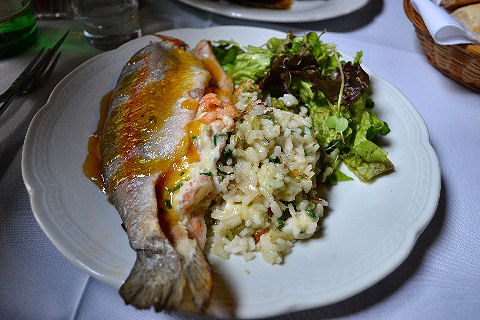 A whopping big trout was stuffed with a mix of ricotta and baby shrimp – it would have been fine if they'd stopped there, but the fruit marmalade that was drizzled all over the inside and out was a mistake. As was not removing any of the bones from the fish, which was just studded with all that it had been graced with naturally. The arugula "risotto" was nothing more than plain white rice, over-cooked, and mixed with finely chopped green – which may have been arugula, though there was no noticeable flavor of it.
I've also tried, at the Buenos Aires Design Center branch, their steak sandwich and their grilled chicken sandwich. Neither had much to recommend. Overall, ambiance is about what you'd expect at their various branches, just basic pub style, service is friendly but hurried, particularly at lunch, and the food, unfortunately, has little relation to either the Irish or even pub grub – it's an attempt to serve up semi-fancy dishes in a setting that doesn't support it, and at prices that are far above what a pub ought to be charging (50-80 pesos per main course dish). If they ever really existed, bring back the Irish specialties and offer the food up at a reasonable price for the setting, and it might be interesting to return.