"Do not watch the petals fall from the rose with sadness, know that, like life, things sometimes must fade, before they can bloom again."

– unknown
It has been slightly over three years since I first reviewed Lotus Neo Thai, which is, now, for the moment, in Barrio Chino, at Arribeños 2265, 4783-7993. I say that only because as restaurants go, it does move a bit. I believe this is its fourth location in the last ten years, which may give some credence to the stories I've heard about the owners as I laid out back in that first review – they do seem to move, either by choice or not, when their lease runs out. Maybe they should call it Lotus Neo Neo Neo Thai…. I hadn't been to this new location untl now, though had been back to the previous one a couple of times since that first visit. They're also now open for lunch on a daily basis.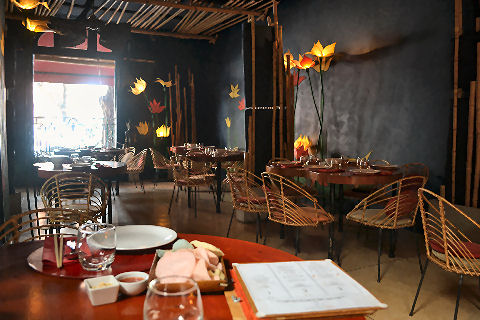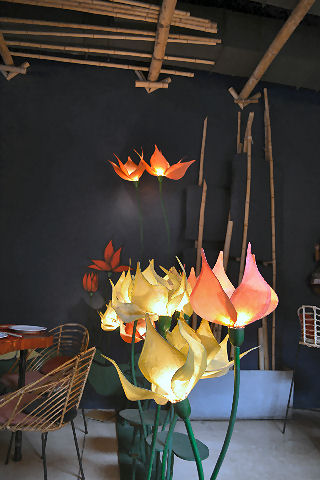 I will say that physically, I like this space far more more than I liked the one in Las Cañitas, particularly because of not having to climb two flights of stairs to get to the dining room, and it's certainly prettier than its incarnation in the space that became Empire Thai (now closed). They've kept the big flower theme, but it no longer looks like a cheery kindergarten room, it's gone a bit more loungy in feel and the flowers are now these kind of acid-trip sculptural lamps. The one part of the atmosphere I'm not keen on is literally the atmosphere, which is near chokingly perfumed with burning incense – why would you do that in a place that serves food? We literally found it difficult to smell anything on our plates.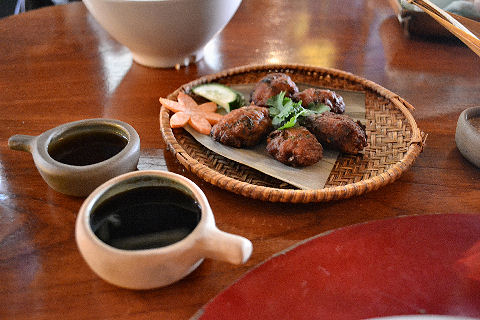 The menu is much the same as it was in their last spot. And, though out with a different friend, we ended up ordering much the same things as the first time, though we tried the tod man pla, or fish cakes, in place of the spring rolls. Really quite tasty and fresh with a little dish of fish sauce for dipping, though a little disappointing in size or quantity – still, we'd ordered up four appetizers and a curry to share, so we figured on a decent amount of food.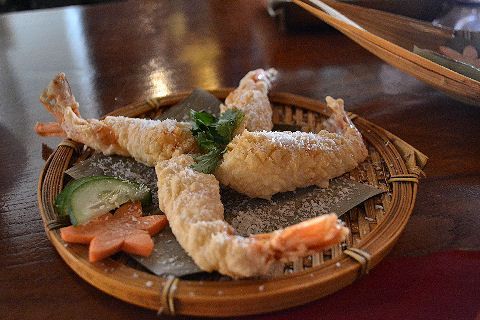 The coconut shrimp are the same as I remember them from that first dinner – plump, juicy prawns cooked right, but again, sprinkling them with coconut after the cooking seems odd – you want that lovely toasted coconut flavor rather than that of raw dessicated coconut shreds. They no longer come with a dish of hot sauce as at the previous location, but with a very sweet tamarind sauce. Oh, I should point out, there are still those complimentary shrimp crackers with semi-hot, very sweet sauce served upfront.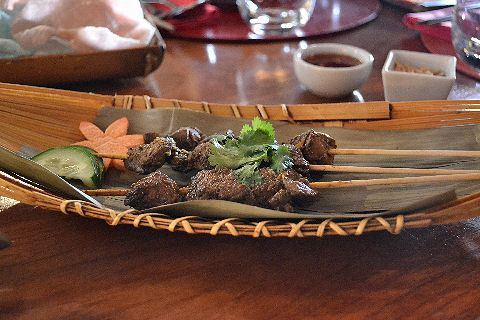 This was the one true disappointment of the lunch. We got the pork satay – it was salty (which I commented on the first time around too I note), way overcooked, still served with a spice-less peanut sauce, and, it's really skimpy. No, really… and to prove it to you…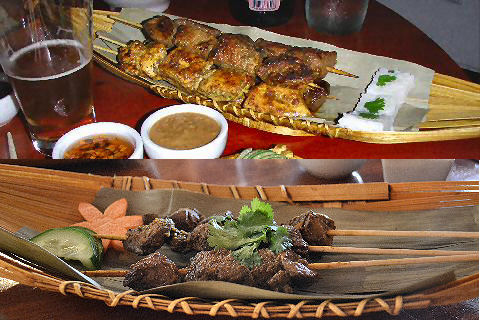 I give you a contrast photo from the first visit to the here and now. Same serving baskets, they've gone from four skewers each with plenty of nicely grilled mixed meats on them near end to end to three that have little over-cooked nuggets of pork that barely cover half of each skewer.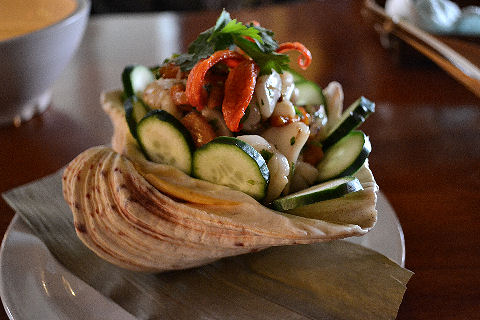 The laap salad is no longer on the menu, and the crab dish we ordered was unavailable ("no crabs available" Really? You're located next door and around the corner from Chinatown's two fish markets, both of which have crab for sale, and there's none available? Make an effort here, you know?). We settled on the calamari salad, another mistake, though not horribly wrong – just somewhat overcooked and rubbery pieces of cold squid tossed with lettuce and cucumbers in what seemed to be nothing more than vinegar, oil and soy sauce. Okay, maybe it was horribly wrong. It was served in a pretty shell though.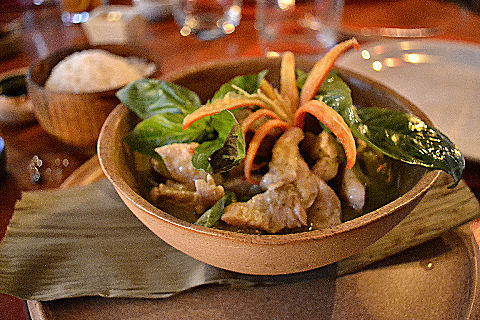 We did forget to specify that we wanted the green chicken curry spicy, so our fault. But wow, I hadn't quite realized how bland a curry could be without the spices – I guess I figured that they'd just leave the chilies out of it (though they did put that one pretty one splayed out like a flower on top) – but as best we could tell they left every other spice out of it too. The flavorless chicken was likely cooked separately and added to the broth which seemed to be nothing more than coconut milk and basil. Lots of basil. And regular basil, not Thai basil (also available next door at the market). Another disappointment, and, another small portion – I'd noted back in that first review that we'd had enough to take home some of each of the two main courses – here, either one of us could have eaten the entire amount we were served on all five plates.
So, overall, I like the room other than the incense. Service was fine. Given the location, however, I'd rather eat at any of the Chinese, Korean or Japanese restaurants in the 'hood – both on quality and price – this could easily be the most expensive restaurant in Chinatown – the same quantity, four appetizers and one curry, and without beers to drink, just water, cost us 320 pesos with tip – exactly double what it cost three years ago and with about half the amount of food served on each plate, so it's really nearly quadrupled in price.
The unfortunate thing is that with the closure of various spots – Empire, Tuk-Tuk (okay didn't like that one in the first place), A Little Saigon, there are fewer interesting southeast Asian options around. We'll have to go back and give Phuket another try as it may just be the only real game in town these days, and I think it's time for a revisit to Sudestada, which I haven't been to in about two years. I suppose Lotus gets points for being a place to get a Thai "fix", but in my view, the quality has gone down and the price has gone up and it's no longer really worth it.