"County library? Reference desk, please. Hello? Yes, I need a word definition. Well, that's the problem. I don't know how to spell it and I'm not allowed to say it. Could you just rattle off all the swear words you know and I'll stop you when…Hello?"

– from Calvin & Hobbes
Generally, I avoid chain restaurants, and particularly those for Italian food – think Olive Garden – the food, particularly the pastas, tends to be mediocre at best. There are exceptions, in certain settings – for example, I think the burger at Hard Rock Cafe is the best I've found in the city (there are still places to check out, I know), but that's only by comparison to what's typically available here – I wouldn't set foot in one in the States because it pales by comparison to the burger at most neighborhood lunch counters. And I have no doubt that if there's an Olive Garden in my hometown it might well be one of the better Italian restaurants there, but in New York City it would be laughable to even think of going to one. So a chain, albeit a small local one of six pasta shops, two steakhouses, one cafe and one seafood joint, all operating under the same auspices – which additionally makes it a bit unfocused – doesn't generally show up on my radar – especially in a city that while known for its Italian heritage, doesn't offer up a whole lot in the way of high quality Italian food (there are exceptions).
So, the La Parolaccia group (or should I say Food Services Consulting S.A. group?) hasn't been one that I've rushed to visit. More's the pity it turns out after continuing my series of assigned reviews (not gratis this time) at Riobamba 1046 in Recoleta, 4783-0200, what I think is the original of the group, which stretches from four locations in Puerto Madero up to a couple in San Isidro, hitting Recoleta, Palermo and Belgrano in between. Because to be honest, it was some of the better pasta I've had here in BA.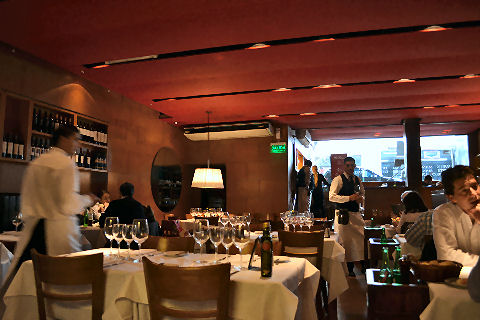 La Parolaccia ("the curse word") is also more or less located in a basement with a dingy, unappealing looking exterior. Don't let that fool you. You'll enter into a quite pretty room and be greeted by a beaming hostess who will guide you to your table, offer you a welcome drink of Campari and orange juice, and wish you a great meal. The crowd is a mix of local business folk (at lunch) and familes. The floor is staffed with more waiters per customer than I think I've seen in any restaurant here in town – each seems to only handle 4-5 tables, stays relatively near to them when not putting in orders or serving the food, and is friendly and helpful.
The menu is primarily pasta, at least, I gather, at the six trattoria branches – but then, let's just focus on this one as I haven't been to any of the others. There are a good number of appetizers should you want to start with something – classics that come off a typical antipasto sort of menu, but we didn't try any – we went straight for the pastas which they're happy to make in half portions (at slightly over half-priced, maybe 60%) – great for kids or in our case, wanting to sample several.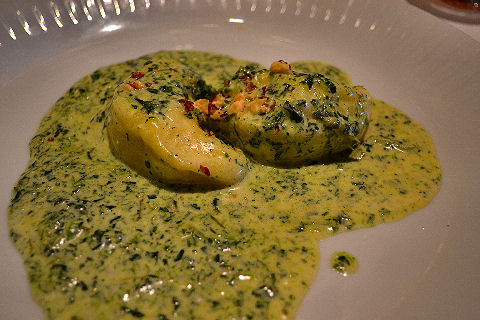 Not all of the portions are particularly large – to be honest, this being a half portion is pretty skimpy, despite the agnolotti being plump and packed with ricotta. The sauce, a butter, herb and, interestingly, Manchego cheese sauce that was absolutely delicious, and the pasta were cooked perfectly.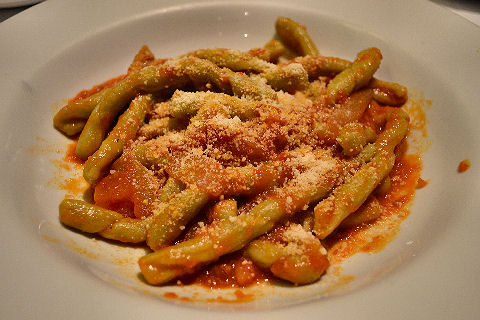 Fussilli are the house specialty and these hand-rolled versions (in spinach or plain egg) are pretty much the best I've ever had here… though I might want to compare them side by side with Don Chicho. On the other hand, the latter only offers tomato sauce, cream sauce and mixed with their fussilli, so having the option for what turned out to be an excellent amatriciana was a pleasure – packed with tomato, pancetta, onions, garlic and pecorino cheese. And clearly not a skimpy portion.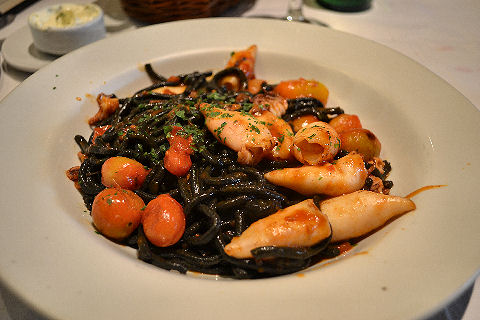 And even less skimpy, the squid ink spaghetti (actually, I think they sent a full sized portion and realized it too late and just billed us for the half portion, but I'm not sure) packed with grilled calmaretti and cherry tomatoes was another winner – though the cherry tomatoes are a little out of season and a little under-ripe, the rest of the dish was spot-on.
Coffee was served with petits-fours and another gratis drink, a limoncello digestif. The restaurant also offers up daily three course prix fixe lunches that are quite a deal at around 45-60 pesos, depending on options. I will say that the pastas here aren't cheap, but given the quality and the neighborhood, they're not bad either, running from the mid-40s to the mid-60s. On the way out, the hostess asked if we'd enjoyed everything and offered a basket of little caramelos. All around, a really nice experience, very good food, and a place I'd be happy to return to. Surprise, surprise.