"Wine is the most civilized thing in the world."

– Ernest Hemingway, author
Wine bars are not popular here in Argentina – the idea of standing around with a glass of wine in hand rather than sitting at a table with a bottle or glass of the same and a spread of food on the table is just not part of the culture. But if wine is your thing, and in Marcelo Soto's case, it is, you come up with a happy medium – the new Martiño, at Bolivar 933 in San Telmo, 4300-6897. Full disclosure – Henry and I were invited guests of the the owner to check the place out. [This place closed in late 2011.]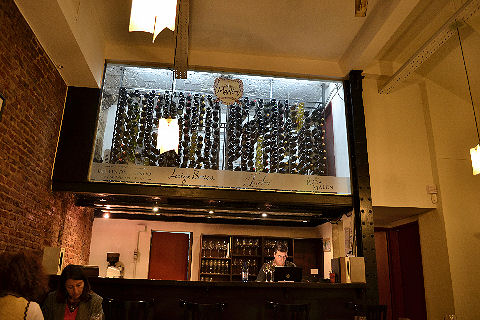 It's pretty obvious on entering that wine is going to be important here. The wine cave is as big as the bar and kitchen combined which is equal to a third of the floor space. Marcelo stocks, as of now (the place is brand spanking new, not even three months old), wines from fifteen different Argentine producers, from Salta to Patagonia, and features pretty much every wine they each make – a chance to really get to know them. And he offers up not only a typical wine list by the bottle, but a regularly rotating selection of a dozen by the glass. Pricing is quite fair, with most bottles running only about 60% over retail.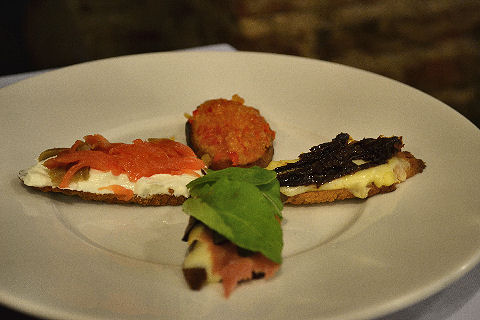 The menu focuses on Argentine-Spanish style tapas, each plate ranging in the high teens or low twenties so that you can sample a variety, and that's very intentional – he's happy to pour a series or even a flight of different wines to go with a progression of plates. Here, a selection of the four bruschettas offered – tomato, peppers and onion; prosciutto with arugula; smoked salmon with cream cheese; and a gooey melted cheese with black olive tapenade – all quite good.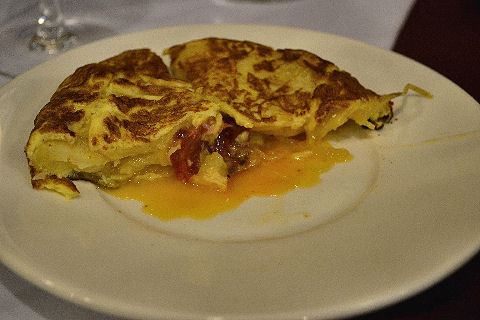 Quite possibly the best tortilla española I've ever had with a still liquid center, chorizo, cheese, onions and potatoes. We did discover a great flavor combination as we mixed and matched, ask for a little dish of the salsa brava that goes with…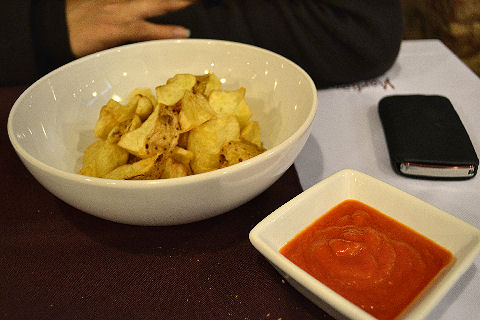 …the papas bravas, crispy nuggets of potato and a spicy, smoky pepper sauce. Henry sort of wrapped himself around this bowl and wouldn't let me share in them.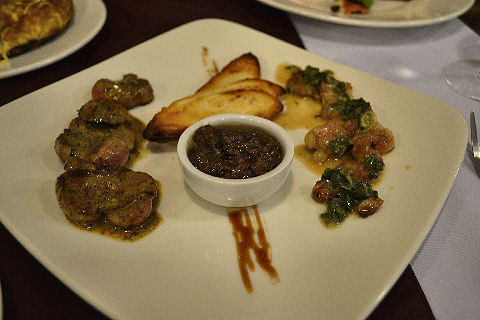 I was really excited with this one, the degustación de achuras – a trio of offal presentations: curried kidneys, herb roasted sweetbreads and a spreadable "cream" of morcilla sausage – which is the way I prefer the last anyway – split open and schmeared across bread.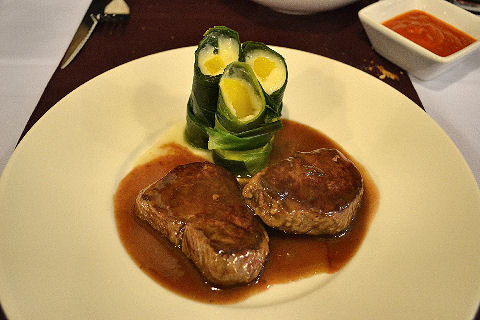 I was still in a savory mood, and the waitress who was occasionally getting to attend to us in between our chats with Marcelo highly recommended the preparation of medallón de lomo – more or less a filet mignon – perfectly cooked to medium rare, in a lovely wine and drippings gravy, and accompanied by an interesting wrap of mozzarella and mango in chard leaves. The dish was excellent, though we both agreed would improve with a much stronger flavored cheese than mozzarella.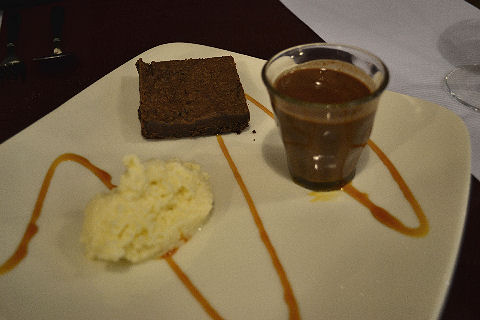 While I was tucking into the lomo, Henry finished off the last of his papas bravas and then eagerly awaited the trio of desserts referred to as the delicias de chocolate – white chocolate mousse, a milk chocolate and orange cream, and a dark chocolate marquise. All were really excellent, particularly the chocolate and orange cream. The one thing that, while delicious, was off (not really off, but…), was the marquise, which should be a dense flourless, uncooked, chilled chocolate dessert of chocolate, egg yolk, cream, butter and liqueur or coffee – this was more like a baked brownie.
Overall, excellent food, great wine selection. Friendly and attentive service (there were other folk in the room who were getting just as much attention as we were). Fair pricing – as I said, the tapas, which function as the appetizers if you're heading for a main course, run around twenty pesos each – a few are more expensive, but mostly things that are combination plates, like the trio of offal; and the main courses run around fifty pesos. It will be interesting to see if a place like this will survive on Bolivar in San Telmo – at first glance it seems like an odd spot, but it's just down from La Brigada, and not far from La Vineria, both of which get plenty of foot traffic, so I think it might just take off. Let's hope so, outside of restaurant life, San Telmo is a hotbed of creativity, so why not when dining out as well?