"Detesto l'uomo che manda giù il suo cibo non sapendo che cosa mangia. Dubito del suo gusto in cose più importanti.

(I hate the man who eats without knowing what he's eating. I doubt his taste in more important things.)

– Charles Lamb, English essayist
Yesterday we started off a new session of our 10-part Color Palate of Italy series, an introduction to Italian cooking, ingredient by ingredient. The first class starts off with a series of tastings: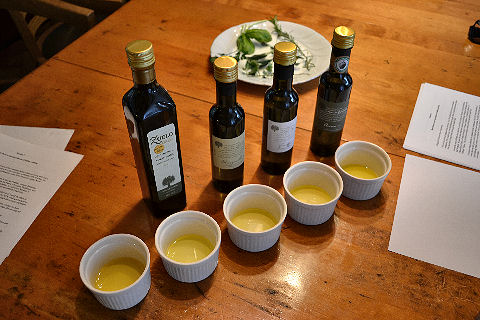 A quintet of olive oils – from basic cooking oil to a blend of extra virgin oils, and then three individual olive varieties. We follow that with a look, smell and taste of the classic herbs of Italian cooking – parsley, basil, oregano, sage and rosemary. Then on to a foursome of garlic – raw, poached, roasted and fried – to experience the differences in texture and taste. And finally we head into the kitchen and for our first cooking moment, whip up a batch of fresh ricotta cheese and then add that to a tasting of ricotto, fresh and aged mozzarella, provolone, fontina, pecorino and parmigiano. Then we get busy chopping and slicing and dicing – not a whole lot in the first class – we do a demonstration of how to sharpen your own knives followed by a "how to chop without losing your fingertips" practice session.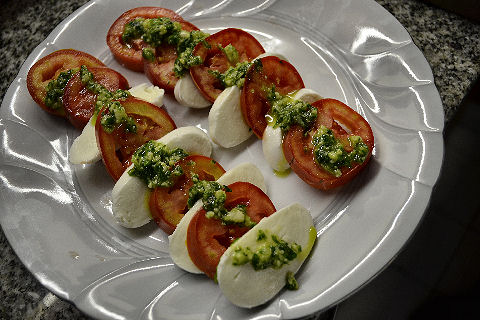 The dishes are simple in this first round – we make a Caprese style salad, but rather than just tucking basil leaves in between tomatoes and mozzarella, we make a simple pesto out of fresh basil, roasted and milk-poached garlic and olive oil.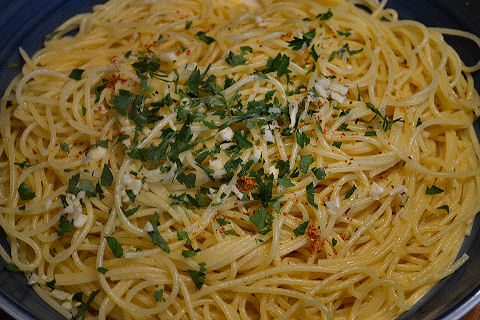 We save pasta making for the second class, here we work with dried pasta, but a chance to make a real, traditional spaghetti agli'e olio, as opposed to the usual Ital-American versions made with a pile of raw garlic that's just overwhelming.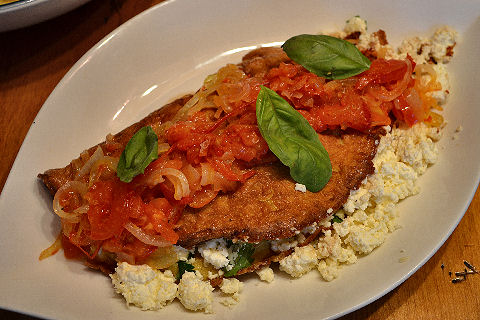 And for our main course, a simple frittata con la ricotta – filled with our freshly made ricotta, a bit of parmigiano, parsley and a little garlic – all topped with a slow cooked tomato, onion and basil compote.
And then, we sit down to eat.