"Zen does not confuse spirituality with thinking about God while one is peeling potatoes. Zen spirituality is just to peel the potatoes."

– Alan Watts, author, primarily on Zen Buddhism
I don't know that there's any meaning to the word zensato, though a quick search leads to various artists from one of that name doing odd things with block letters, to amusing cloudscapes to the classic ink drawings of Sato Zenchu, and into the world of music with some Chilean hip-hop. No doubt others as well. But, I'm into the culinary arts, and here, Zensato, Marcelo T. Alvear 1735, Recoleta, 4815-2141, took over (quite awhile back) the space that was Dragomagno, a spot I liked quite a bit. For whatever reason, until recently, the few times I'd started off to Zensato I either got sidetracked and went elsewhere or found it closed on my arrival.
The place has been re-laid out, the counter seating facing an open kitchen is gone. It's now a small, closed kitchen in one corner with an L-shaped dining room around it and just a few more tables and chairs than is practical packed into the space. I would say that had it been full, it would have been uncomfortable, but thankfully, it wasn't, while all tables were occupied, many were single diners, so probably a third of the seats were empty on my first visit. The menu is a piece of colorful glossy brochure type paper, with a sushi menu on one side and a stir-fry menu on the other. A couple of daily fixed price menus are offered and look like great deals at 18 and 20 pesos respectively for a couple of egg rolls followed by your choice of a stir-fry – presumably since those are lower prices than the stir fries can be ordered a la carte, it's a smaller portion.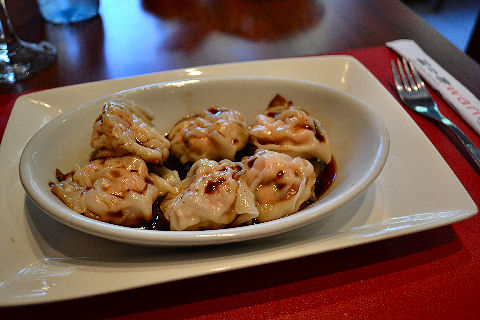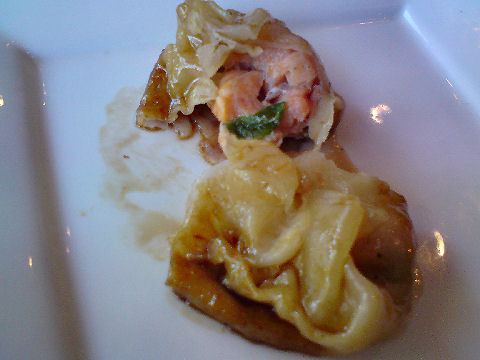 On my first visit I wasn't in the mood for sushi, so saved that for the second time through. I'm always a fan of good gyoza and the waitress offered a choice of meat or salmon, highly recommending the latter. And her recommendation was great – these were the most delicate and flavorful gyoza I've had in Buenos Aires anywhere. Absolute bliss.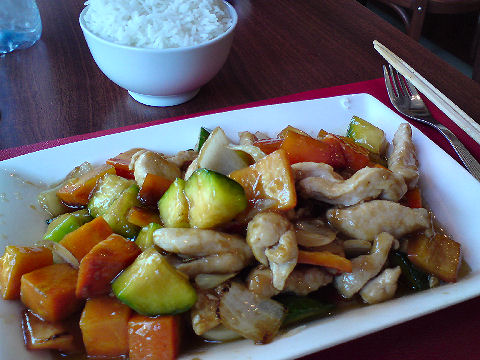 The spicy chicken stir-fry was a delight to look at, easily a portion that I could have shared (so that lunch special prix fixe may just be a good idea), and packed with chicken and vegetables. It was, however, lacking in anything picante – not a shred of chili nor hint of heat. A quick flagging down of one of the waiters and he brought me a bowl of fresh chopped chilies preserved in oil and vinegar, which, after sampling, to his horror I think, I simply upended on the plate and mixed it in, resulting in a moderately spicy dish. So, on the heat scale, a disappointment, but it was fresh and tasty, and I wouldn't hesitate to have it again, maybe I can even get them to throw the chilies into the wok….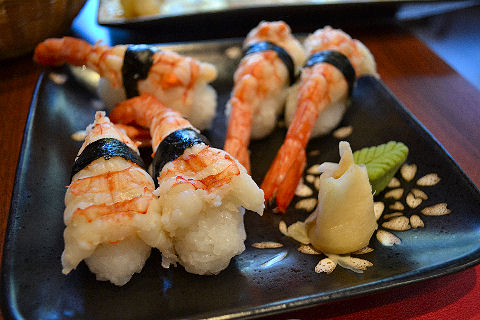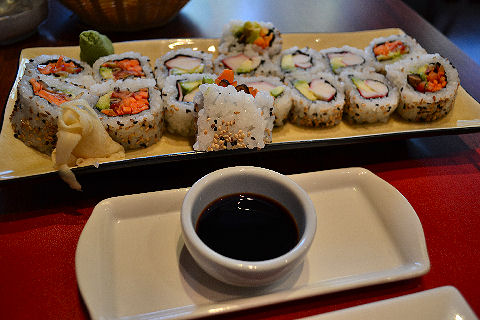 On our second visit, we had to get the gyoza again, and just as good as the first time. The sushi, however, was a trifle disappointing. It wasn't bad, it was just okay. The rice seasoning is a touch off – the vinegar too sharp, almost as if instead of rice vinegar they used white vinegar or cider vinegar. And, while flavorful, the two maki we tried were so loosely rolled that they fell apart when picking them up. Personally, I'll go back for the gyoza and stir-fries.