I've been in lots of airports in the world, and most of them are not exactly the most pleasant places to spend time. So, I found myself stuck in O'Hare the other day having missed a connection to Louisville because of a "LaGuardia traffic jam", i.e., 22 planes lined up waiting to take off, a United pilot who assured us he'd make up the time enroute and then managed to land not only that 20 minutes behind but an additional 10, leaving me running to the gate on the opposite side of the terminal to arrive exactly at the 10 minute before takeoff moment. As I ran up the gate attendant was closing the door and simply refused to stop, telling me "next time show up on time" – I have to admit, after how pleasant and efficient my experience was on Delta flying up to Atlanta and then on to New York last week, I found United's officiousness and rudeness of every single staff person I interacted with both on and off the plane, to be a bit shocking. But, I got waitlisted for the next two flights ("no seats available on any flight today or tomorrow"), with an admonishment (despite having told them that the connecting flight was what had delayed me) of "you want to get a seat, show up on time or don't bother". And this leads back to having a couple of hours to hang out in the airport – I'd noted in my mad dash between ends of the terminal what looked like a rather nice sushi bar, a Wolfgang Puck restaurant, and a variety of other options that appeared to go beyond the usual fast food sort of choices.
And so, I walked my way back to Wicker Park Seafood & Sushi, perched myself at the sushi bar, and began to order, pacing myself over the two hours – reading a book and just relaxing.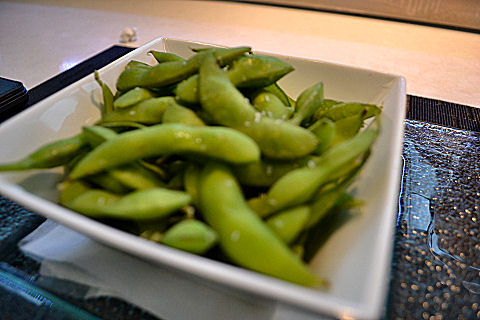 Now, it's not surprising that this was not an enlightening sushi experience, but it was surprisingly good given the setting, an open sushi bar sitting in the middle of a busy passageway. I started out with a heaping bowl of edamame, nicely cooked with just a little crunch left, lightly salted, my only criticism is that they're served cold rather than warm. But so be it, I've had that at other sushi bars too, and my bet is that even though it likely would have involved a microwave, I could have asked for them to be warmed up.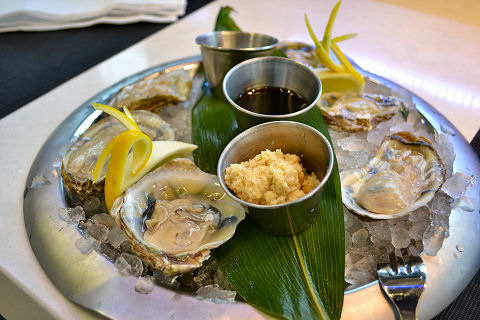 I would say that while my waiter was charming, he was also a bit clueless about the food – no idea what the oysters were (and the sushi chefs behind the counter simply refused to look up or talk to customers, despite clearly speaking fluent English (actually, when I finally did get one of them to pay attention and asked if by chance they had some uni, neither she nor two out of the three remaining people behind the counter had a clue what I was talking about – I'm not sure any of them spoke Japanese, despite all appearing to be so). So, a half dozen oysters of unknown variety on the half shell. A little flavorless, but not bad.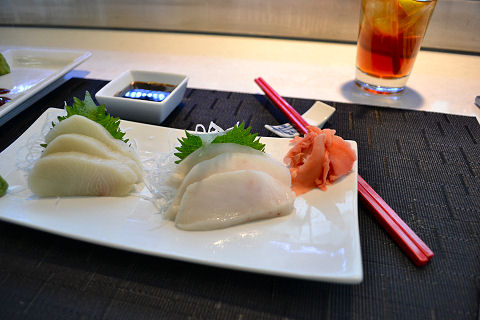 A sextet of sashimi slices – three of hamachi, or yellowtail, and three of "super white" tuna, or escolar. Both good, but served too cold – everything seemed to be very iced down.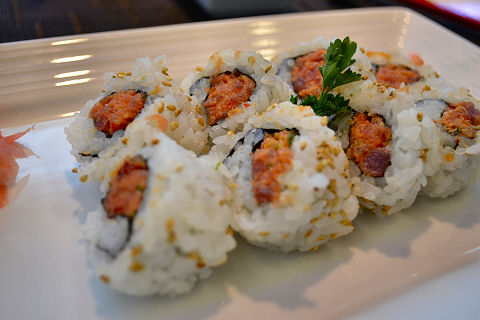 A spicy tuna roll, and actually good and spicy.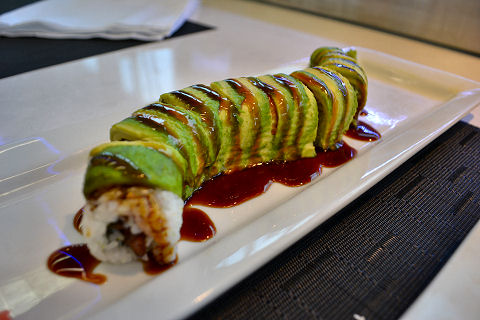 And finally, a house specialty, the caterpillar roll – a mix of king crab legs, eel, avocado, rice and "eel sauce". Really quite delicious, certainly the best of the bunch. So overall a happy camper.
Finally on to Louisville – when I got to the gate, plenty early, it turned out the flight wasn't full, there were still eight seats left, and only six of us on the stand-by list, but they refused to give us boarding passes/seat assignments until the very last minute, continually repeating that "the flight is full, you'll have to wait" while meanwhile the screen behind them kept flashing our names and the "Seats Available: 8". Then it was a rush at the last minute with screaming our names into the microphone along with "hurry up" if we didn't immediately appear. And at the same time, they weren't actually ready to board because their flight attendant hadn't shown up yet! Meanwhile at the gate next to us, another flight boarding with a gate attendant yelling at people things like "We're only seating zone 1, go away until we call you, are you too stupid to understand my instructions?!" And then calling in security when people started to look like they were ready to revolt. Yeah, United is not going on my list of fun folk to fly with in the future. Come to think of it, why do we put up with stuff like this? This could ruin Continental whom they've now merged with, and who I've always found to have very good customer service.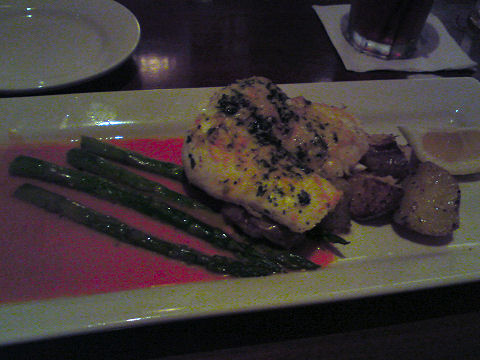 Staying with the folks in Louisville, along with a visit from my sister and her children down from the Chicago area. Just a late afternoon of catching up, and then out to a local seafood place, Mitchell's (had I known, perhaps I wouldn't have gone with sushi as my lunch choice, but then again, it was completely different). A nice salad and a parmesan crusted fillet of halibut over lightly charred new potatoes and asparagus, with a roasted pepper butter sauce was quite tasty and was a very pleasant end to an otherwise mildly annoying day (photo from the phone, so quite a bit lower quality).