"I was recently on a tour of Latin America, and the only regret I have was that I didn't study Latin harder in school so I could converse with those people."

– Dan Quayle, former Vice President of the U.S.A.
We spent the first three nights of this week playing host to a touring group of dietitians and "hangers on" as they styled themselves. An annual tour sponsored by the American Dietetic Association, a chapter of which is devoted to professionals who are directly involved with the food service industry, as these folk are. We shared the august company of Diego and Sanra from Casa Felix and Martín from Pura Tierra in sharing meals, tips and stories with 10-12 people per night while they were here in Buenos Aires. I was surprised that we were selected originally, since I sort of assumed that a) they'd want to experience Argentine food, traditional or modern and b) my cooking doesn't exactly fall into whatever I imagined "dietetic" standards to involve. But, it turns out they're just a bunch of fun-loving foodies who like to travel the world, dining and wining and having a great time. Our kind of people!
My only instructions were, "no offal", but other than that it was free rein. I figured they were going to get a fair amount of the steak and potato set as they hit the estancia, on their days in Mendoza, and some of their free time eating out locally. I guess maybe the three of our spots provided a good counterpoint to all that. I bounced the menu off of the tour organizer who was fine with it, and away we went. Most of it you've seen before or can find on these pages: provencal tarte tatin, caldillo of gatuzo and abadejo (dogfish and pollack), a main course of cod with green pepper sauce and fried garlic, and the poppyseed pionono with licorice/five-spice pastry cream and lime syrup.
In between all that, for the middle course…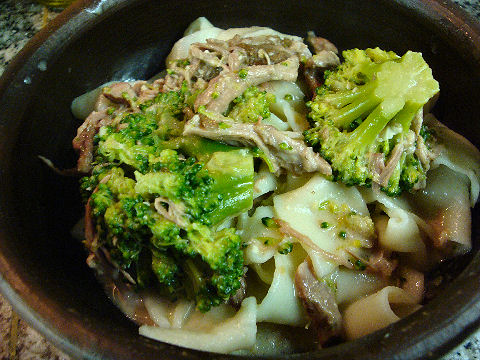 …silky pappardelle (semolina and 0000 flours with just egg whites to bind), in a sauce made from braised oxtail and spareribs – braised with onion, celery, carrot, bay, garlic, ginger, parsley, oranges, star anise, sherry and red wine – the meat shredded, and then the braising liquid reduced down nearly to a demi-glace state and then mixed with goats milk camembert and cream. Some blanched broccoli tossed in to add some green veggie to it – works well the flavors, and, delicious!