"A picture is the expression of an impression. If the beautiful were not in us, how would we ever recognize it?"

– Ernest Haas, photographer
A few months ago we went out for an interesting and creative "brunch" at Paraje Arévalo – I put it in quotes because it wasn't really brunch, it was just lunch served on the weekend. We enjoyed it, though found some of the seasoning, or salting in particular, a bit uneven, and it was clearly a place worth returning to. And, so we did this past week, to check out what they do at dinner.
There's nothing new to say about the place itself, so I'll jump right into the food – there is a choice at dinner of a 6 or 8 course tasting menu, respectively 130 and 150 pesos – a reasonable price, even though, as you'll see, I find the courses to be a bit skimpy in size, overall they add up to a nice range of tastes and an acceptable amount of food. The wine list ranges toward the high end, over half of it is over 100 pesos a bottle, and the remainder is between 70-100. It is well selected, with some quite interesting choices – it's not that it's overpriced, it's just that the selection doesn't include anything less expensive. And that leads to my one true negative about the place – they only take cash (something they didn't mention on the phone when making the reservation, and which I didn't know from the previous time as we'd been taken out for brunch) – for two people, once you add in bottled water, perhaps a coffee, a cubierto charge, you're looking at a likely 400 peso or more bill. Luckily we had just a bit over that with us, but it did limit our wine choice to something at the bottom end of the range – an excellent bottle of Palo Alto Pinot Noir that the waitress/manager/sommelier? tried to talk me out of – she kept going on about needing to match with the main course of braised chivito, and wanted us to try a big, rich, heavily oaked wine – which wouldn't be my choice with braised chivito to begin with, and what about the five courses of vegetables and fish leading up to it? I finally just told her to bring that, which she did, though didn't seem happy about it.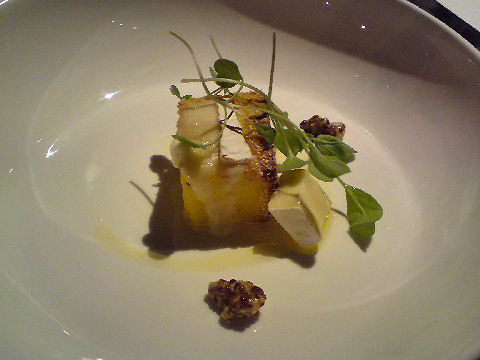 A 1″ cube of polenta, lightened up I'd guess with beaten egg whites, then fried, and served with a ½" square of brie and some seeded spicy mustard. Tasty, but not quite what I'd consider a "course". They do.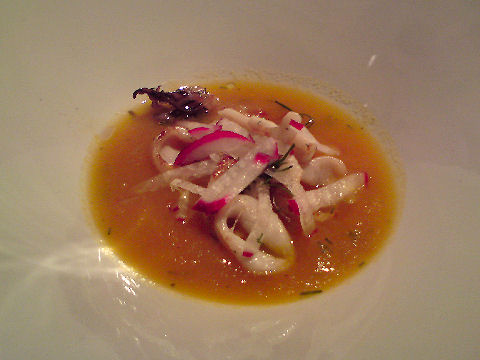 A carrot soup – really more of a carrot puree, and completely unseasoned – I asked for salt, which I almost never do in a restaurant. Some julienne of radish and sliced calamaretti in the mix. About four spoonfuls. I'm not feeling like I'm going to get enough to eat at this point. I start in on the bread, which is quite good and served with soft butter dusted with sea salt.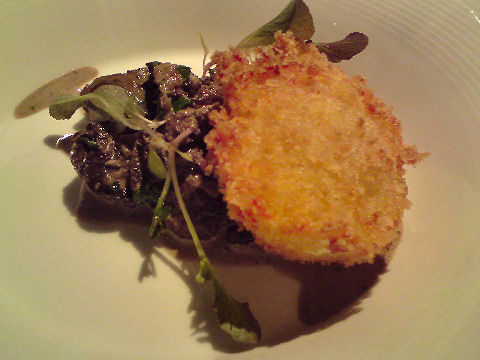 A panko crumb coated and deep-fried egg served with sauteed chicken livers. Now we're talking – my kind of food and a good appetizer size. Not quite as good as the poached egg and mushroom dish they served at the brunch (which appears on the 6 course dinner menu as well), but still up there.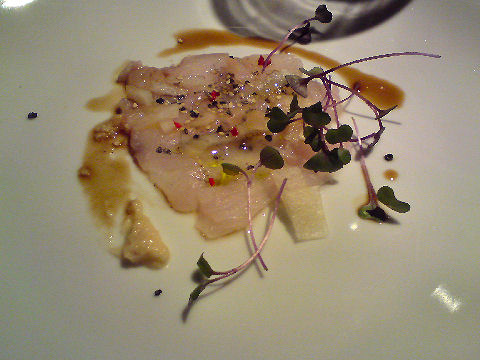 The standout course for the evening for me, a sashimi of salmón blanco (presented simply as "pescado blanco" – a regular occurrence in this town, why does no one want to tell you what kind of "white fish" you're eating?) – accented with, if I recall correctly, a fruit vinegar, spices and different peppercorns, a whole medley of flavors that just worked brilliantly.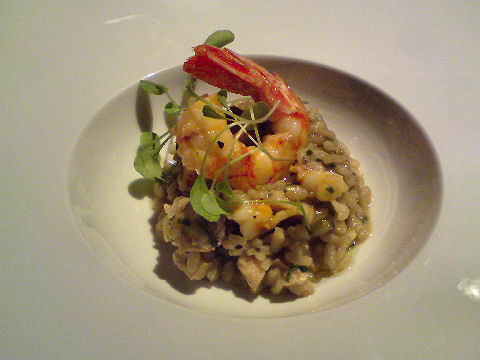 Our least favorite course of the evening, a shrimp risotto. It may have been risotto rice of one sort or another, but it wasn't cooked like one, it was just stuck together cooked rice, no creaminess, no al dente nothing, and flavored with a shrimp stock that was so intense and salty it hurt. The overcooked prawn atop didn't save it. I'm also noting the overuse of the same little microgreens over and over as a garnish.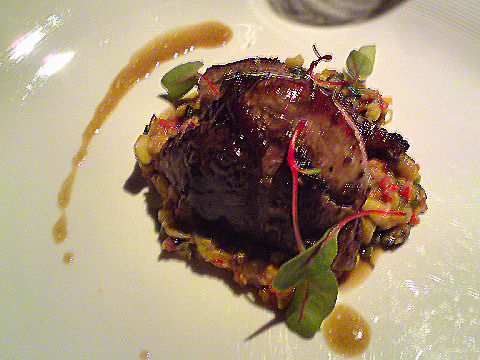 The braised chivito, baby goat, was good, though didn't really have that falling apart braised texture. It took a steak knife to cut it, which they'd brought to the table already, so clearly they know that. Served over, well, do you remember "Mexicali corn" – it was all the rage in the 60s when I was growing up – corn with green and red bell peppers and scallions mixed in, and maybe a touch of chili, but just a touch… it brought back fond memories of family meals. Sorry about the blurry photo, it was the best of the two I took.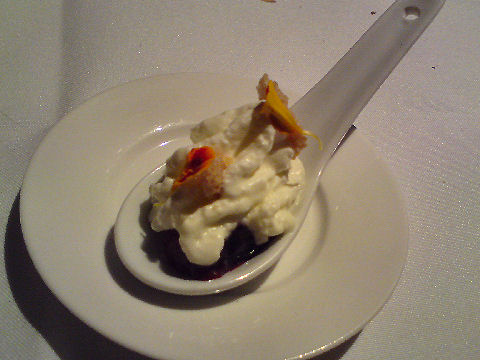 First, they accidentally brought us the pre-dessert from the six course menu, a springroll of banana and dulce de leche, well, a single bite slice of one anyway. They let us keep it, I forgot to snap a photo. It was banana and dulce de leche, nothing to get worked up about. More interesting, though again, "really, this is a course?" was the yogurt foam with a slice of plum underneath. Interesting and tasty, but come on… really? Yogurt out of an isowhip and a slice of a plum?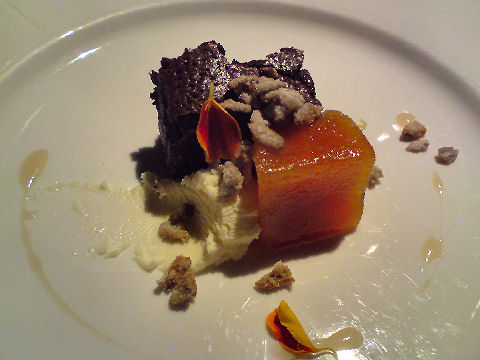 And the dessert itself, about an 1½" cube of flourless chocolate cake which for whatever reason that the waitress/manager couldn't explain the chef calls "Nemesis of River Cafe" (and yes, apparently referring to the River Cafe in NYC), served with a smaller cube of dulce de batata, some whipped cream and scattered nuts.
Okay, maybe I wasn't all that impressed this time. Creative, yes. Tasty, for the most part, yes. But without the four slices of bread and the extra pop of pre-dessert, I'd have likely felt a bit hungry at the end. And again, the seasoning is just out of balance, more so at this dinner than at the brunch, which I liked more than this. This, felt like they were trying too hard. I'll still leave the place as recommended, but despite how much my friend who took me there the first time and accompanied me this time likes the place, it's not on my short list to rush back to.