"We all need to start making some changes to how our families eat. Now, everyone loves a good Sunday dinner. Me included. And there's nothing wrong with that. The problem is when we eat Sunday dinner Monday through Saturday."

– Michelle Obama, First Lady of the U.S.A.
I guess Michelle should eat Sunday dinners more like ours – at least our 4th Sunday ones – which are now planned out to be a regular monthly vegetarian fest. Not necessarily themed like the other dinners, though perhaps at times, but more based on some of the vegetarian classes that I'm working on with students. We shall see, these things evolve. Come to think of it, I didn't grow up with that Sunday dinner tradition of the sort she's referring to, and don't recall that many folk I knew did either. This month, all vegan, and a little bit of both Mediterranean and some southern U.S. thrown in there.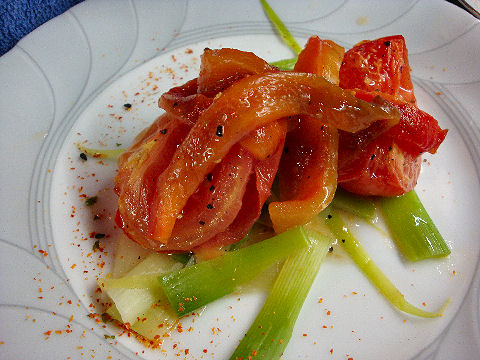 We started off with a warm salad – leeks poached in vegetable stock, broiled tomatoes, and blackened red bell peppers, served up with a simple mustard vinaigrette.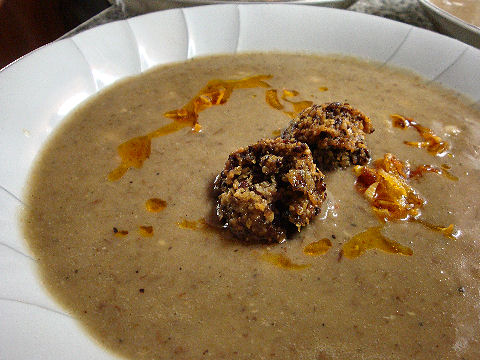 On to a lentil and potato soup flavored with fennel, tahini, garlic, lemon peel, urfa biber (a Turkish smoked pepper no relation to Justin), with fried chickpeas and falafel, and then drizzled with crispy shallots in smoked paprika oil.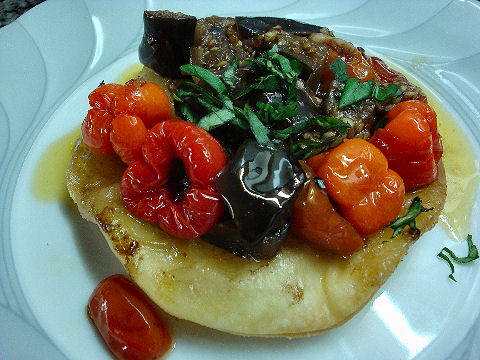 I know, I know, another vegetable tarte tatin – but hey, they're a hit, and they've kind of become a little specialty – plus I'm having fun trying out different vegetables – I'll get tired of them at some point, don't worry. This one, eggplant, cherry tomatoes and little mini bell peppers, caramelized in olive oil, margarine, brown sugar, salt, pepper, and red chilies. Finished with some fresh basil.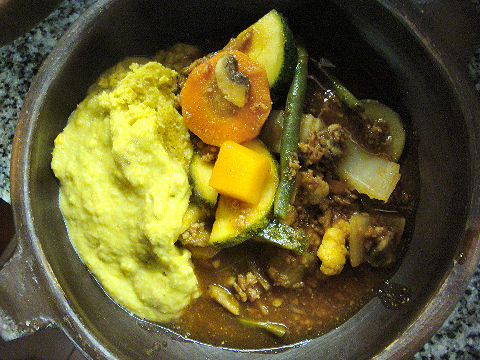 This one was a risk, it's still a work in progress, but overall I think it turned out well. The main part of the dish is pretty much where I want it, a barbecue sauced stew of fresh vegetables. First off sauteed onions, garlic, cauliflower, carrots, celery, and squash in a little olive oil, when they were part cooked, added in mushrooms, zucchini and green beans. When all the vegetables were cooked, added in my secret TVP BBQ… okay, it's not a secret. TVP is textured vegetable protein, in this case granulated to simulate ground meat, rehydrated in a brown vegetable stock. The sauce a mix of: yellow peruvian peppers, tomato paste, apple cider and rice vinegars, maple syrup, honey, bourbon, soy sauce, olive oil, garlic, ginger, mustard, salt and pepper – all cooked down until thick and then the drained tvp added to it. Mixed that with the vegetable medley and kept it hot.
The spoonbread is the real work in progress. Without eggs to help it firm up it stays a little too soft and soupy for what I'm looking for, but I'm working on it – it's a mix of soy milk, polenta, salt, garlic powder, corn, and a spicy vegan "cheese" substitute that I've finally got where I want it – a mix of more spices than I care to think about with a base of raw pumpkin seeds. Suffice it to say it makes a great spreadable dip, but isn't quite firm enough to help with the texture of the spoonbread. Still, the flavor was there – and I'll get the texture right sooner or later.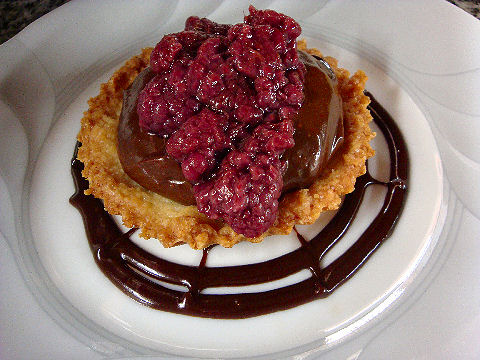 And, a finish with a little tartlet of shortcrust pastry topped with a cocoa-avocado mousse, raspberries cooked in syrup, and then a good drizzle of a dark chocolate glaze underneath.
I'm thinking Middle Eastern for next month's vegetarian dinner… or maybe Chinese. I'll get back to you on that.