"Hors D'oeuvre: A ham sandwich cut into forty pieces."

– Jack Benny, comedian
Sometimes my decisions of weekend themes turn out to be more difficult to plan a menu around than others. I mean, what was I thinking, "the classic american sandwich"? PBJ, bologna, fried bologna, liverwurst, lox, po' boy, muffuletta, grilled cheese, shrimp salad, lobster roll, do hot dogs and hamburgers count?, BLT, club, cuban, montecristo, reuben, pimento loaf, beef on weck, philly cheesesteak… where to start, where to stop? In the end, I picked a five-pack of personal favorites… but hmm, no, not that one, maybe that one, or… and how to turn a bunch of things between slices of bread into dinner dishes? Deconstruction and reconstruction, that's the ticket.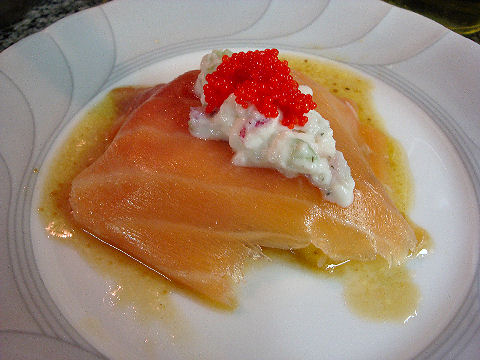 Let's face it, one of the first things I do when I get to NYC is head for a favored bagel shop to get a lox on a bagel with cream cheese, red onions and tomato. In the end, I fell back on a favorite with a tweak. Smoked salmon over caramelized sweet potato, however instead of cream cheese, I mixed yogurt with a brunoise (very small dice) of cucumber and red onion, some dill, salt and pepper, and then semi-gelled it with agar. Topped with a little lumpfish roe and not a bad start to the evening.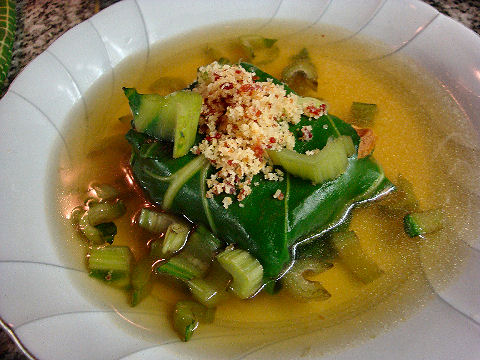 So the first night, I decided to tear apart the BLT, which hey, isn't the way I eat BLTs anyway, I like them with peanut butter. I know, I know, but a PBLT is the way to go, trust me on this, I grew up on them (with beef or turkey bacon, of course, at the time). So, a bacon consomme made with smoked bacon, shallots, tomato paste, marjoram and sherry. In the center, a parcel of blanched swiss chard filling in for the lettuce, wrapped around a savory smoked tomato cheesecake. Bits of the swiss chard stems tossed in and a crumble of panko and prosciutto. It was okay, but the broth lacked the punch I wanted, and the whole thing seemed out of balance, and sort of, well, backwards…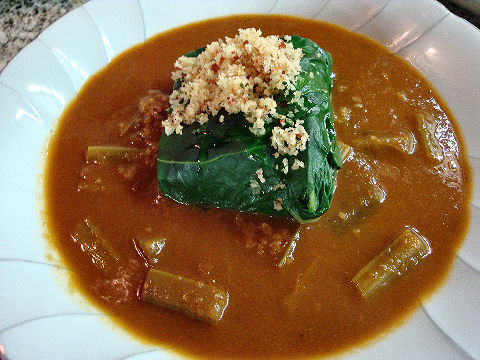 …so, day two and I decided to reverse it. Here, a soup made of sun-dried tomatoes, shallots, tomato paste, marjoram, pureed together, and then the cheesecake made with crispy bacon. You know what, it was better, but still not my favorite of the evening, by a long shot. I'm going back to the sandwich on this one.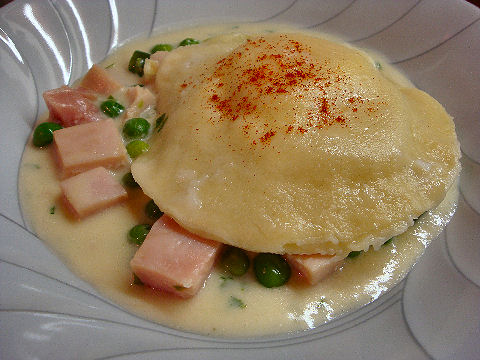 One of my favorite sandwiches of all time is the Montecristo. Now, growing up we made them with sliced turkey breast and swiss cheese between two planks of challah bread, then dipped in beaten egg and cooked up like french toast and served with maple syrup. The traditional one also has sliced ham and is usually served up with spicy mustard. Obviously a completely different form here – diced turkey and a little ham cooked in butter, then sprinkled with flour and left to cook a few minutes to toast lightly, then chicken stock added, brought to a simmer and thickened, then peas, cream, parsley and just a dab of mustard to finish it off. And atop, an egg yolk ravioli with grated swiss cheese instead of ricotta inside. This one worked for me, and seemed to for all the guests.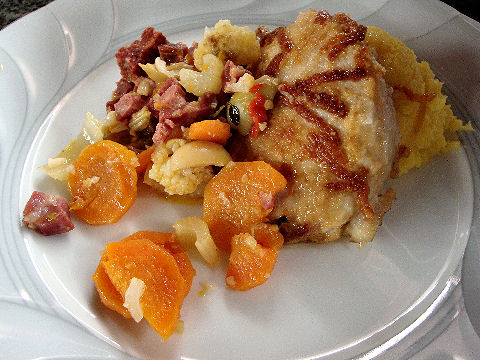 Anyone from New Orleans recognize the muffuletta in deep deconstruction?
Here, from Wikipedia:

A traditional muffuletta consists of one muffuletta loaf, split horizontally. The loaf is then covered with a marinated olive salad, then layers of capicola, salami, pepperoni, emmentaler, Ham and provolone. The sandwich is sometimes heated through to soften the provolone. The size of the muffuletta is enough to feed more than one person, and many stores sell quarter or half-muffulettas.

The olive salad consists primarily of olives, along with celery, cauliflower and carrot, found in a jar of Giardiniera. The ingredients are combined, seasonings, such as oregano and garlic, are added, covered in olive oil and allowed to combine for at least 24 hours."
Okay, starting from the back right… simple polenta finished with butter. Then, a slice of pork loin dipped in flour, then milk, and then a mix of breadcrumbs and grated provolone, all sauteed up nice and golden brown. Then, the fun… into a pot with: cauliflower florets, sliced carrots, diced celery, coarsely chopped garlic, quartered green olives, sliced red chilies (instead of pimentos in the olives) chopped salami, mortadella and cured pork shoulder (bondiola here) – all sauteed in toasted sesame oil until the vegetables were cooked through and getting soft, then finished with a handful of fresh oregano leaves. For us, this one rocked. I think it did for the folk at dinner too. And probably the best of the evening in terms of an homage to the original sandwich.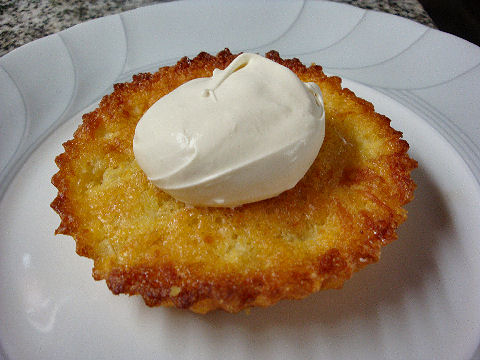 You can see the resemblance to a grilled cheese sandwich, yes? Very conveniently in terms of timing, literally the day of our first dinner, I spotted Marie Rayner's Apple and Cheddar Cheesecake on her blog, The English Kitchen. At this point, honestly, I was so befuddled from figuring out deconstructions that I simply used her recipe with the exception that I used a mix of grated cheeses – cheddar, mozzarella and gouda – and since there were no Granny Smiths to be found in the market, some sweeter red apples. I made individual tartlets rather than one large one. I even topped it with her recommended maple syrup sweetened whipped cream. Thanks Marie!
Darnit, I forgot about egg salad, I love egg salad… and liverwurst, I could have done something with…