"Along with Paraná, Rosario is one of the few Argentine cities that cannot point to a particular individual as its founder, nor a particular date that it was founded – it grew up gradually around a small chapel that was placed on the hillside for travelers to stop at. The city's patron is the Virgin of the Rosary whose feast day is on October 7. The asteroid 14812 Rosario was named in its honor"
.
Henry and I decided on a little three day get-away upriver to Rosario, in Santa Fé. An uneventful four hour bus ride got us in a little after two in the afternoon, we headed straight for our hotel – the Presidente (Henry wanted a little "luxury" in our time away – I wouldn't recommend this place simply based on price – it's far more than most local hotels, and other than looking pretty and new and having decent sized rooms doesn't offer much of anything out of the ordinary. The promised gym, spa and pool were not all that – the first two actually non-existent in the hotel, you have to walk five blocks to their sister hotel the Riviera with a note from the concierge to let you use the facilities – not that anyone asked, because there was simply no one attending to either the gym – a few weights and machines – or the spa – which consisted of a sauna that you have to turn on yourself and wait for it to heat up – which also means you have to change into your gym clothes back at the Presidente as there are no changing rooms in the gym, and, bring your own towel – and the pool, which was little more than about a 40′ wading pool on the roof, and filled with freezing cold water.
From there, being mid-afternoon on a Sunday, we decided to get a bite to eat, which unfortunately in that part of town meant we were pretty much limited to… dare I say it… McDonald's. Appalling – I haven't been to one to eat in eons, so really hadn't recalled how bad the food is, and Henry had never been to one before. After that, we walked around a bit – I'm not going to get into the history of the buildings, we were just enjoying the afternoon – so I'll leave it to the photos to tell the story of this part of the day… a lot of very pretty older buildings, and a few interesting newer ones. We didn't leave the general area of the hotel at this point.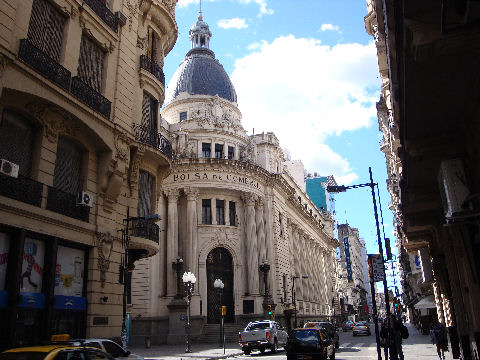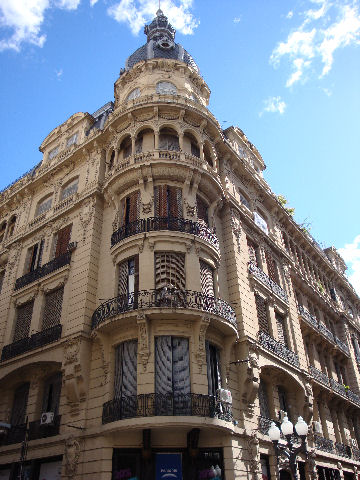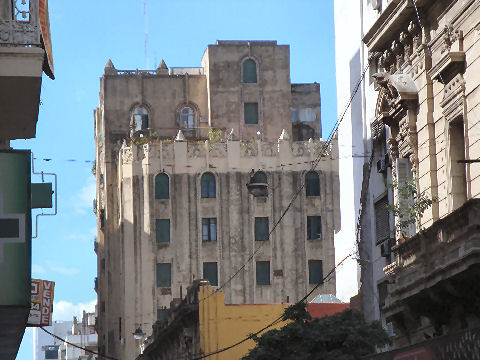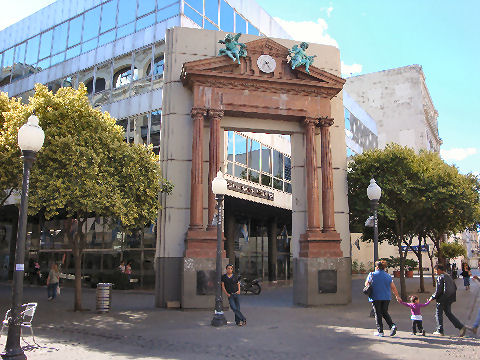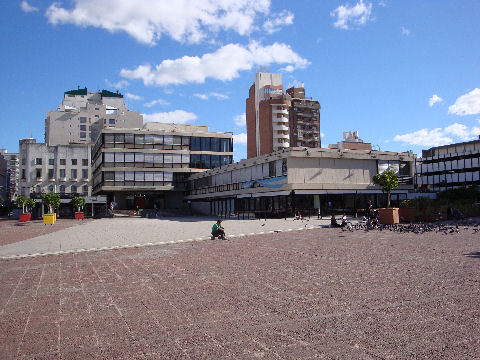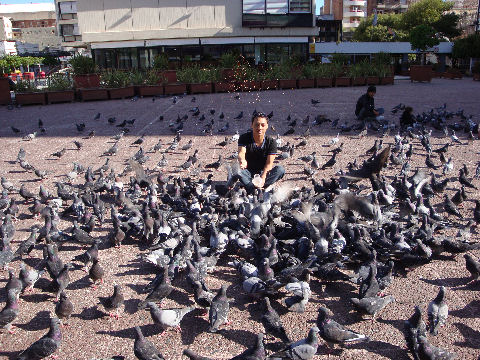 (Henry wanted to feed the pigeons, I think he got more than he bargained for.)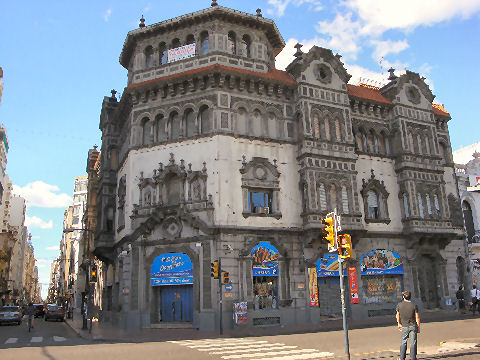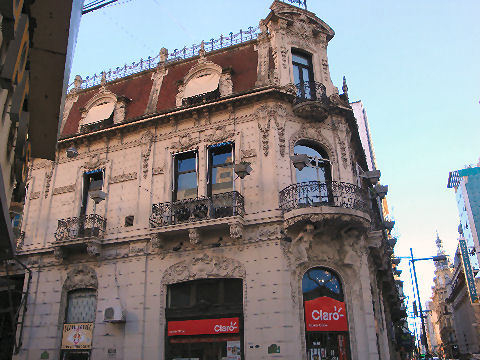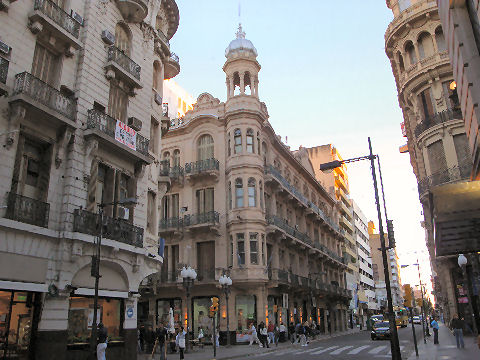 Later it was out to dinner at one of the most highly recommended seafood restaurants in town, La Chernia, el Chucho y la Cholga (the grouper, the ray and the mussel, only the last of which was on their menu), at the corner of Mendoza and Rosas, a dozen or so blocks from the hotel. Decent ambiance, friendly service, mediocre food.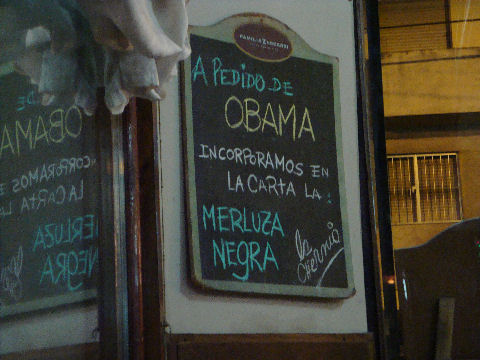 It's not that I don't know that racist jokes are considered de rigeur here, actually, pretty much, so is racism, but it's still just strange sometimes to see how blatant it can be. Basically, the sign says, "per Obama's request, Black Merluza is now on our menu" – the fish being what we call Chilean Sea Bass, versus the non-black Merluza, which is hake. Our waitress seemed to think it was hysterically funny – "Black, don't you get it? He's black." Yeah, we got it, it just wasn't all that amusing.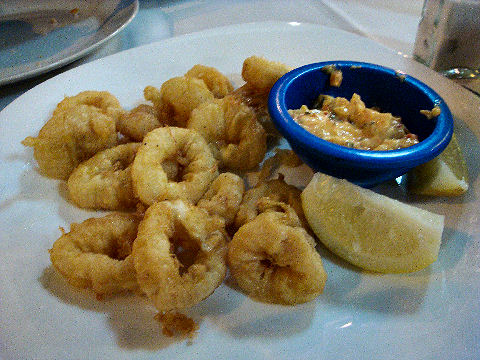 Clearly frozen rabas, or fried calamari rings, overcooked, and in a breadcrumb batter that was left dripping with grease and soggy – this a half portion, thankfully, as we couldn't even eat all of it it was so bad – the tartare sauce it came with, actually more of a thousand island dressing, was homemade and quite good.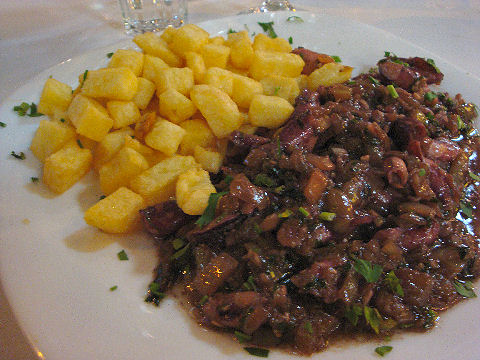 One of two dishes on the menu stated as "classics of Rosarino cooking", the Calamarettes a la lionesa – "so well known that we don't even have to tell you what goes into them" – basically sauteed in garlic, lots of onion, olive oil, butter, parsley, salt, pepper and paprika – flavor-wise not bad, though a bit greasy, the problem was that a good number, maybe 25% of the calamaretti were simply not cleaned, they still had their guts and quill in them, so it was just unpleasant to eat – I picked around for the properly done ones. The accompanying potatoes were great – actually the best thing we had.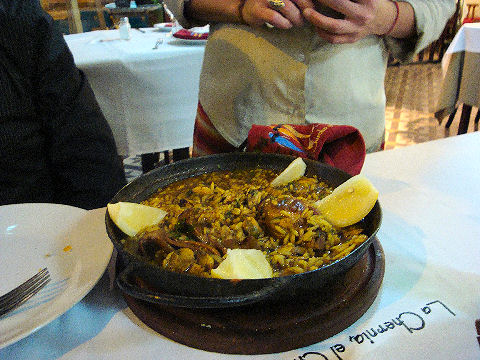 The paella was simply inedible. Overcooked, mushy rice that was flavored with squid ink to a level that it was an unappealing grey and very bitter. Likewise overcooked, dried out mussels, a couple of rubbery clams, and one chalky piece of chicken breast.
We nibbled at what we had, our waitress didn't seem to notice that we hadn't eaten half of what was on our plates and didn't ask, just whisking them away when we pushed them away, and brought the bill without even asking if we wanted dessert or anything else. Half an appetizer, two main courses, one soda, two bottled waters, and a moderately priced bottle of wine totaled up to 209 pesos, which, for seafood here in Argentina, had it been good, would have been a fine price, but for the mediocre quality of the cooking at La Chernia, not remotely worth it.