"Well something's lost but something's gained in living every day…."

– Joni Mitchell, Both Sides Now
I mean, just look at it. It's a little neighborhood cafe. An octet of roughly put together wooden tables, slathered over with black paint, the chairs not much better, decor consisting of a black and white vine motif wallpaper on part of one wall and a few black and white photographs 2 feet above eye level (when standing) on the other. It's narrow, kind of charmless, with a small bar at the back stocked with base level commercial wine and a coffee machine. I've passed it by a couple of times a week for the last year and a half since it opened. Never even paid attention to the name, which is only visible if you stop to look carefully, being simply etched into the glass of the door.
They say you never get a chance to make another first impression, but in this case, I think they're wrong. True, the visual impression from outside and in are much the same. But go in and sit yourself down at a table at Due Resto Café, Juncal 2391 (just off Pueyrredón), 4829-9400, and prepare for a completely new first impression when the menu, and then the food it represents, arrive. To jump over the details, this is simply the most creative food I've seen in this part of Recoleta. [Closed August 2014, apparently reopening as a bakery and sandwich shop under the chef's name, Leandro Varela – to be checked out. / The bakery was excellent, but only lasted about 6 months, no idea why.]
The menu is divided into two parts – one side is a listing of salads, creative in their own right, that form the, more or less, unchanging part of the offerings. The other side is a daily list of a dozen "chef's suggestions" that appears to change nearly daily – at least a good portion of the dishes do – I visited with different friends on two successive days and at least half of that menu on the second day were dishes I'm sure had not been on the previous day. And it's a mix – a couple of pastas, a couple of vegetable dishes, some chicken, some pork, some lamb, some fish… I gather it varies, but there's certainly enough variety for anyone to find something interesting.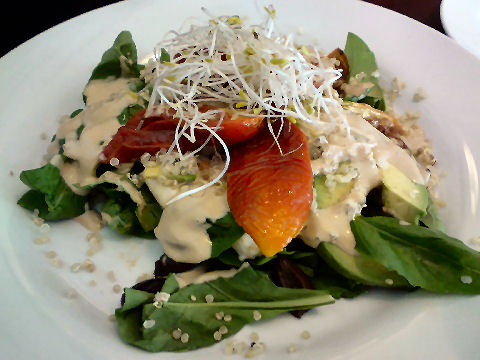 A Caprese salad was not the usual line up of basil, tomatoes and mozzarella, but oven-roasted tomatoes, arugula and basil, avocado, fresh bocconcini, sesame, and a light, creamy dressing that complimented all of the above perfectly. I should also mention the basket of house-made breads – foccacia, black bread, herb bread and breadsticks, all delicious.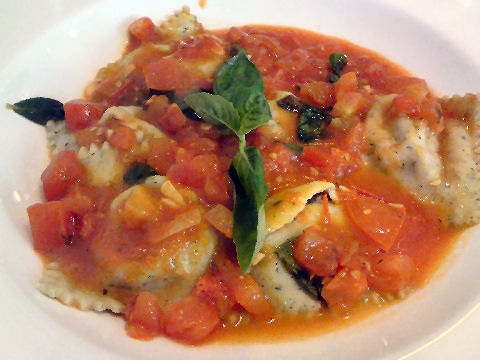 On one day, one of the two pastas of the day was this lovely ravioli filled with slow-cooked octopus and ricotta, and ladled over with a fresh tomato and basil sauce; on the next day, the ravioli were filled with braised lamb and spices and served in a reduced lamb sugo – almost a demiglace – with sauteed cherry tomatoes.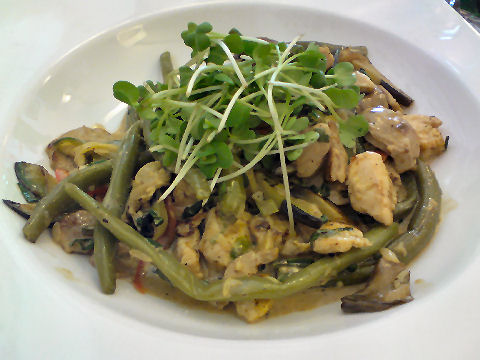 I don't recall the stir-fry of the day from the first visit, but on the second, this chicken and sweetbread "wok" with green beans, mushrooms, and pea sprouts in a light sherry cream sauce was dead on; as was one of my companion's grilled fillet of grouper with a mixed green salad that also contained shavings of carrots, plus nuts and dried peaches (and had he not been avoiding starches, a quinoa saute).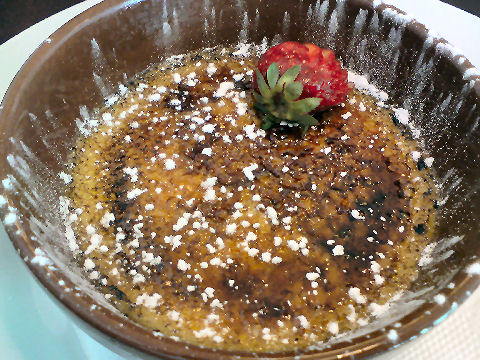 Creme brulee is tough to get right, and I've not had one until now here in BA that I thought was. Invariably they've been refrigerator cold with the "brulee" having clearly been done in advance and already melting into the custard. This one was silky smooth, packed with vanilla flavor, and just warm, topped with a still slightly smoking crisp brulee, clearly having just been done, with a hint of orange peel in the sugar.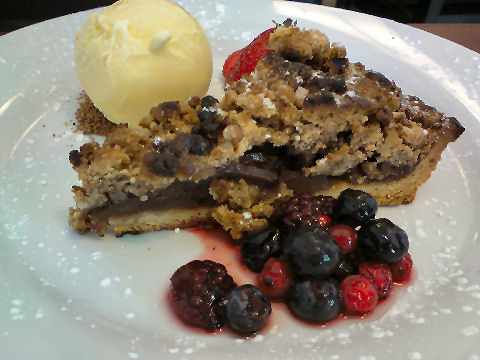 Local expats will know exactly what I mean when I say that the apple pie here, the tarta de manzana, ain't all that. It is invariably two layers of mediocre crust with apples and sugar packed between it, done up on a sheet pan. It's got no spices, the apples don't get any caramelization, it's just… wrong. I know, I know, different culture and all that. But, nobody says "As Argentine as apple pie." Right? This was a winner. A true pie crust below, caramelized apples with cinnamon, clove and other spices above, and on top, a properly made and browned streusel. Served with vanilla ice cream and fresh berries – if you do nothing else, go in and get a slice of this and a cup of coffee (which isn't the best, but acceptable, Segafredo, and at least doesn't taste burned, so they keep their machine clean and properly adjusted).
Top marks for everything but decor. And an upgrade to the wine list to reflect the same quality as the food would truly make the place.