"a la Romana: To cook by dredging in flour and egg and then frying.

Catalan origin, literally meaning "in the Roman manner", and not to be confused with a la Romaine, from the French, with the same literal translation, but which involves cooking something with eggs, spinach, anchovies and parmesan.
I promised you I'd start exploring both the classic and new preparations of the local freshwater fish. I haven't forgotten, and I'm building up a nice little series of photos and step-by-steps for you. I'm going to start with the pejerrey, or South American silverside. Now, obviously one can prepare this, or probably any fish, extraordinarily simply by sauteing it or grilling it or something of that sort. I want to start at least a step up from there – and Pejerrey a la Romana is about as simple as it gets while still requiring more than the fish and some oil or butter to prevent it from sticking. It's also probably the most common way I see this fish (and a few others) prepared – showing up on minutas menus in local eateries across the city.
Pejerrey a la Romana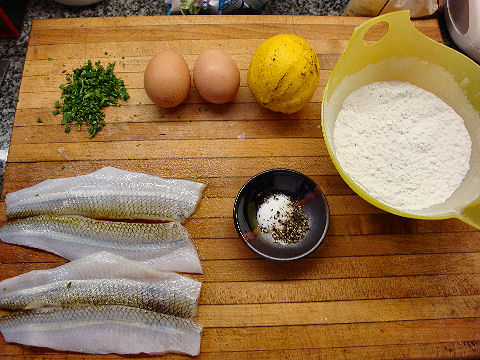 Here's your mise-en-place – the fillets of pejerrey, scaled and boned; eggs, chopped parsley, salt and pepper, flour, lemon for garnish.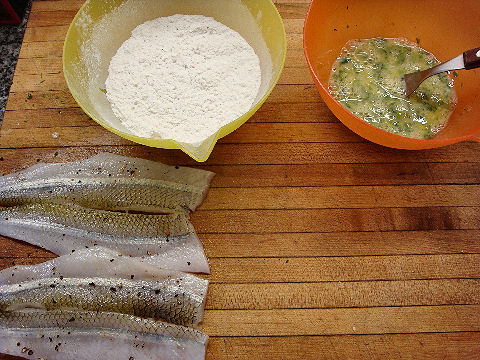 Lightly salt and pepper both sides of the fillets. Beat the eggs with salt, pepper and most of the chopped parsley.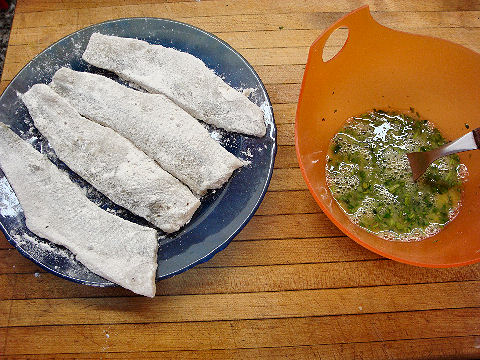 Dredge the fillets in the flour, making sure both sides are evenly and completely coated. This provides a dry, porous surface for the egg to stick to.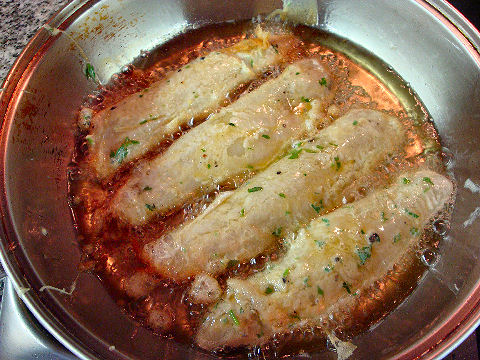 Dip the floured fillets into the egg mixture, again making sure that they're well coated. From there, right into a pan of hot oil over medium heat – use something neutral like corn, sunflower, or soy oil, that won't add its own flavor. There should be enough to fill the pan to a depth of about ¼", before the fillets are added.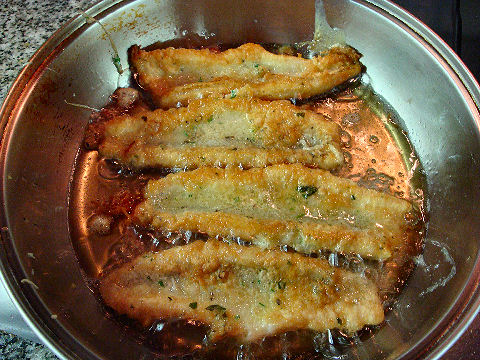 Cook for approximately 4-5 minutes, until the underside is golden brown, then flip the fillets over and cook the same on the second side. Depending on how high the flame is under your pan, the type of pan, how thick the fillets are, etc., this timing could vary slightly.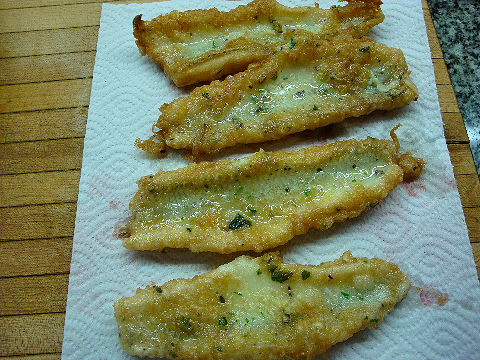 When the second side is nice and golden brown too, remove the fillets to some paper towel to drain off the excess oil. I usually let them sit about 15 seconds and then flip them over for another 15 to make sure both sides are well drained.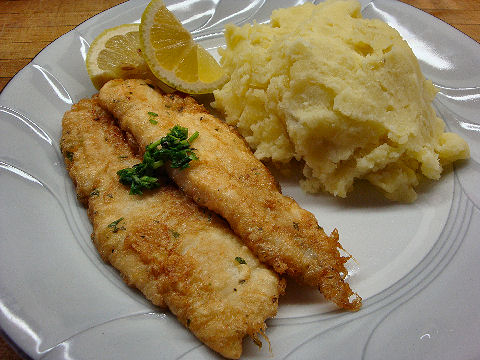 Serve with a sprinkling of the remaining chopped parsley, a lemon wedge or two, and the classic accompaniment of mashed potatoes.
How simple is that? And, how good is that!