"You may have the universe if I may have Italy."

– Giuseppe Verdi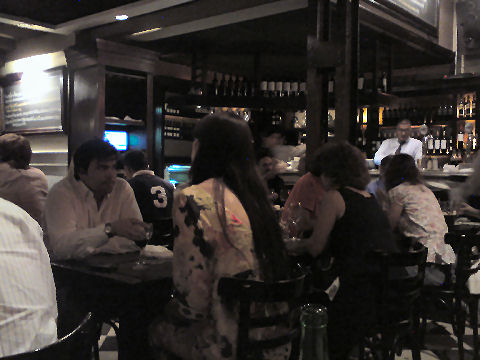 You know that little Italian place down the street? The one with the tables too close together, and a little rickety at that. A bar overcrowded with bottles gathering dust because no one orders that stuff. Maybe a prosciutto or some sausages hanging from the ceiling. Waiters in white shirts and black ties, the former half untucked from their baggy black pants that have seen better days. The interminably long menu listing every pasta dish known to man, except 90% of them are variations on the same basic dish. Overpriced low quality wine. And you've avoided going there, because you just know what the experience is going to be like, and it's much easier to pass it on by with eyes averted and go somewhere else. You know that place, right?
In my neighborhood, that place is Rigoletto Cafe, Rodriguez Peña 1291, Recoleta, 4814-4777 (they also have another spot downtown at Reconquista 958). And for 5½ years I've successfully averted my eyes and just walked on by. But a week or so ago, out for a quick drink and bite with a friend, and our first couple of choices turning out to be closed for the evening, we decided to jam ourselves in to the last remaining table in the place (it does get packed) and have a quick something. Let's just say I was back two nights later with another friend, and I'll be back again. [Closed]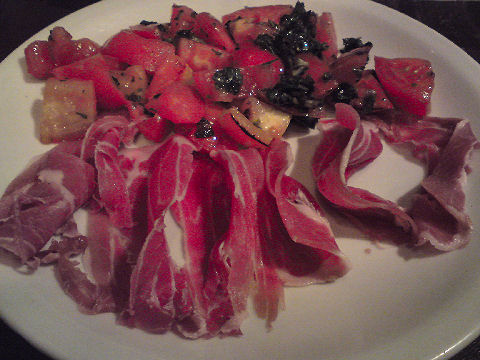 Now, it wasn't a wow. Unless the wow were to come from finally getting decently made Italian food, classic for the most part, with little creativity, just well made, here in Buenos Aires, a town that ought to have as many good Italian restaurants per capita as Italy. Instead, most places would be kicked out of Little Italy in NYC and the chefs carted off to "sleep with the fishes". So, a diamond in the rough, Rigoletto Cafe is still a gem. The first night, I started off with a plate of the prosciutto de Parma – delicate, melt in your mouth slices of cured meat, and served up with a delicious and nicely paired warm tomato and pesto salad.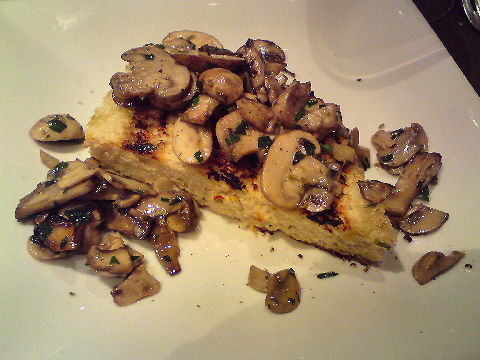 The second time through, we split a mushroom bruschetta (the photo is of a half portion, our waiter had already cut it for us and served it on separate plates). Slightly disappointing only in that somehow we'd both been thinking of something that would be a mix of different mushrooms, but then, the menu didn't say it would be, so, our bad. Perfectly sauteed, olive oil, salt, pepper, herbs, and an elusive hint of ginger. We didn't leave any on our plates.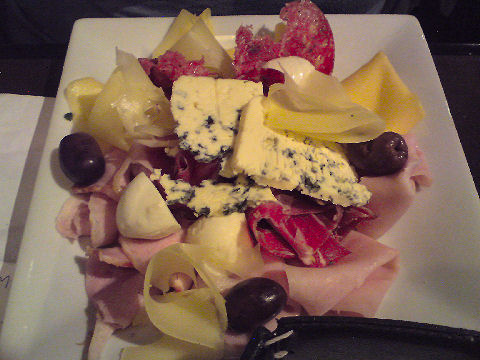 Back to the first night and my dining companion asked if she could have half a
picada
, or cured meat and cheese platter. Not a problem according to our waitress, who in short order brought this whopping selection that was a full meal in itself – I'd venture to guess that as an appetizer, the full portion would be good for 4-6 people. And the selection was good, and varied. The meats for the most part local takes on Italian cured ones, the cheeses not so much, but still quite good.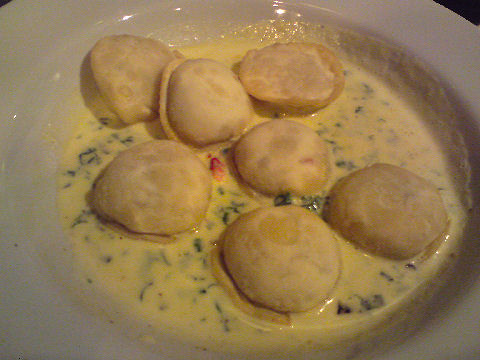 I had a pasta, and on the second night we each had pastas – they all looked similar, so no need for varied photos. These are the
sorrentinos crocantes rigoletto
– I've said before that if a restaurant is going to put their name on a dish, that's the one I'll often try, because it's the one they ought to be most proud of. And, in this case, they'd have been justified. If I were to guess, the sorrentinos are cooked like they would normally be, to an al dente in boiling water, then quickly dunked in a deep fryer to give them a faint crackly outer shell. They don't come across as fried through – but that's just a guess. They're filled with mozzarella and herbs, and surrounded by a sun-dried tomato and arugula cream sauce, and they were absolutely spot on. And despite only being seven of them on the plate, they're huge – each at least 2″ across – it was more than enough food. We weren't quite as enthused with our two selections the second night, though they were still well made and tasty – another plate of sorrentinos, this time simply boiled and served with a chive cream; and ravioli that were done in the crocante style, though this time coming out more like they'd simply been fried through, filled with prosciutto and mozzarella.
The wine selection is limited on the menu and more limited in actuality, consists of little of interest, and is outrageously overpriced – close to three times retail price, which in BA is not common. It also doesn't fit with the reasonably priced menu with appetizers running anywhere from mid-20s to high 30s and pastas in the low 40s – especially given the quantity of food served. The 8 peso apiece cubierto charge is unfortunately present, but that's common enough to just be expected. Still, even with the overpriced wine and bottled water and tip, we spent under 100 pesos each. They do take credit and debit cards, a nice plus, though, on the second night they ran my card through three times. I have no idea if they planned to try to process all three or if there was something odd about their system going on, but I spotted the approvals on my account while checking something else the next day and promptly had two of them squashed so they couldn't be finalized.
Overall, we had a good time both nights. It's a bit crowded and packed together. It's noisy. But the food is good. I think I might ask if they allow BYO on the wine – we will be back.