"I am convinced that living in an enclave shapes the personality, and living alone shapes the personality too."

– Dame Mary Douglas, anthropologist
The things you might not know about the Most Serene Republic of San Marino: It is a sovereign country, located within the borders of Italy; It is one of the smallest countries in the world, coming in at a mere 24 square miles and 30,000 people; It is the oldest surviving sovereign state in the world, having been founded on September 3, 301; it is also the oldest surviving constitutional republic in the world, its constitution, still in effect, having been written in 1600; it is one of the wealthiest countries in the world, has one of the most stable economies, has the lowest unemployment rate in Europe, no national debt, and a constant budget surplus. The population, and by extension, the cuisine, is heavily Emilia-Romagnan, the Italian state that surrounds it, but it has a number of unique dishes as well that have developed over the centuries.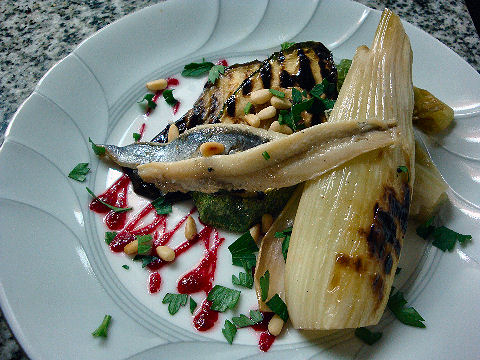 While there was no particular salad or similar appetizer associated with the country (despite numerous norteamericano inventions named as San Marino salads), the idea of an antipasti plate is quite common, so here a mashup of the ideas – grilled romaine, eggplant, zucchini and fennel, dressed with a beet vinaigrette on the plate and a drizzle of olive oil over the vegetables, a couple of lightly cured boquerones (white anchovies), and some toasted pinenuts.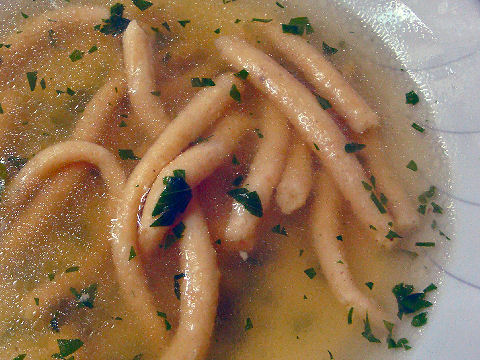 One of the signature dishes of the region is passarelli en brodo, a personal favorite. Basically, it's a poor man's soup, but it's really good. The broth is a chicken or meat broth (I used chicken), and passarelli are a sort of cross between pasta and dumplings – equal parts of toasted breadcrumbs and grated parmesan cheese, a bit of lemon zest and nutmeg, and all bound together with egg. Traditionally, they're pressed into boiling soup or water via a little handheld press with holes in the bottom that make worm-thick noodles, which you then cut off every 2-2½". I don't have a press, so hand rolled them and then cut them. Very slightly different texture as rolling them makes them a little denser, but they're still delicious!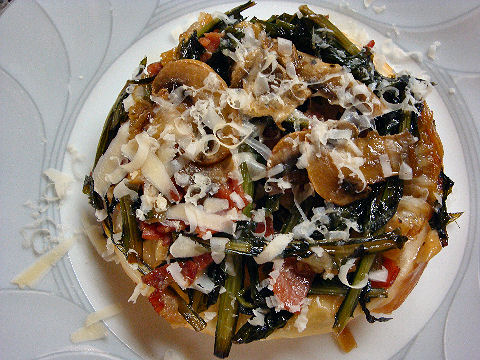 There's a classic dish from the area called a pieda, or in small size, piedina – essentially it's a slightly lighter pizza dough, generally (these days anyway) leavened with baking soda rather than yeast, lightly cooked and folded over some sort of filling – a large soft tortilla sandwich if you will. It was mere inspiration, as a pieda is pretty much a meal in itself – here, I went tarte tatin style (I'm having fun with those, no?), with slightly caramelized chicory greens and chinese cabbage, sauteed with prosciutto, olive oil, salt, pepper, peperoncino and a touch of sugar. The mushrooms were separate toasted dry in an oven, the placed in the bottom of the mold, topped with the greens and prosciutto, a knob of butter to help create the sauce, and a little round of puff pastry. Then flipped out onto a plate and a bit of pecorino romano cheese grated over the top.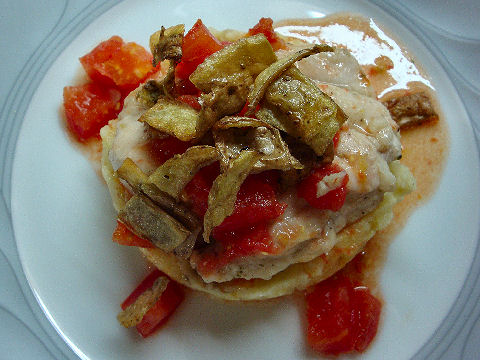 Based on various flavor combinations of dishes from San Marino, my "Pollo Sammarino" – the chicken is coated in flour with dried rosemary, sage and salt and then sauteed in neutral oil. Below that, mashed potatoes flavored with fresh rosemary and sage, butter and milk, salt and pepper, and finished with slow-cooked onions in olive oil. Atop, a fresh tomato sauce of diced plum tomatoes cooked over low heat with finely minced garlic, salt and pepper, rosemary and sage again, and a couple of star anise. And, finally, I took the potato peelings and cut them in small squares, more or less, dried them out in the oven and then fried them until just lightly crisped, then drained, salted and scattered on the plates.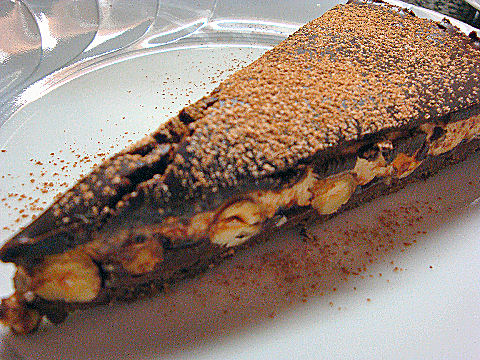 One of the most traditional of San Marino desserts is the torta titano, named after one of the mountain peaks surrounding the country. Described as a chocolate biscuit topped with hazelnuts, coffee cream and chocolate, I decided on my own version – a chocolate cookie base, topped with nutella, then toasted hazelnuts, and then a layer of freshly made cream cheese with sugar and instant espresso dissolved in it, and finally a dark chocolate ganache. It may not have been the exact way it's traditionally made, but it was in the spirit, and tasty as could be.