"Confusion is a word we have invented for an order which is not understood."

– Henry Miller, author
I got my holidays mixed up, confused, jumbled… You see, it wasn't actually the Tamil New Year this last weekend, which actually happens on April 14th or 15th, and this year will start the new year of Kara, part of a 60-year cycle of named years. No, instead it was Pongal, the start of the month of Thai, a harvest festival. I really have to do some of this research beforehand instead of after… or not… in the end, does it really matter what we were celebrating for dinner as long as we had a good time? Though, if you're into calendars, check out the Tamil calendar online, it's a quite fascinating setup.
Now, Tamil, or actually, Tamil Nadu (the people/culture are Tamil), is a state in southeastern India, and the culture is obviously quite big there, as well as in neighboring Puducherry, and in the countries of Sri Lanka, Malaysia and Singapore. The calendar is used primarily, these days, for religious festivals, cultural and agricultural events; the Gregorian calendar is used for most other things. They've got a distinctive cuisine, and I spent several weeks trying out dishes in their traditional forms as I played around with ideas to get to our menu. We didn't serve dinner on banana leaves, which is traditional, we didn't even have a rice dish, which is probably unheard of. We did, out of the blue, have someone at the first of the two dinners whose family, it turned out, is Tamil – he seemed to enjoy himself, though it was quite clear that what I was serving were not grandma's recipes….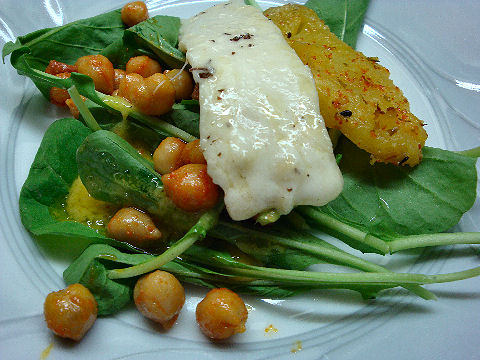 "Salads" with mangoes and pineapples, lots of chickpeas and other legumes, some greens that aren't available here in Argentina, fresh cheeses – all things that might go into a simple appetizer. Here, completely warped and twisted around – an arugula salad with a mango vinaigrette (pureed mango with rice vinegar, neutral oil, salt, pepper and a dab of dijon); topped with oven roasted pineapple sprinkled with salt and shichimi (Japanese seven-spice), sauteed chickpeas with salt and smoked paprika, and some quickly melted goats' milk feta cheese. Probably the least Tamil of all the dishes in terms of flavors….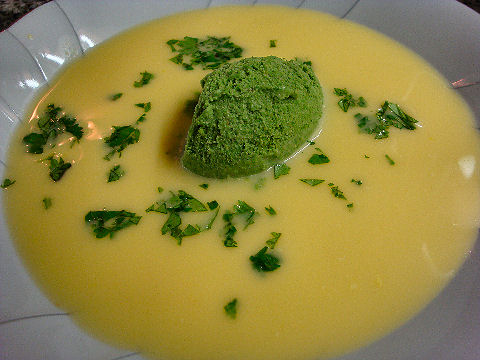 Certainly the most "out there" remix of ideas from the Tamil canon – instead of a dal, or lemtil/split pea, based soup, a corn base – into a pot with fresh corn cut off the cob plus the cobs, a red chili, some coconut milk, water and salt. Simmered together for about 45 minutes, then the cobs removed and the rest pureed and strained through a coarse strainer to get a medium thick sort of corn milk. Chilled, added some lime juice, adjusted the salt, ladled into bowls, and dusted with chopped cilantro. Into that, a scoop of spinach sorbet (coconut, spinach and dal an apparently common combination) – frozen spinach pureed with coconut milk, tamarind, cardamom, salt, horseradish, sugar and corn syrup – all chilled really well and then processed in the ice cream maker. Completely different, yet, the flavors of the original dish still there.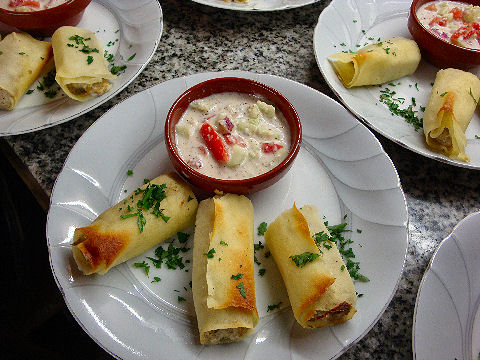 This was my favorite dish all around, and seemed to be the hit for most folk. I started with a traditional Chettinad Pepper Chicken, a fiery hot chicken stew that was absolutely delicious, though the intensity of black pepper bordered on "too much" for us – which rarely happens. Completely reworked as a chicken mousse – ground chicken mixed with the same spices (the black pepper toned down slightly to a level I felt comfortable serving), then whipped into a mousse with egg white and cream. Rolled that mixture up into fresh crepes cut into squares, and baked in the oven until golden brown… manicotti! Served with a relatively classic raita of yogurt, cucumber, tomato, red onion, coconut, green chilies, mustard and cumin seeds.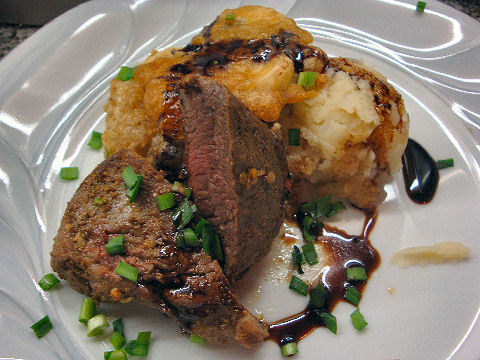 Another reworking of a classic stew called, if I have the name right, salna paya, usually made with sheep or goat trotters. Here, loin of lamb rubbed with a spice mixture of the various spices that go into the stew – a dry rub – then simply seared and finished in the oven. Served with, instead of a classic fried potato and eggplant hash of sorts, mashed potatoes flavored with lemon and olive oil, and eggplant fried in a beer batter flavored with toasted cumin. Drizzled over the whole thing a bit of reduced balsamic vinegar and honey.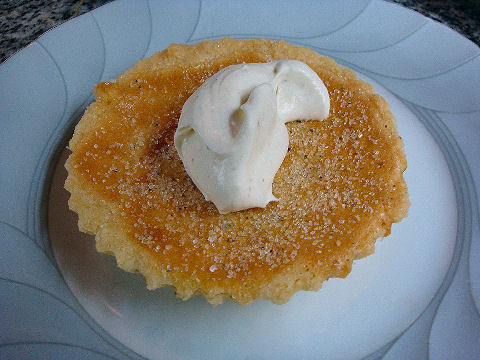 Taking some traditional flavors for dessert, but nothing like one them – a lemon tartlet flavored with grated ginger and cardamom, dusted with a sugar, cardamom and ground ginger mix, and served with a little whipped cream with more of the same.
All in all, a successful "inspiration" and fusion… at least from where I sit…. We'll see how the feedback comes in.