"Oh, better, no doubt, is a dinner of herbs, When seasoned by love, which no rancor disturbs, And sweetened by all that is sweetest in life, Than turbot, bisque, ortolans, eaten with strife."

– Edward G. Bulwer-Lytton, politician, poet & novelist
It was the Nanakusa-no-sekku, the Festival of Seven Wild, Edible Herbs of Spring. In Japan. Where it's not spring. And we're here in Buenos Aires, where of the seven herbs – Japanese parsley, shepherd's purse, Jersey cudweed, chickweed, henbit, turnip and daikon – only the last is regularly available and the second to last on occasion. But I'm getting ahead of myself. Why a theme? Didn't I just blather on in a recent post about no more themes and all that? Well yes, but I didn't express it quite as I meant it apparently – it isn't that there won't be any themes, I'm just not going to constrain myself to trying to make traditional recipes with tweaks and such anymore, I'm going to make my own style of food, with more… inspirations than influences of the theme's cuisine.
So, back to the dinner and the missing seven herbs… some of which don't really seem to be herbs to be anyway. I mean, a turnip or a daikon? Perhaps it's a mistranslation of the Japanese. Who knows? I sat down with a very cool book that someone gave me years ago – Kaiseki: Zen Tastes in Japanese Cooking, by Kaichi Tsuji – it's a series of photographs, very prettily done, of a year's worth of kaiseki dinners – more or less tasting menus. No recipes, just descriptions of the dishes and how they're presented. I was looking for the aforementioned inspirations.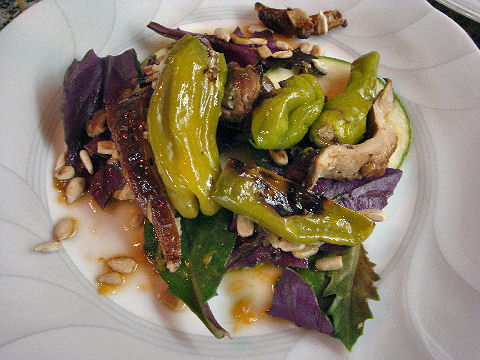 A dish of grilled shiitake mushrooms, served warm with a citrus sauce struck me. A perusal of what was out there in the markets led me to grilled shiitakes and shishito peppers, served over a little salad of zucchini, red mustard and toasted sunflower seeds, and a ponzu-ish vinaigrette (juice and zest of 4 limes, 2 lemons, 1 pink grapefruit, a good splash of mirin, one of rice wine vinegar, another of soy, and a little sugar and salt to balance it all).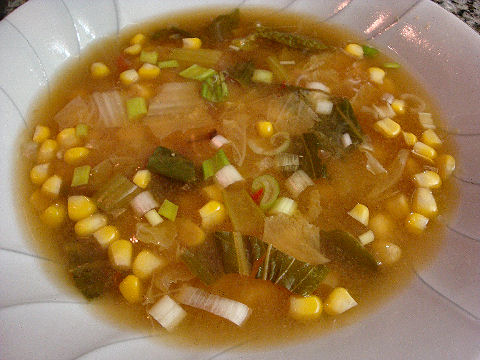 A simple miso soup with corn and tofu led to a stock made from corncobs, konbu and white miso, strained, and into that some already lightly cooked corn (from those cobs), bok choy, napa cabbage, red chilies and green onions. Everyone kept commenting on the intensity of the corn flavor – it really is a shame that people just throw away corncobs after removing the kernels, they make incredible soup stock.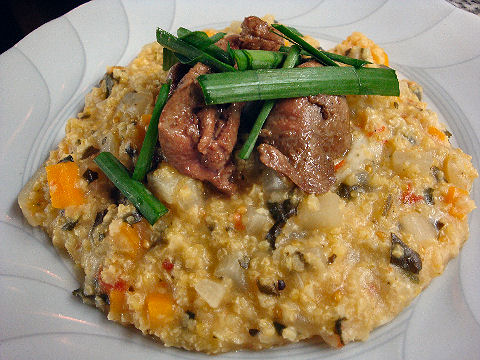 I spotted a dish of millet cakes with wild duck slivers. That morphed a long way into a millet "risotto" of sorts – soak the millet in cold vegetable stock for several hours (millet takes a long time to cook, you can't make it in 15-20 minutes risotto style unless you soak it first), then pour off the stock into a small pot and heat it up. Finely dice onion, carrot, daikon, and mince some garlic and zest a lemon. Into a pot with a little oil, and cook until just soft. Add the juice from the lemon, plus a good splash of white wine and cook until absorbed. Add the millet and start cooking it risotto style, adding the now hot stock a bit at a time. When it's cooked – about 20 minutes doing it this way – stir in chopped spinach and crushed tomatoes, and a bit of goats' milk feta cheese. Season to taste with salt and pepper. That's the risotto base. Over the top of that, some quickly sauteed duck liver slices and a scattering of nira, a Japanese flat chive. Also made the same dish vegetarian for a couple of guests with sauteed brown mushrooms in place of the liver.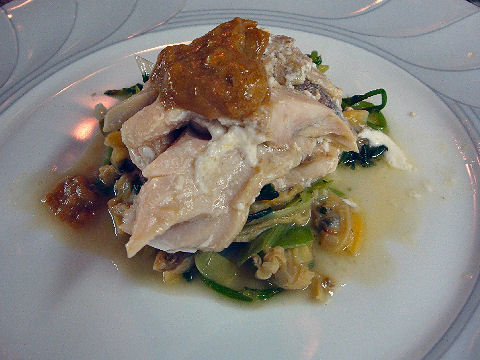 A butter poached fish in soy and mirin likewise underwent quite a transformation. There's an Alain Ducasse dish of Baked Atlantic halibut with leeks, cockles, watercress and champagne sabayon that I really enjoyed when I tried it, and have played around with in the kitchen. I know it isn't obvious upfront, but to me it was a perfectly logical combination of two ideas – don't ask how, it's just the way my brain synapses fire. We have butter poached pomfret, which unfortunately didn't hold together as well as I'd have liked, so the presentation isn't as pretty as I would have wanted – but the flavor's all there. It's sitting over a medley of slow cooked leeks, watercress, fava beans and cockles in butter, seasoned with salt and white pepper. And, atop, a sabayon of mirin and soy (4 yolks, 1/3 cup of mirin in a 1/2 cup measure, and soy to fill, so I guess, 1/6 cup – all whisked steadily in a double boiler until light and fluffy). See how it all comes together? Watch for future modifications to this dish to get it all gussied up right.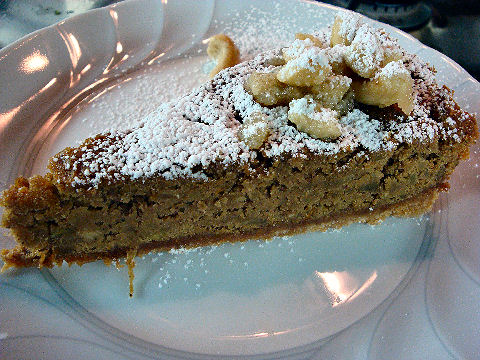 A dish of sweet yams in some sort of syrup could lead to nothing but a really good sweet potato pie. I roast the sweet potatoes until soft, then beat them in a mixer with butter, cinnamon, nutmeg, brown and white sugar, pinch of salt and some orange juice and zest. Add in some egg yolks, whip the egg whites until stiff, fold it all together, pour into a basic cookie style pie crust like I use for cheesecakes, and bake. Topped with some cashews caramelized in sugar and butter, a dusting of powdered sugar, and, there ya have it.
I'm pretty sure we got in seven herbs – red mustard, green onions, leeks, daikon, nira, watercress, spinach – yeah, that'll do it.