"There is no end of craving. Hence contentment alone is the best way to happiness. Therefore, acquire contentment."

– Swami Sivananda
Given the few in number restaurants in Barrio Chino, you'd have thought by now I'd have tried them all. But no, there are still several that I haven't gotten to. So, that's on the to do list. It can't possibly take me that long, especially since I get out there at least once a week for shopping. So, this week started off at Todos Contentos, Arribeños 2177. Not what I'd call a charming place, pretty spare, and has a distinct odor of old frying oil when you enter – pretty much the reason I haven't eaten there. Waitstaff, pleasant enough, if a bit brusque at moments.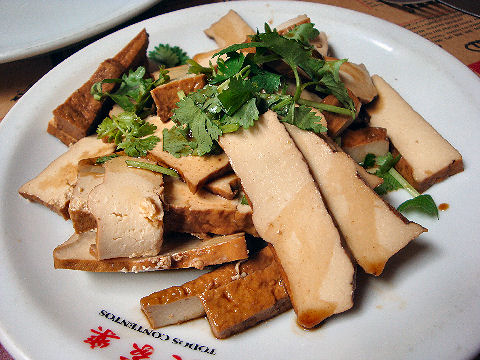 We started off with one of our favorite appetizers, lightly smoked and cooked tofu in soy and cilantro, served chilled. A good quantity and a really excellent version.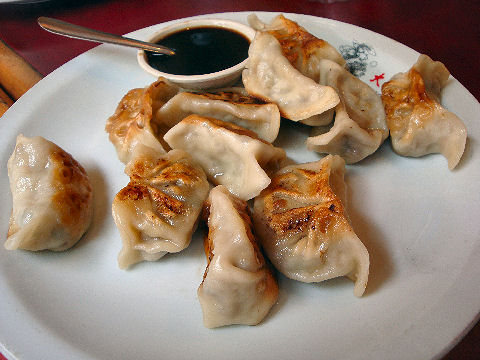 There were no steamed dumplings available the day we were there, only fried, so we ordered up a plate of potstickers with vegetable filling. Slightly disappointing this dish – the dumplings are basically thumb-sized, and as such, tend to be a whole lot more wrapper than filling. Basically all we tasted was the dough, and the dipping sauce was just plain soy.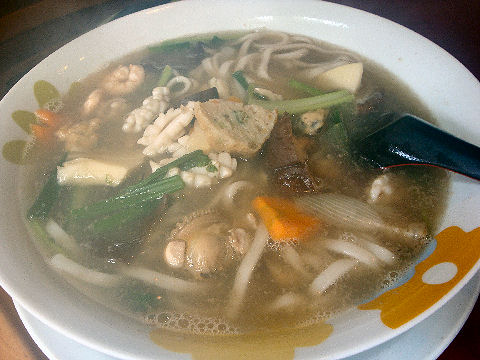 The seafood noodle soup was quite good, well stocked with different types of shellfish, plenty of noodles, and a good broth. No complaints at all.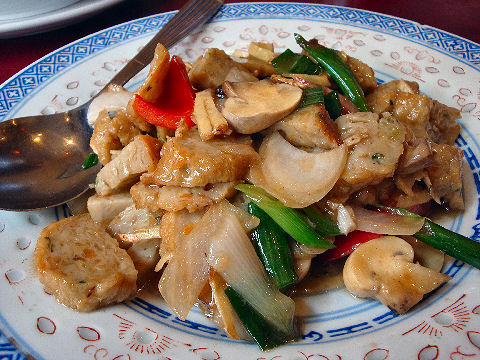 I've always said you should learn something, anything, one thing new every day. When I hear the word "tempura", I think of the Japanese battered and fried dish. So, a seafood tempura sounded interesting. But, little did I know…
In northern Taiwan, tempura is also known as tianfuluo and can be found at night markets such as Shilin Night Market and Keelung Temple Night Market. The ingredients and method used for making Taiwanese tempura are completely different from Japanese tempura, and they share only the name. In southern Taiwan, however, it is known as hetian and is more the counterpart to oden.
Oden is a Japanese winter dish consisting of several ingredients such as boiled eggs, daikon, konnyaku, and processed fish cakes stewed in a light, soy-flavoured dashi broth. Ingredients vary according to region and between each household. Karashi (Japanese mustard) is often used as a condiment.
I knew this dish by the hetian name, but had never heard of it referred to as tempura. So, this was a complete surprise when it showed up. And, it was a mediocre version of it. Not enough flavor in it, and the seafood cakes were more filler than seafood.
So, mixed thoughts – two good dishes, two mediocre dishes – and the smell of old oil in the air. Prices in line with other spots in the 'hood. I'll give it an "okay", but it probably won't be a spot I'll be back to.