"We will open the book. Its pages are blank. We are going to put words on them ourselves. The book is called Opportunity and its first chapter is New Year's Day."

– Edith Lovejoy Pierce, poet
No electrical trials nor tribulations struck this weekend to hamper our end and beginning of the year festivities. Instead we had the opportunity to welcome into our home four and twenty folk who were just looking for a quiet, enjoyable evening out for dinner. No funny hats, no sparklers, no costumes, no fireworks (at least not from us, though plenty of the kids in the neighborhood managed to provide some sound and light at varying moments during the evenings). Just good food, wine and company.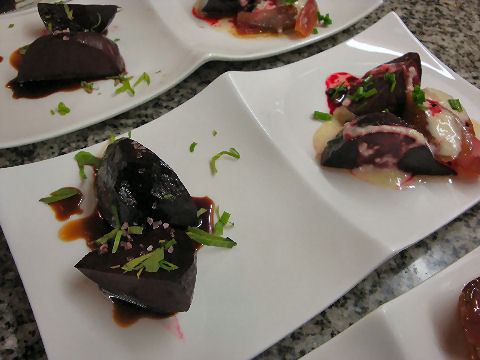 We began the evening with a duo of roasted beets. The first, to the right in the photo, a small version of the roasted beet and caramelized shallot salad that I detailed here. The second, inspired by a beet dish I read about somewhere along the line over the last year, the beets combined with small bits of chopped orange segments and celery leaves, and dressed in a reduction of port (1 bottle of port, a large piece of orange peel without the pith, 1 crushed clove of garlic, simmered down to about ¾ cup of liquid, mixed with 1 teaspoon of cocoa powder and then strained).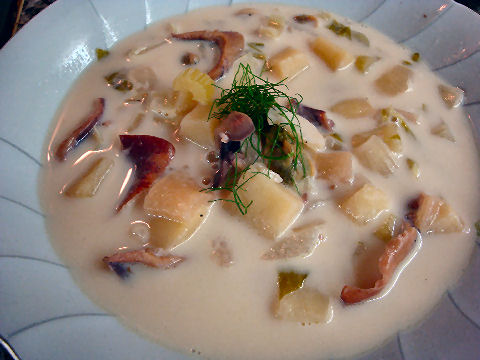 A seafood chowder is something that for me is a centerpiece of a New Year's dinner – not sure why, just always has been. Probably more apt for a cold clime, but no one seemed to be objecting as they drained their bowls. Pretty classic, other than, because I had numerous "no red meat" requests this weekend, I left out the bacon I'd normally start with. So the base here, onion, garlic, celery cooked in a little butter until just softening, then topped up with the whey from making the cheese for the dessert course (water would have been fine, but why waste the whey when this is a dairy based soup?), some pieces of chicken, and diced potatoes. Simmered away for about 40 minutes, then removed the chicken pieces, and added in the seafood mix – clams, mussels, crab, shrimp, squid, and pollack – simmered just to cook those through, finished it with a cup of cream, salt and pepper.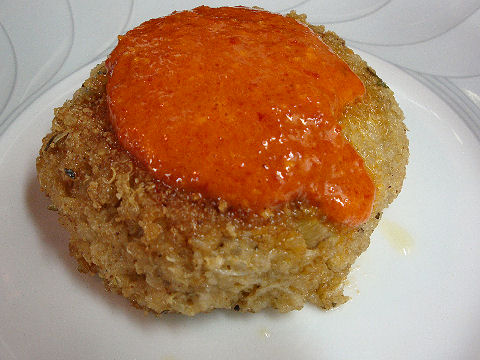 Crabcakes, the way we used to make them at The Sazerac House, with the change of using quinoa in place of the breadcrumbs (other than to coat the outside, for which I did use breadcrumbs). In the mix – lots of king crab, mayo, Worcestershire, Dijon, Old Bay (homemade – 2 tbsp ground bay leaf, 1 tbsp each celery seed, mustard powder and black pepper, 1 tsp each nutmeg, clove, ginger, sweet paprika, hot chili pepper, and salt, and ½ tsp of mace and cardamom), chopped green onions and red chilies, and the quinoa, precooked. Let the mixture sit for awhile to firm up, formed into patties, rolled in breadcrumbs, fried in a mix of butter and oil, topped with a sauce of piquillo peppers, garlic and olive oil.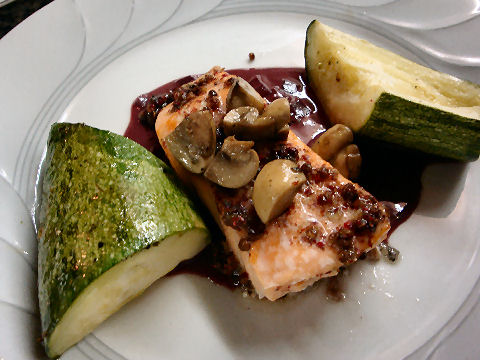 I think this dish was the hit of the evenings, I've already gotten half a dozen requests for it from guests. It's a pretty simple dish, but delicious. The salmon fillets are rubbed in a mix of crushed pink peppercorns, grated ginger, oil and salt and left to sit for a couple of hours in the refrigerator, then simply baked in the oven. The zucchini, tossed with oil, salt and pepper and baked, mixing them up occasionally so they get a little browning on them. The mushrooms, sauteed in butter, salt and pepper. The sauce – a liter of red wine and a tablespoon of red wine vinegar, 1 finely chopped red onion, all cooked down to about a cup of liquid, then mixed with a half cup of cream, some salt and pepper to taste, and finished with two tablespoons of beurre manie – a paste of butter and flour in equal proportions that is whisked in at the last minute to give the sauce a shininess and slightly thicken it.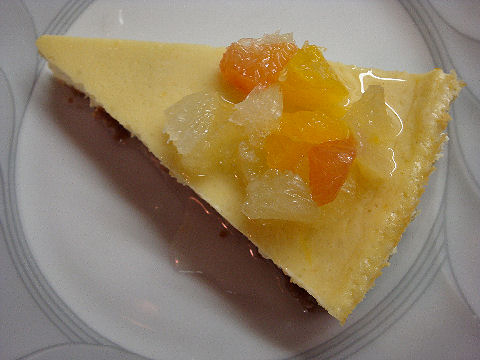 A four citrus cheesecake, which also generated a bit of oohing and aahing, the crust, the same base as for classic oatmeal cookies, without raisins, but orange juice for the liquid. The filling, my usual homemade cream cheese filling, replacing the vanilla and lemon with grated zest of lemon, lime, orange and pink grapefruit. Atop, chopped up segments of the same four fruits in a simple syrup.
And that, my friends, is how we ushered out Father Time and in the Baby New Year here at Casa S!