"The cold truth is that family dinners are more often than not an ordeal of nervous indigestion, preceded by hidden resentment and ennui and accompanied by psychosomatic jitters."

– M.F.K. Fisher
Thankfully, for a change, Mary Frances got it wrong this week. Not only did we host a private family dinner, but it was two, count them, two families in one. A young local couple who have been here to dine before decided that an evening out at Casa S with their two visiting families was just the ticket. Not only that, but they planned it months in advance, no, "can you put together a dinner party for 10 of us tomorrow and here's a list of our diets…?" Nope, just dinner for ten and no red, raw or innards meat. We can work around that with no problem. And no jitters, nerves, resentments or ennui present. We even had electricity….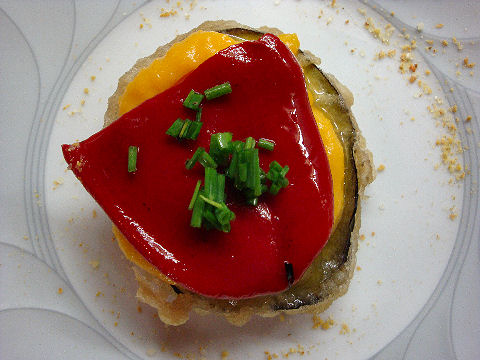 My new favorite vegetable appetizer. On the bottom, a slice of eggplant, marinated in marjoram, then dipped in beer batter and deep fried. Next, a simple puree of butternut squash with butter, milk, and pecorino cheese. And finally, a fire roasted piquillo pepper dressed in olive oil. Some chives, a little pumpkin seed salt scattered about – simple and delicious!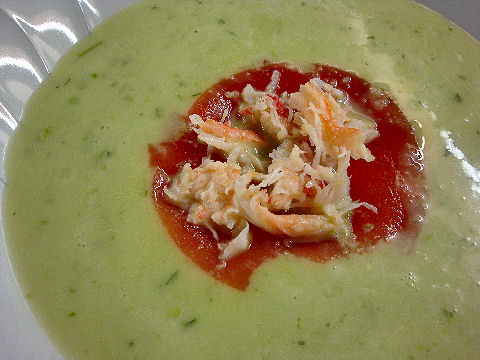 I actually had forgotten that I'd made a version of this soup before, and, to be honest, wish I'd gone back and looked at what I did the first time. It turned out okay this time, but not what I had in mind – the leeks in the soup were too strongly flavored after it chilled, the watermelon gelee (which this time was just gelled watermelon juice) didn't set quite the way I wanted, and without that little kick from the daikon, it just didn't come together the way I was thinking. Back to the first version for future servings….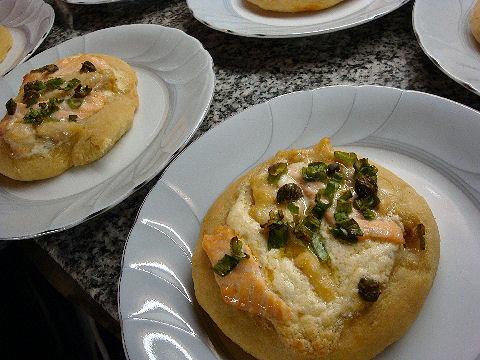 I've been wanting to showcase our salmon and surubí (Brazilian tigerfish) pizzettas again, and this was the perfect occasion. Details here, no changes made – why screw around with something that really, really works!?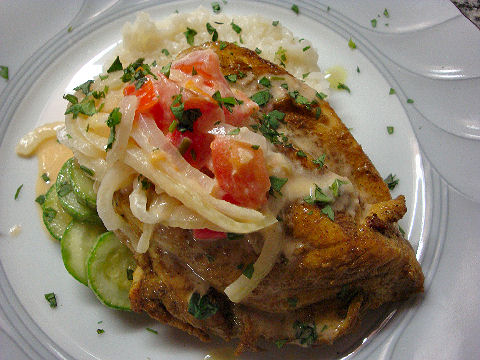 One of the dishes we were playing around with a year and a half ago that never made it onto a menu. Now it has. The chicken breast pounded thin and spice rubbed in cumin, turmeric, coriander, salt, pepper, and Korean red pepper – left for a few hours – then quickly sauteed to brown the crust and just barely cook it through. Served over rice and zucchini, topped with a saute of onions, ginger, garlic, tomatoes, malagueta peppers and coconut milk, and a good amount of basil and cilantro.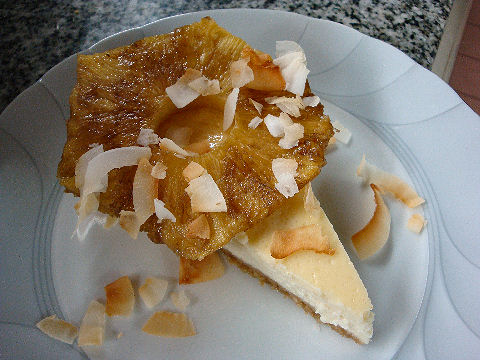 And, finally, a piña colada cheesecake (to mirror the piña coladas we started the evening with) – the cheesecake filling made with coconut milk and pureed pineapple in place of milk, among the other ingredients, the crust with some grated coconut added to it, and the topping, some toasted coconut flakes, plus roasted pineapple rings – trim and slice the pineapple, lay out on a buttered baking sheet, brush with melted butter and sprinkle with brown sugar. Then into the oven on as high heat as it goes for about five minutes, then turn the oven off. Remove when cool – gives an incredible texture and richness to the pineapple.