"Fashion is in Europe, living is in America, but eating is in China."

– Chinese proverb
By request, I recently started teaching a short, four-session cooking series that I'm calling Four Chinese Meals. The idea was simply to come up with four different meals that would both teach and showcase various techniques of Chinese cooking, and also create interesting meals that the person who requested the series could recreate at home, either as individual dishes, or the whole shebang, so to speak. We've completed two of the four classes, and others besides the original person have joined in, and I thought I'd share what we've done so far. There are still a couple of spaces remaining for the other two classes, on the next two Wednesday afternoons….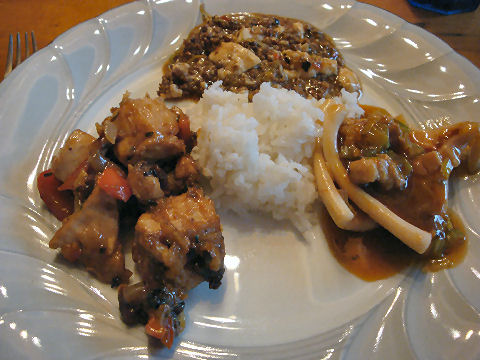 I decided to divide the four classes into a quartet of very broad regions that reflect very eclectic styles of Chinese cooking. Obviously, particularly in modern day, there is a lot of overlap, interchange and cross-influences between areas, but it gave us a place to start. Here, in our "Western" class, focusing on dishes from Hunan and Szechuan, we covered basic white rice cooking, and a trio of classic dishes that involved stir-frying and braising – kung pao, Szechuan style squid, and ma po tofu.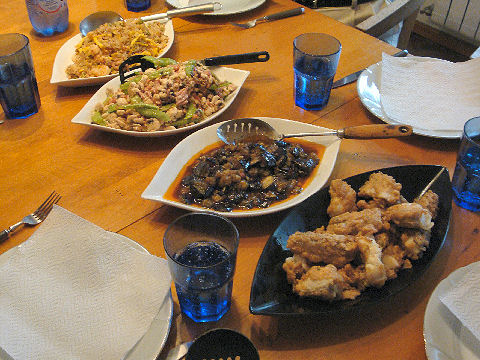 For our Eastern Chinese class, exemplified by the cooking of Shanghai and Taipei, a quartet of dishes. Expanding on basic white rice, a classic fried rice dish with shrimp, omelette, roast pork and vegetables; a dish using the traditional "velveting" technique – chicken with ham and snowpeas; slow cooked eggplant in hot bean oil; and a deep-fried dish of fish (Chilean sea bass) in a walnut crumb crust.
Coming up this week, we hit the north – Peking style cuisine – with a look at Beef with Orange Peel, Peking Prawns, Potstickers and Steamed Dumpings. And then, the last week of the year, we'll finish off in the south with a Cantonese and Hong Kong style lunch of Lettuce with Oyster Sauce, Chicken with Cashews, Crispy Chow Mein, and Spicy Sweet Spareribs.
Maybe we'll see some of you in the next two weeks, and if that doesn't work, never fear, I've already got requests to repeat this series early next year!