"The Chinese noted with surprise and disgust the ability of the Mongol warriors to survive on little food and water for long periods; according to one, the entire army could camp without a single puff of smoke since they needed no fires to cook. Compared to the Jurched soldiers, the Mongols were much healthier and stronger. The Mongols consumed a steady diet of meat, milk, yogurt, and other dairy products, and they fought men who lived on gruel made from various grains. The grain diet of the peasant warriors stunted their bones, rotted their teeth, and left them weak and prone to disease. In contrast, the poorest Mongol soldier ate mostly protein, thereby giving him strong teeth and bones. Unlike the Jurched soldiers, who were dependent on a heavy carbohydrate diet, the Mongols could more easily go a day or two without food."

– Jack Weatherford, Genghis Khan and the Making of the Modern World
It has been a couple of years since we celebrated Eriin Gurvan Naadam here at Casa S with a Mongolian feast, and when Mongolian independence day rolled around, it seemed like a good moment to pull out the menu from two and a half years ago and spruce it up a bit. Once again, no boiled mutton nor fermented mare's milk tea, but perhaps one day….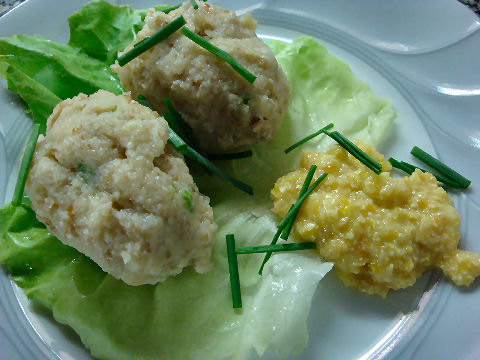 I still like to refer to these as my Mongolian Gefilte Fish, and they've become the way I make gefilte when I make it. I just like it better because it has some zip to it. No changes in the way I made it from the first dinner linked above.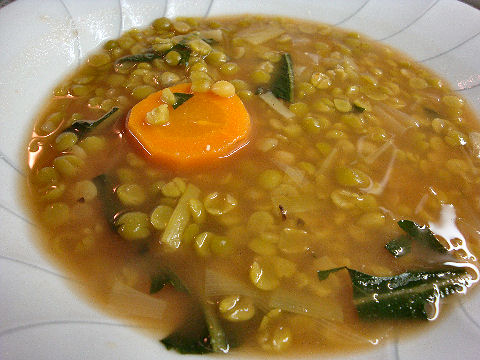 There's a semi-classic French soup called Potage Mongol that originated, as best anyone seems to know, in the late 1800s. The soup became very popular in New York City back in the 1930s, for no apparent reason – being as it was a strange swirled together melange of pureed pea soup, pureed tomato soup, and some turnips, carrots and leeks added in for texture. Much as I like vegetables, it would take some very careful mixing to come up with something that looked appetizing based on that description. It also has, as best I can tell, absolutely nothing to do with Mongolia, other than perhaps that the soups have a meat-bone broth, and there are some root vegetables in it. I made this using whey from the upcoming cream cheese (there's a close touch on our fermented mare's milk, no?) as the liquid base mixed with tomato juice, split peas, carrots and leeks (no turnips to be found or I would have), salt and pepper, and literally, nothing else. Just cooked until the peas were soft. Not a bad vegetable-based split pea soup if I do say so myself.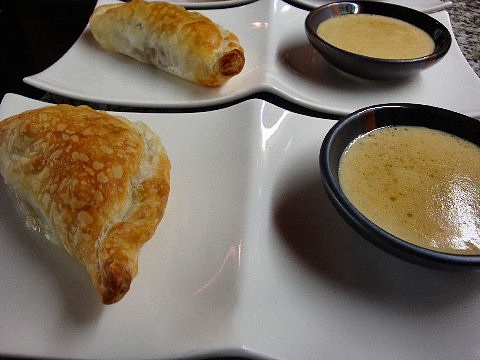 We had to get in our mutton, or at least lamb, somewhere. This year I decided on empanadas. Freshly ground lamb loin sauteed with garlic, ginger and green onion, in sesame oil. Cooled and packed into empanada dough (have I posted a recipe for making empanada dough yet?). For a dipping sauce, 1 tablespoon each of sesame oil, honey and rice wine, 2 tablespoons soy, 1 teaspoon Chinese mustard powder and just enough cream to create a nice sauce – about a cup – warmed gently and left to infuse for a couple of hours.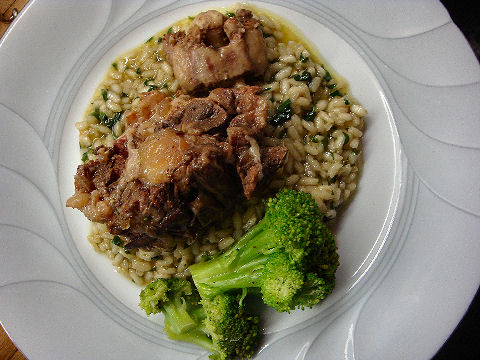 This time around I decided to really feature the oxtail rather than hide it away in potstickers. And I have to say, this has to rank up there among my favorite oxtail preparations, ever. The oxtail itself slowly braised (9-10 hours over lowest possible heat) in water to cover, flavored with orange peel, garlic, ginger, soy, sherry, chilies, and peach blossoms. I used the broth, as it was slowly bubbling away, to make a risotto, which I then finished with the juice of a couple of oranges and the zest of one (the zest of the other already being in the pot with the oxtail), and lots of chopped cilantro and basil. Some blanched and sauteed broccoli in sesame oil on the side. Unctuous and decadent would be the best description I heard last weekend, and I'd have to agree! It was also the first time for nearly half the guests to try oxtail, and I think people were happily surprised.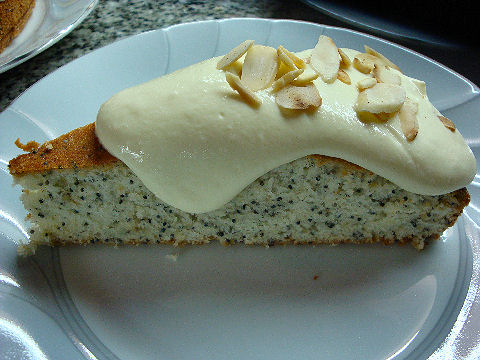 I don't know that poppyseed tortes have anything to do with Mongolia, but so be it. I started with the cake base for a friend's Hungarian poppyseed cake, but did it in one layer and rather than filling it with a walnut pastry cream, topped it with freshly made cream cheese whipped up with egg yolks and sugar, and some toasted almond slivers. May not have been Mongolian, but it was good!