"Then she was given dinner with all the nice parts left out and sent to bed for two solid hours. It was a thing that happened to one quite often in those days."

– from C.S. Lewis, The Magician's Nephew, Book 6, Chronicles of Narnia
It's been quite some time since my last shawarma update, and I'd not really planned to do another, but then PlanetaJoy published a list of their favorites, three of which I was unfamiliar with (as it turned out, because they're all brand spanking new). By now, however, I'm wary about their reports – their focus is on quantity and price for most of their food reporting, particularly their quick eats kind of listings – and their bent is very definitely to the local palate. So, none of what I found on these three visits surprised me….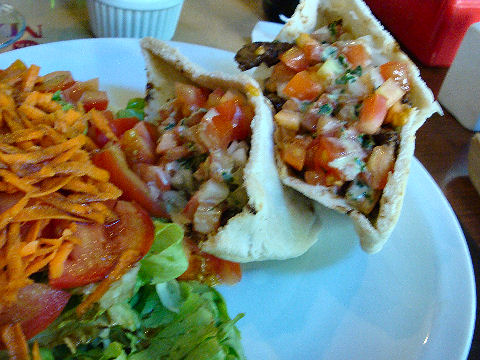 Malakeh, Charcas 5002, Palermo – It's unlikely there's a more solidly porteño style of shawarma, anywhere. The place, despite various signs asserting itself as a middle eastern restaurant, has a menu that's about 75% classic, local parrilla. The folks working there don't appear to be middle eastern in origin, and the majority of customers were having steaks or milanesas with fries – in fact, I think I was the only person in the room having anything off the short middle eastern menu. Instead of a wrap, the shawarma is stuffed into a very commercial, grocery store pita. The meat does not come broiled off of a rotisseries, but appears to be coarsely chopped up gristly steak trimmings that have been sauteed in oil, unseasoned except for salt. Some salsa criolla (tomato, bell pepper and onion in vinegar) is added, a thin white sauce that was likely just watered down yogurt was spooned into it, and the whole thing is served with a side of fries (unless you can talk them into a salad, as I did). The only sauces available are ketchup, mayonnaise, mustard, and chimichurri. This one was a major fail.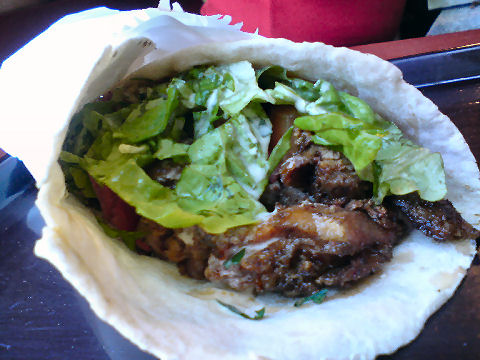 Hola! Siniór (their spelling, not mine), Honduras 5328, Palermo. An interesting take on a shawarma stand, basically takeout only, with a few chairs scattered around. It's pretty much all they sell – a few other middle eastern items available. The staff, again not middle eastern, mostly Paraguayan it seemed, and setup like any hotdog stand here in town. Overall, decent. The meat quality was good – they have a choice of beef, chicken, and… drum roll… pork – which may very well make it the only pork shawarma on the planet given its prohibition in both Muslim and Jewish cultures. Nicely seasoned with salt, paprika and lemon. And like hotdog stands, there's an array of condiments to be put into your shawarma – from classic tahini and hot sauce (which was no spicier than hot paprika, unfortunately), to ketchup, mayo, pickle relish, bbq sauce, etc., etc. – right down to the usual offering of papitas, the ubiquitous shoestring potatoes that are used as a classic crunchy topping here on hotdogs. People were lined up to get in and buy. And, if I was in the area, I'd go back.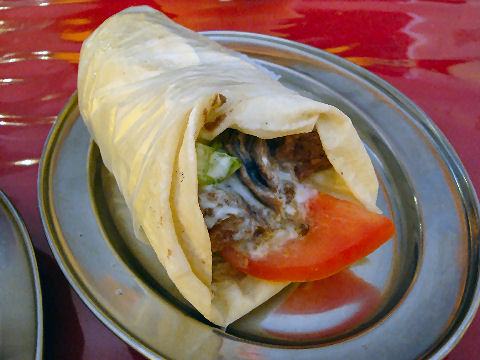 Al Zain, Arce 488, Las Cañitas. I really wanted to like this one because it was hard as hell to finally get a shawarma. Despite advertising that they're open seven days a week from noon to 4pm and 7pm to 1am, we first went on a Monday only to find them closed. Actually, they were there, but loading up a van for some sort of catering event, told us they weren't open Mondays, but come back tomorrow. We did, the following day, only to find the place locked up, and some of the equipment stripped out it, including the wall mounted shawarma rotisseries. I back burnered it for a week or so and then had to be in the area again and thought we'd give it one more shot. This time it was open and the rotisseries restored to the wall, but they were unlit and without meat. We were assured that there would be shawarma in around half an hour (turned out to be 45 minutes as they brought out the raw meat on a skewer and started it broiling, but in the meantime we'd sampled some other things… more in another post). Paper thin pita bread, completely bland (a little salt in the dough, dip it in some juices, I don't know…), the meat unseasoned, mixed with a little tomato and lettuce and drizzled with what again appeared to be watered down yogurt. No tahini in evidence. A request for hot sauce yielded up a small dish of a vaguely spicy chili puree. Another fail.