"A little bit of this, a little bit of that. A pot, a pan, a broom, a hat….

– from Fiddler on the Roof
As I mentioned in my last dinner post, we had a couple of private dinners, and then this weekend our second brunch. Nothing of astounding excitement in terms of dishes, but a few things that I thought turned out particularly well.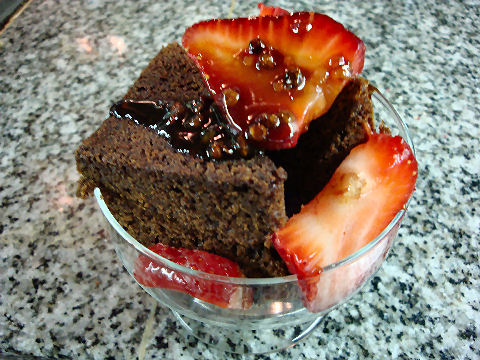 In the first private dinner, we started from a Spanish themed dinner from last year that fit the outline of what the customer was looking for. He did want a lighter soup than the ajoblanco, and a chilled gazpacho sounded like a good move, with a twist, a watermelon based gazpacho. Everything turned out just as I'd hoped, and for the dessert, the request was something bold and fruit based, so this molasses cake with fresh strawberries in a grappa pink-peppercorn caramel syrup.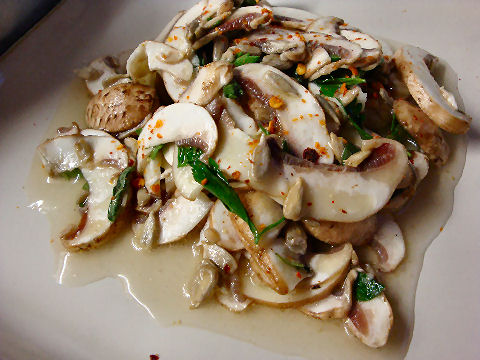 The second private dinner was requested to be vegetarian… with one addition, one of the eight people, the hostess, is on a raw food vegan diet. She didn't want everyone to have to eat based on her diet, and offered to simply eat a large salad while the rest of the gang tucked into their five course meals of Braised Leeks in Mustard Sauce, Cream of Beet Soup (lightened up slightly by using yogurt instead of mascarpone), a Cremini Mushroom Coca, Catalan Chickpea Stew, and an Eggplant Tarte Tatin. A big salad? Nah, that wasn't going to happen. I decided to stick to the key ingredients in each course as much as possible, so a simple salad of finely shaved leeks with cherry tomatoes and cucumbers served with the same mustard sauce; a raw beet soup with cashews giving the creaminess; this lovely cremini mushroom salad pictured above dressed in olive oil, lemon, herbs, salt and cayenne; garlicky hummus served on a bed of radicchio and topped with sliced avocado and flax seeds; and for the dessert, I couldn't think of a way to use eggplant and keep things raw, so a plate of mixed berries and nuts drizzled with the same orange coulis as the tarte tatin.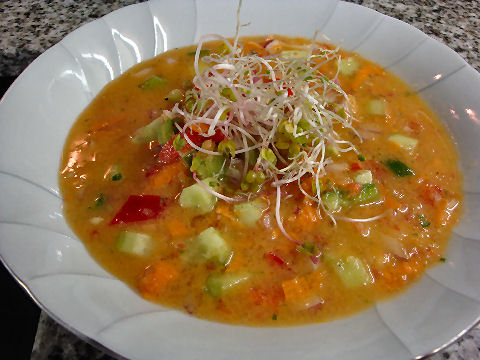 For brunch, a septet of folk reserved to share the table. We started off with a round of bloody or virgin marys, then they sat at the table and we dished up a tasty, very herbal gazpacho.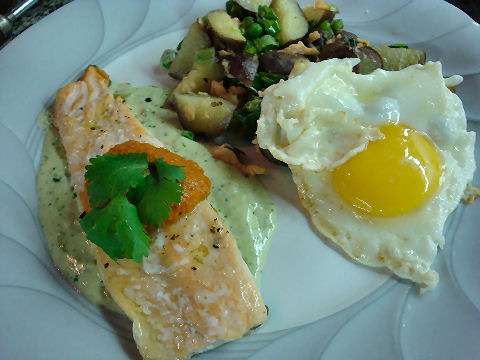 For the main course they tucked into an oven baked trout drizzled with olive oil, served over a bright salsa nieve andina, topped with a dab of romesco sauce as well, and accompanied by a smoked trout and andean potato hash and a fried egg. We finished off with a cappuccino cream eclair dusted in cinnamon and sugar and coffee for those who wanted. Not a bad Sunday afternoon.