"Revolution is not a dinner party."

– Sun Yat-Sen, Chinese revolutionary leader
Except here at Casa S, of course. Friday night was the day celebrating Sun Yat-Sen's birth, a national holiday throughout China and Taiwan – probably one of the few public, political figures honored in both. I'd had in mind a vegetarian dinner for the weekend – we'd had two private dinners this last week (no writeups, all dishes selected from past menus, both generally Mediterranean, one vegetarian, one not, and we had brunch coming up for Sunday), and it just seemed like a good moment to try out some of our Taiwanese vegetarian recipes that I've been working on for classes on a group of guests. Overall, I think it worked out well. Oh, and interestingly, we had a couple of guests from Australia who turned out to be friends with Sun Yat-Sen's great-grandson!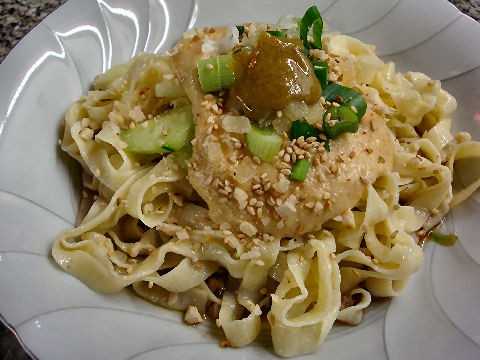 The origin of Cold Sesame Noodles has always seemed a bit obscure to me. It almost is as if every region of China claims them for their own, and, outside of a selection of restaurants in the States, no one serves them. Craig Claiborne, back in 1970, claimed them for Szechuan, and asserted that they were the most loved Chinese dish by Americans – I think maybe he was speaking from a New Yorker's experience, I don't know, we certainly didn't have them at any Chinese restaurants, Szechuan or otherwise, back in Michigan. Either way, I came to love them. Sometimes. When done well. If not, they're actually pretty wretched. And they can be simple or elaborate – for this dinner I decided on the latter, and spent some time playing around with the version that Jean-Georges Vongerichten came up with for his restaurant 66.
Now, I don't know if the recipe linked above is really JG's recipe, it's touted as such online, so it may be, or it may be an attempt to recreate them. What I do know is that the recipe had some great ideas and flavors, but was sickly sweet – I mean, a full cup of sugar in the sesame-peanut sauce??? The quantity of sauce that results from the recipe is less than 2 cups in total. So the first thing I did after playing with it was cut that back to about 1/3 of a cup. Even that comes out pretty sweet. I also used homemade egg noodles rather than cellophane noodles – I like the texture and flavor better, it fits my style of cooking better. Other than that, I followed it pretty much to the letter. And they were delicious!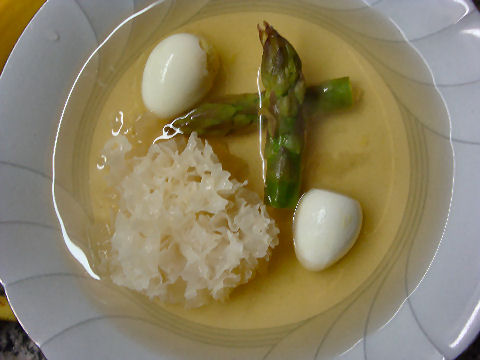 Two different soups based on "snow fungus" are in my repertoire, one with asparagus, one with pigeon eggs. I decided to combine them, substitute vegetable broth (with lots of mushrooms in the mix) for the chicken broth, quail eggs standing in for pigeon eggs. Very pretty, very textural, and, honestly, not my favorite in the end – it was fine, but not my favorite.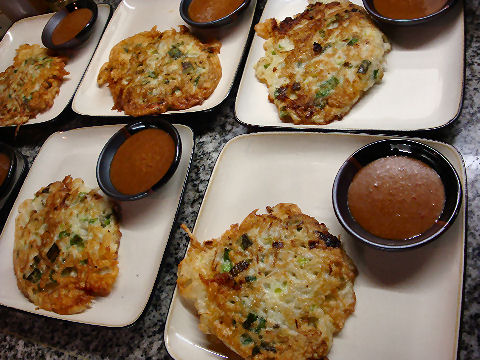 On to scallion and beansprout pancakes. Originally destined to have some quickly pickled daikon in them as well, but it's out of season here, and the few that I found in Chinatown looked like they were leftover from over the winter. A simple crepe type batter. A dipping sauce of red miso, soy, sesame seeds and oil, rice vinegar, garlic, chilies and a little molasses.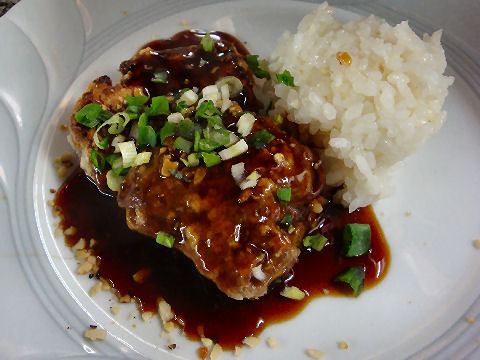 When I was growing up, my favorite dish from our local Chinese takeout place was wor shu opp, Taiwanese pressed duck with almonds. It's a dish rarely seen on menus, and that's a shame, because it's really excellent. Substituting in seitan for the duck, I made a batch, simmered it up in a mix of soy, sugar, ginger, garlic, and spices that make up five-spice powder. Then pressed it, marinated it in more of the same. Tossed it in egg white and cornstarch, pan-fried it, ladled it over with a sauce of equal parts vegetable broth and vegetarian oyster sauce thickened with a little cornstarch, and topped it with chopped, toasted almonds and green onions. The flavors brought me back to childhood, though, of course, the texture of fried seitan just doesn't quite compete with those of fried, pressed duck….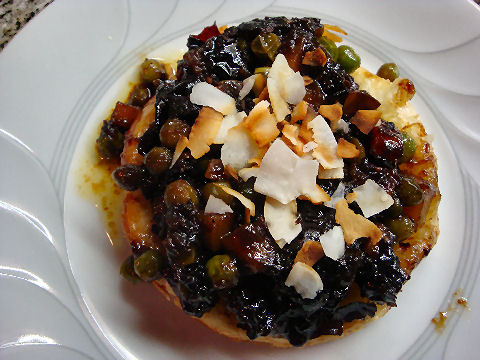 This one might have been the most fun to come up with. I started with a Taiwanese dessert called Three Treasures. It's a trio of purees – yam, peas, and red dates – flavored with cinnamon and sugar, and each of them fried separately in lard and then served, lined up on a plate. Not quite my style. But, it gave me the idea for caramelizing the three vegetables individually in butter, sugar, cinnamon, mace, szechuan peppercorns and a pinch of salt, and then using those in a tarte tatin. I topped them with a little toasted coconut, so maybe I went for four treasures, but it worked out beautifully, and completely unusual. And, tasty as can be.