"A desperate disease requires a dangerous remedy."

– Guy Fawkes, one of the leaders of The Gunpowder Plot
No, don't worry, I didn't burn anything. It was more of a figurative "on fire". It was Guy Fawkes' Day/Night, or Bonfire Night, or The Gunpowder Plot Eve, or something of that sort. I know we heard about Guy Fawkes back in school at some point, more likely from a British exchange student than anything taught by one of our teachers, though you never know. Like most people outside of the UK (and maybe even them?) my only tenuous link to the day and him is via the movie V for Vendetta, and that's a stretch. So, a little reading about him, and it was off to the planning stages for a menu in memoriam.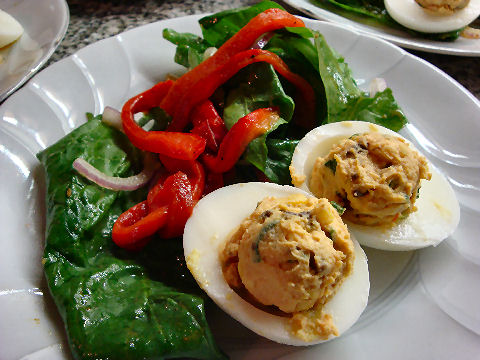 Searching for various dish ideas via terms like firecracker, fireworks, bombs and bonfires probably put me on some sort of watchlist out there, but so be it. There were inspirations. Firecracker Deviled Eggs, not all that different from how I normally make them, just a bit spicier – the yolks mashed with sour cream, green onion, black olive, lemon and sriracha hot sauce. A salad of roasted peppers, spinach and red onions tossed with a really good dressing of: garlic, lemon zest and juice, hot paprika, cumin, fresh rosemary, anchovy, turmeric, red pepper flakes, cinnamon, nutmeg, salt, pepper and olive oil. Sort of alchemy, a bit of this, a bit of that, until it all came together.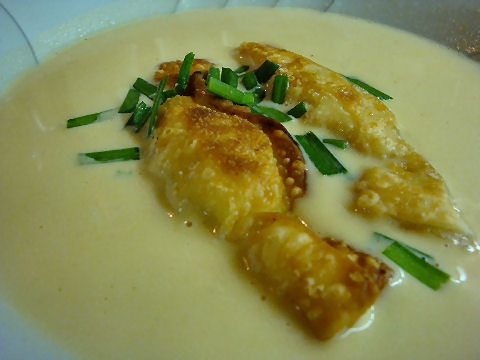 Something called a squash bomb soup didn't seem to have anything bomb-like about it, perhaps because it had a shot of rum tossed in, who knows? I roasted a butternut squash and then pureed it with cream, rum, salt, pepper and hot peppers, then cooked it to knock a bit of the alcohol out of the mix and mellow the flavor. I had to but in my own little bombs, or firecrackers, though, wonton skins wrapped into a firecracker shape, filled with a mix of roasted apple, goats' milk cheese, szechuan peppercorns and salt.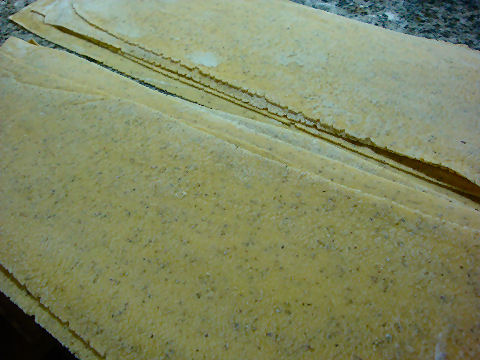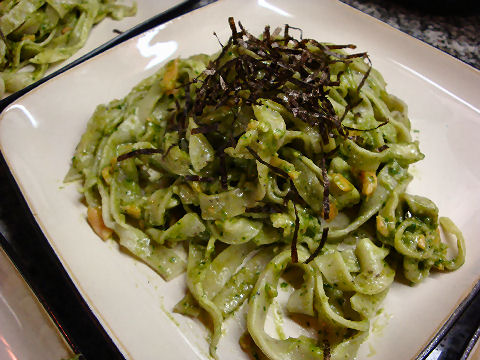 A little gunpowder had to find its way into the mix – Gunpowder Tea, actually one of my favorite green teas, came to the rescue – in the form of a gunpowder tea pasta. Cut into fresh linguine, boiled up to as close as one can get to al dente with fresh pasta, and tossed with a cilantro, mint and basil pesto using roasted garlic, some smoked salmon cut in shreds, and a little toasted nori seaweed tossed atop. Delicious!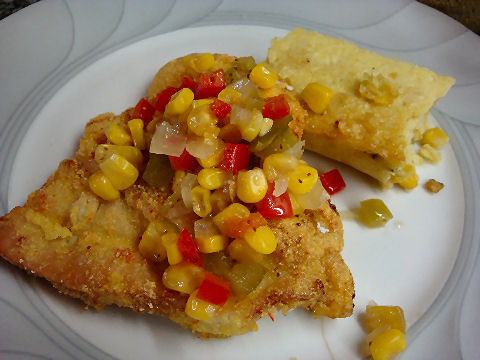 For lack of anything better to call this, we'll call it Firecracker Chicken. I pounded chicken breasts out thin, then in a blender pureed a handful of hot chilies with vinegar and salt, and marinated the chicken in that for about six hours. Then dusted the breasts, still dripping with marinade, in a mix of cornmeal with some flour and salt. Fried those up. Served those alongside a corn pudding and some corn relish (the version we used to make when I was sous chef at the Sazerac House, I'd forgotten how good that stuff is) – a mix of fresh corn, onions, green and red bell peppers, brown sugar, celery seed, mustard powder, cider vinegar and salt, cooked briefly and then allowed to steep for a day.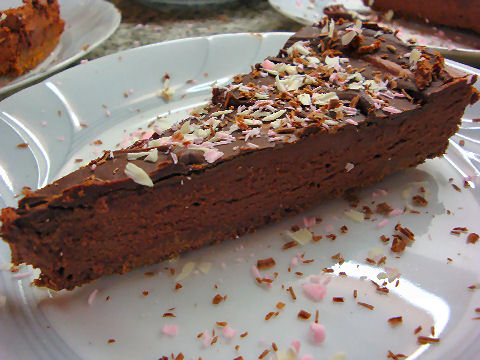 I'd originally thought about making little individual chocolate bombes – generally a chocolate shell filled with chocolate mousse and set over a cookie-type base. Instead I went pie style – a chocolate chip cookie sort of base, baked off and left to cool. Filled with my now favorite chocolate and olive oil mousse, and then finished with a glaze of chocolate over the top and some grated different chocolates for decoration.
No fires in the kitchen. Really.