"Whatsoever things are true, whatsoever things are honourable, whatsoever things are just, whatsoever things are pure, whatsoever things are lovely, whatsoever things are of good report; if there be any virtue, and if there be any praise, think on these things."

– The Woodbridgian, along with their motto, Pro Deo Rege Patria – For God, King and Country
Roughly six months ago the then editor of Time Out Buenos Aires asked me if I would check out a newly opened bar/lounge called Prodeo, Gorriti 5374 in Palermo, 4831-4471. She put me in touch with one of the owners, a fellow norteamericano named Mike and he invited Henry and I to drop by for a drink one eve. We did, really just to check the space out, but then Mike and the newly installed Dutch chef, Jeroen Van den Bos, asked if we'd like to check out some of the bar food they were experimenting with – the restaurant part of the lounge was yet to open. We agreed to be guinea pigs, and were delighted in return with a series of extraordinarily creative small plates with various nibbles on them. [Closed]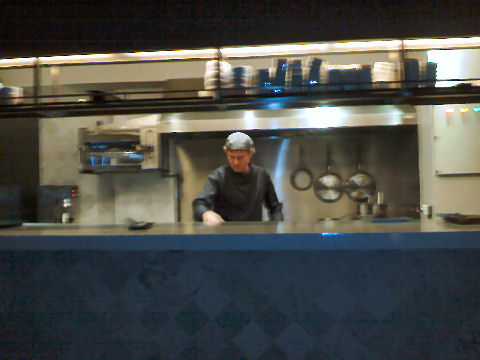 I didn't write it up at the time because basically the menu hadn't been finalized and there was no assurance that any of what we tried was going to be on the menu (and, looking at the current bar menu, none of it is, though that may be seasonality coming into play). So I backburnered the writeup, sent a brief note about it off to the editor – who decided to wait and have it reviewed down the line when the restaurant opened for real – and then kind of forgot about it. There's always something new opening or that I'm hearing about, and some of this stuff just never gets followed up on.
Recently though, I've been hearing rumbles that Prodeo had taken to serving a North American style brunch that was touted as anything from "at least it reminds me of brunches back home" to "outstanding!" So it went back to the front burner, and yesterday when we found ourselves with time to head out to a brunch, we met up with another friend at the lounge to sample the wares. Now I have to admit, I expected it to be a bit of a scene – though in the end, we were the only people there during the entire brunch other than a couple that dropped in for coffee and muffins and then left.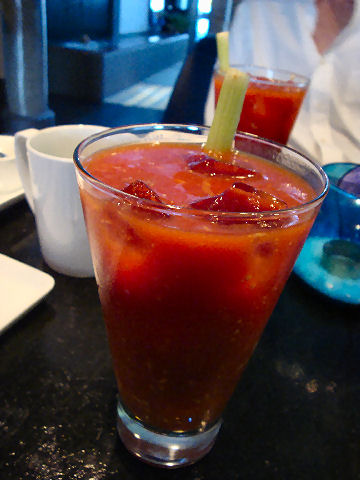 First off, the space – comfortable, if a trifle "industrial" – a bit too much poured concrete and sheet metal for my personal tastes, but looking like a classic lounge setting. I do like the open kitchen at the back, and there's a wall waterfall that's very soothing in the middle. Music on both visits was good background music, what our friend described as trip-hop, a new term for me – though on looking up the term that doesn't seem fitting, since trip-hop is described as a mix of electronica and hip hop without vocals – this seemed more like electronica meets pop music. Back to the space – generous sized tables and booths, plenty of room to spread out. Now, most important to start off the brunch, a fantastic Bloody Mary – easily the best I've had in Buenos Aires (having specified picante) – and a mere 15 pesos at brunch (double that at dinner time apparently). Freshly grated horseradish and everything!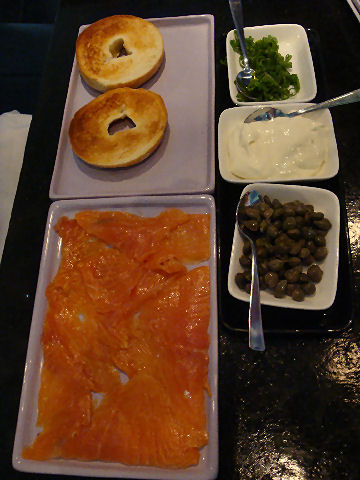 The menu is, for the most part, classic brunch that you'd find in New York – eggs benedict, bagels, scrambled eggs, etc. – just what we were looking for. If I can be pedantic momentarily – neither the English nor the Spanish on the menu is grammatically correct for a good number of items – odd given that the owners, and staff, are fluent in both. But to the food. We tried a trio of muffins – poppyseed orange, mixed fruit, and bran – all good if slightly sweeter than we would normally want them – but fitting local tastes far better, and given the lack of existence of muffins here, just fine. Bagels – good flavor, perfect shape, missing that chewy crust – a choice of accompaniments, either a quartet of butter, cream cheese (more of a creme fraiche), dulce de leche, homemade strawberry jam, all for a mere 12 pesos; or, a generous amount of smoked salmon, more of the cream cheese, green onion (the NYer in me wanted red onion, but I'll live), and capers, at a slightly steep 32 pesos, but then, it could have been a full meal by itself.
A trio of egg dishes – excellent soft scrambled eggs, and two versions of eggs benedict. We were a trifle disappointed in the latter – no English muffin, instead a small wisp of thin toast of some sort, barely more than a large flat crouton, respectively topped with ham in the regular version and avocado slices in the latino version; perfectly poached eggs, and odd hollandaise (shouldn't a Dutch chef know "holland"-aise sauce backward and forward?…) – made with vinegar rather than lemon according to our waitress, and a bit heavy on the butter – the latino version spiked with chipotle chili, though so little as to be a mere hint, it could definitely be ramped up several notches. Not that hollandaise can't be made with vinegar, but it just doesn't work with the benedict. The accompaniments good – crispy smoked bacon, deep-fried sage breakfast sausage, and decent crispy browned potatoes on the side of all three dishes.
All in all a pleasant brunch, and certainly better than many versions to be found in BA – perhaps only a little disappointing because of how creative and amazing the bar food had been on our previous visit. And between the two visits enough to have us plan to drop back in one evening for dinner on the now established menu.
It did give rise to a discussion on the perfect brunch here in BA… you'd just have to figure out how to get all the elements together…
– Bloody Marys from Prodeo Lounge in Palermo
– Bagels with Smoked Salmon from Big Mamma in Belgrano (now that Amarantha has closed)
– Eggs Benedict from Novecento in Las Cañitas
– Crushed Potatoes with Sour Cream from Sirop in Recoleta
…then we can all meet up here with the different dishes and have a delightful Sunday afternoon!