"It requires only two things to win credit for a miracle: a mountebank and a number of silly women."

– Marquis de Sade
A bit over three years ago, I reviewed what was to become one of my favorite restaurants in the city, Almanza – I loved the food, the ambiance, the service, and enjoyed, over time, getting to know the chef, Martín Baquero, a bit. Until the point when it closed in early 2009, I made it a point to eat there once every few weeks. Then, it was gone. I heard rumors that he was going to be re-opening here in Recoleta, and, indeed, at some point last year, he did, opening the doors on El Almacén de los Milagros, at Av. Quintana 210, 4814-0533 in the space that had been La Despensa, another little gem that disappeared too quickly. [Closed]
I stopped by a few times, thinking about eating there, but Martín was never to be found, and at some point, one of his staff admitted to me that he simply isn't – he moved to neighboring Uruguay, and spends his time there, occasionally checking in on the restaurant. Somehow, that left me less interested. But sooner or later I was bound to get around to the place, and recently did. It is, for me, a truism that an absentee chef generally leads to a lack of consistency and/or quality. Not always, sometimes the sous chef, or chef de cuisine, left in charge, shines and becomes known for their own creativity. But not often.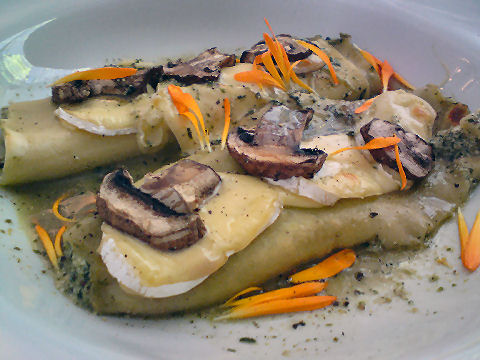 My problem here is that I find myself in the position comparing and wanting to like the place as much as I liked Almanza, and I simply don't. The ambiance is not near as nice, though it is still a pretty little place. The service is just as good, just as friendly, and just as efficient. The food, well, here's where it gets hard. I didn't really try much of it. In fact, all I had was his signature
amuse bouche
of rabbit pate, still delicious and a nice start, and one really, really, average pasta. It was bland – canneloni filled with a ricotta, walnut and herb stuffing, topped with melted cheese and mushrooms – and devoid of seasoning. Not at all the quality of the food that I used to dine on with delight at Almanza.
So why didn't I try more? That's easy. The place is expensive. I should make that EXPENSIVE. Appetizers run 40-50 pesos, main courses, like the pasta, run 60-80, and desserts run 30-40. That makes a three course meal, before the high prices of wine, bottled water, and a ridiculous 10 peso/person "cover charge", 150 pesos – with those things thrown in, even just a glass of the house wine, it tops 200. And that's for lunch. Bluntly, I didn't have the money with me, and I'm not sure that I'm quite up for going back and giving it a shot at those prices. True, the one tasteless pasta could have been a fluke – I did ask for salt and pepper and received both, which helped, but interestingly, no one asked if I liked the dish, the one chink in the otherwise flawless service. It's possible that once again this place could be one of my favorites in the city were I to have tried something else, or were I to in the future – the question is, at those prices, and with the chef whose name is on the door in absentia, even if he is a friend, will I?
(I would note, in my 2007 review linked above for La Despensa, that I commented on it getting pricey for the 'hood, so perhaps this is just a trend for a neighborhood that is known for its wealth….)