"Sharks will eat sardines forever and ever. But they should eat them plain, without doctrinal oil, without legal jelly, without the cellophane wrapping paper."

– Juan José Arévalo, former President of Guatemala
Like everyone else online, I regularly get e-mails that have a legal disclaimer attached to the bottom that basically says, 'if you got this message in error you have to forget that you read it, erase it, notify us immediately, crunch down on your secret cyanide pill and never speak of it to anyone.' I love those – you know what, you sent it to the wrong e-mail address, not my problem, if I feel like sharing it with the world at that point, I will. It came to mind as we were sitting at lunch the other day and the friend who'd invited Henry and I to lunch said, more or less, 'the people who introduced me to this place want to keep it a secret so they said if I introduced you to it you couldn't write about it." More or less.
But you know, I wasn't party to that agreement. And the thing is, the place isn't a secret. It's been written up in every major newspaper and magazine in town, it's on blogs, in guidebooks, on travel forums, there are photo essays, they advertise, they have a facebook page… there are nearly 9,000 hits on a Google search – by contrast, Casa SaltShaker, which I don't think of as remotely secret anymore, has only 2,000. I may have a decent readership here, but I really doubt I have the ability to explode this place onto the dining scene of Buenos Aires.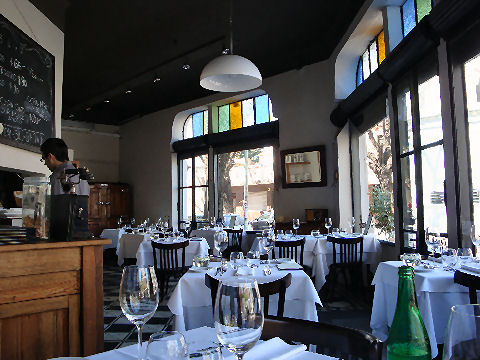 The place, Paraje Arévalo, which I guess is redundant since paraje means place, is at Arévalo 1502, corner of Cabrera in Palermo, 4775-7759 – cross corner from what used to be Providencía, one of my first secret restaurant visits (now moved down the street). It's a cute little place. Perhaps a trifle chi-chi for this particular part of Palermo, but it's clearly doing okay… for Sunday brunch, it wasn't particularly filled with people, then again, they weren't offering brunch, but a three course lunch menu. And that's their specialty – fixed price menus of anywhere from three to eight courses, depending on day of week and time of day, with options. Since there were three of us, we sampled through a trio of different dishes at each course.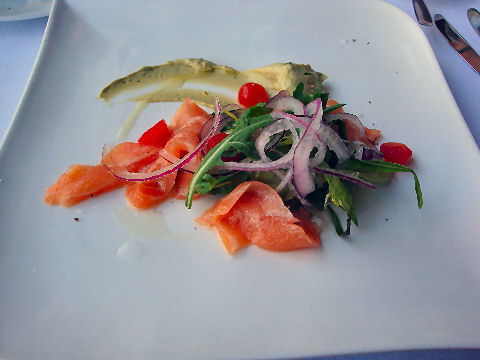 There were three appetizers to choose from, so that made it easy. The smoked salmon with a little salad of greens and onions and what Times UK food critic Giles Coren referred to as a "skid mark in goose poo" of avocado cream. It was good, but did suffer from what all three appetizers suffered from, a heavy hand with salt – coarse salt to boot.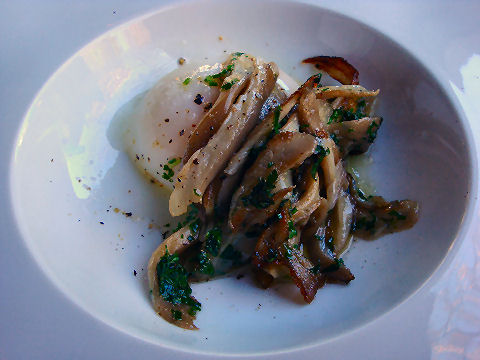 I think this was the favorite of all three of us – a poached egg with sauteed mushrooms. The egg, for my tastes, was very slightly past perfection – the runny yolk just a touch "thick" – if I were to guess, they're cooking the eggs sous vide – the texture of both white and yolk would fit.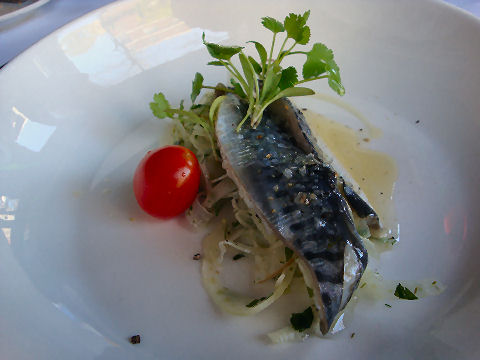 Perfectly cured sardines over a tangy pickled fennel salad was right on the mark. Overall, we were very happy with our appetizer round, the salt not withstanding.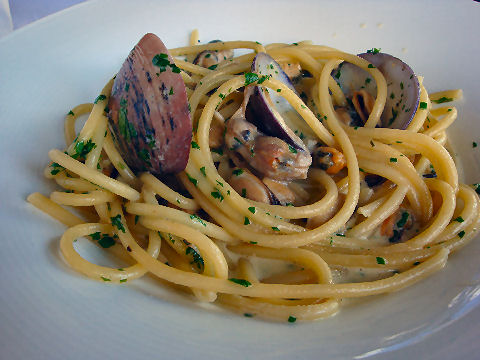 The main courses are less delicately presented – not just heartier, as a main course should be, but the presentation seems less precise, less elegant. That, however, doesn't take away anything from how good they were – all three were winners. Here, perfectly al dente bucatini in a seafood cream sauce. The seafood was, admittedly, a bit limited in variety if not abundance, consisting of totally mussels, with a couple of clams atop. Some crustacea or fish added into the mix, when one is promised "frutos del mar", would be nice, but we basically licked the bowl clean, so that's not really a complaint, just a faint desire.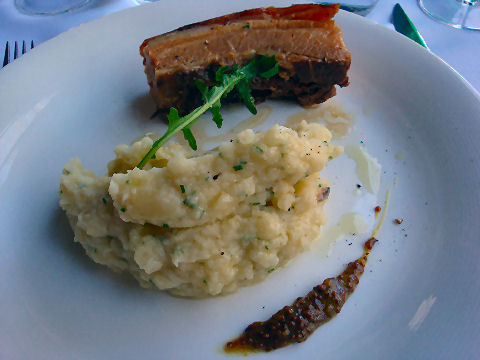 The braised pork belly was tender, falling apart, the way it should be. The skin could have been crispier – it was un-cut-able and nearly un-chewable, so we left it after a couple of attempts. The crushed potatoes, delicious, the streak of whole grain mustard a great contrast (more of that on the plate please). Our other pork option for main course was a braised bondiola – but who can pass up pork belly?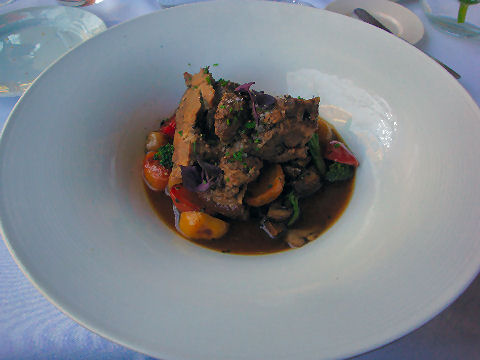 The roasted lamb and vegetables was good enough that Henry gathered it to himself and wouldn't share after we each got a bit – cooked beautifully and served over a medley of Andean tubers – small potatoes, papas lisas,, and ocas amongst them. We were also quite happy that not one of the three main courses suffered from the over-salting of the appetizers.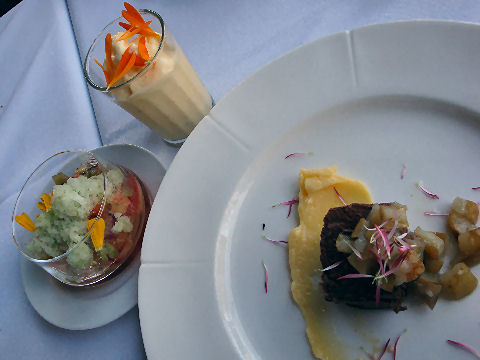 And, three desserts to choose from – a fruit cup topped with basil granita – good though not a wow; a quite good little fudgy chocolate cake with apple compote and lemon curd; and a winning mango mousse.
Overall, high marks for ambiance and service (plus for those who need it, the waiter and owner both speak English). Food, quite good with some minor nit-picks. Pricing, high but not bad given the quality of the food – on Sunday at lunch the options are either 70 or 80 pesos depending on choice of main course – weekday lunches apparently run 65-80, and dinners a bit higher, mostly given that they have more courses. Wine list pricing is fair, if skewed to higher priced bottles, but after all, if you're eating really good food, you don't want cheap plonk to accompany it. We'll definitely return.